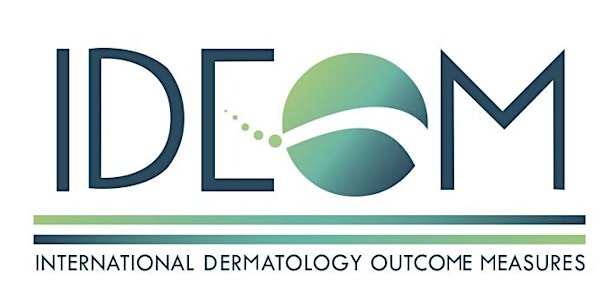 IDEOM at WCD 2019
When and where
Location
Sheraton Diana Majestic, Milan 42 Viale Piave 20129 Milano Italy
Description
IDEOM (International Dermatology Outcome Measures) is a non-profit organization seeking to develop and validate measures throughout dermatology. IDEOM strives for the establishment of outcomes to enhance the research and treatment of dermatological conditions. Launched in 2013, IDEOM brings together physicians, researchers, government agencies, non-profit organizations, pharmaceutical scientists, payers and patients from around the globe to develop and validate measures for both clinical practice and clinical research throughout the field of dermatology.
Please join us at a half-day program to learn what IDEOM has been working on to develop outcome measures for Psoriasis, Psoriatic Arthritis, HS, and Acne.

At the end of this session, we will have a discussion, followed by a wine and cheese reception.
There is no fee to attend this meeting, but registration is required. IDEOM is not covering reimbursements for travel, lodging etc.

The following should register to attend:
Dermatologists

Dermatology fellows/residents

Dermatologists/Rheumatologists

Industry scientists, clinicians, health economists

Government/Regulatory

Non-profit organizations


PRELIMINARY AGENDA
IDEOM MEETING AT THE
WORLD CONGRESS OF DERMATOLOGY
1:00 – 2:00 pm REGISTRATION AND SIGN IN
2:00 – 2:20 pm Welcome Remarks and IDEOM Overview
Global Outcome Measures for Clinical Practice
Alice Gottlieb, MD, PhD – IDEOM President
2:20 – 2:35 pm The Important Role of Patients in Outcome Measurements
Mara Maccarone, PhD – President ADIPSO (Associazione per la
Difesa degli Psoriasici) and PE.PsO.POF (Pan European
Psoriasis Patients Organization Forum)
IDEOM Workgroup Progress
2:35 – 2:55 pm Psoriasis Workgroup Progress
April Armstrong, MD, MPH
2:55 – 3:15 pm Psoriatic Arthritis Workgroup Progress
April Armstrong, MD, MPH
and Joseph Merola, MD, MMSC
3:15 – 3:35 pm Hidradenitis Suppurativa Workgroup Progress
Amit Garg, MD

3:35 – 3:55 pm Acne Workgroup Progress
Jerry Tan, MD, FRCPC
3:55 – 4:15 pm COFFEE BREAK
4:15 – 4:35 pm Outcome Measures in Europe
Prof. Dr. Matthias Augustin
4:35 – 4:55 pm Discussion on Collaboration
5:00 – 6:00 pm IDEOM RECEPTION – WINE AND HOSTED HORS D'OEUVRES
5:30 – 6:00 PM BUSINESS ADVISORY COMMITTEEE MEETING
6:00 – 7:00 pm OPTIONAL WORKGROUP BREAKOUT SESSIONS