Ideas to Spice up your Dictation Activities

Thursday, February 7, 2019 from 2:00 PM to 3:30 PM (EET)
Event Details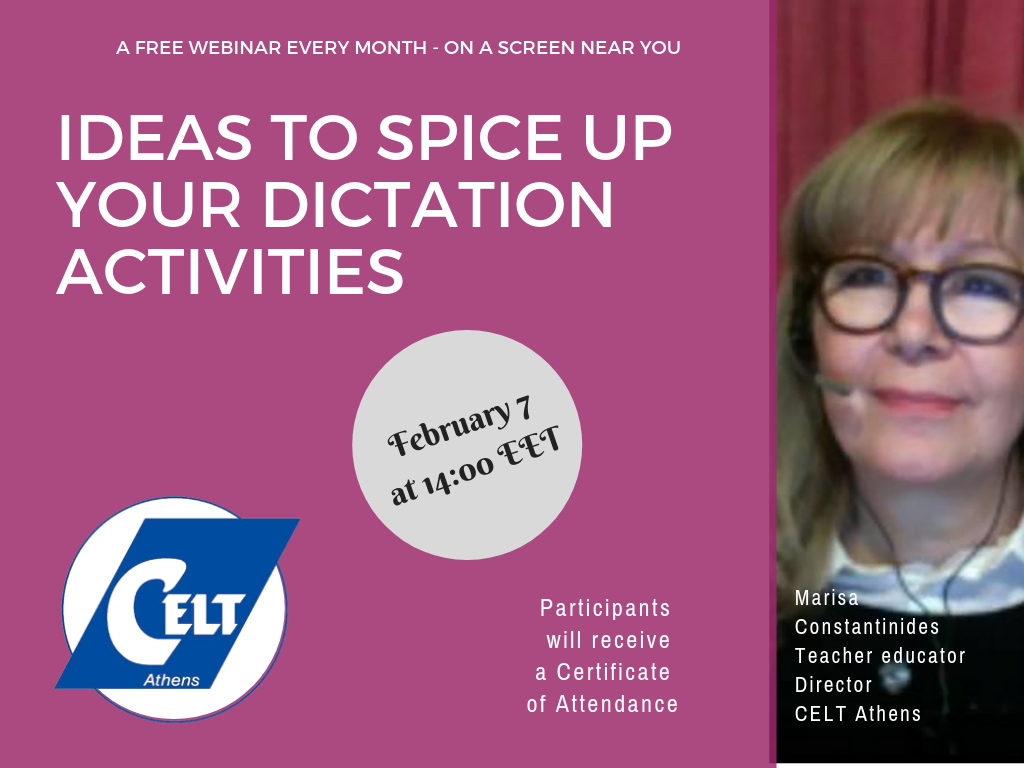 Dictation is one of those staple activities which teachers and learners alike consider valuable but not very motivating. In this webinar, I would like to talk about different ways of approaching dictation to serve different objectives and continue improving students' lanuage skills along with their spelling. 
Join me on the day by following these steps:
Log in as a guest by visiting the link below. 

During the webinar, we will ask you to complete a short form to confirm your email and your name and surname in order to receive your certificate of attendance

Handouts or slides the presenter wishes to share will be made available in the session room on the day of the webinar. 

Certificates of attendance will be emailed to people who complete the form and who have actually attended to webinar. 
Here is the link to our online classroom 
https://celtathens.adobeconnect.com/teacherdevelopment/
Please note that recordings of our webinars are not shared at present and we cannot answer the many individual requests for a recording. 
The time of the presentation is 14.00  EET, GMT+2
When & Where

CELT International Teacher Development Centre
3 Georgiou Gennadiou
106 78 Athina
Greece


Thursday, February 7, 2019 from 2:00 PM to 3:30 PM (EET)
Add to my calendar
Organizer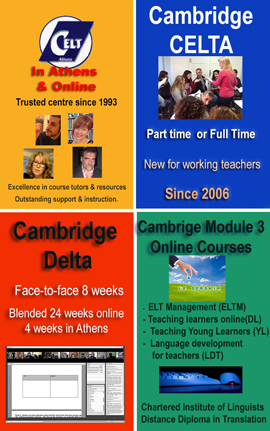 CELT Athens was founded in 1993 and is an established International Teacher Development Centre widely known for its role and contribution to the improvement of Foreign Language Education locally and internationally. To date, more than 2,500 Foreign Language teachers, directors of studies and administrators have trained on CELT courses. CELT trainees come from around the globe (the United States, the United Kingdom, Australia, Egypt, France, S.Africa and, of course, Greece!)  to start or revitialise their teaching career. Many now hold posts of responsibility in various countires.
CELT Athens offers a variety of face-to-face and online courses leading to prestigious inernational qualifications.
These courses include the Cambridge CELTA Certificate course  for new teachers which is offered both part time and full time.
For experienced teachers, the Cambridge DELTA Diploma is offered both face-to-face as an intensive course in Athens as well as by distance, via online webinars in our virtual classroom. 
Centre for English Language & Training, 3 G.Gennadiou Street, 106 78 Athens, Greece
Tel +30 210 3302406 | +30 210 3301455 | Fax +30 210 3301202|  E-mail:  info@celt.edu.gr