Ideas of the brave is a community symposium that will aid in the development of Kitchener's next Economic Development Strategy.
About this Event
Help shape Kitchener's future by joining us at Ideas of the Brave! It's a night where more than 100 community leaders, business leaders, residents and civic leaders come together to share ideas on how to continue to make Kitchener better.
Kitchener City Council and our Kitchener Economic Development Team are committed to ensuring our community remains a vibrant, welcoming city with a growing economy. This Fall, we will be developing Kitchener's next Economic Development Strategy – Make It Kitchener 2.0. This strategy will identify the bold initiatives our community and City will lead together in the coming years to continue to position Kitchener as a global leader in job creation, economic growth and community vibrancy.
We need your help! We know change is happening all around us at a faster pace than we've ever experienced. Our community comes together to lead the kind of change we all want to see in our city. In Kitchener, we #MakeChangeTogether. Change starts with ideas. Your ideas!
City Council and Kitchener's Economic Development Team invite you to participate in our community symposium 'Ideas of the Brave' on October 2nd.
What Happens at Ideas of the Brave?
During the symposium, attendees participate in round table workshops which focus on a variety of challenges and opportunities that lie ahead. Topics include job growth, community vibrancy, talent attraction, innovation, arts & culture, downtown, and nightlife, just to name a few. You will be asked to share your thoughts on brave ideas posed by others, share your own brave ideas and help us prioritize the efforts we should lead to make the biggest impact in our community! Your input will help inform City Council's new strategy and ultimately inform the work the City carries out over the next four years. The Symposium is also a great opportunity to meet and network with community and business leaders from across the city.
Not available to attend? No problem! Still have your say by filling out the survey.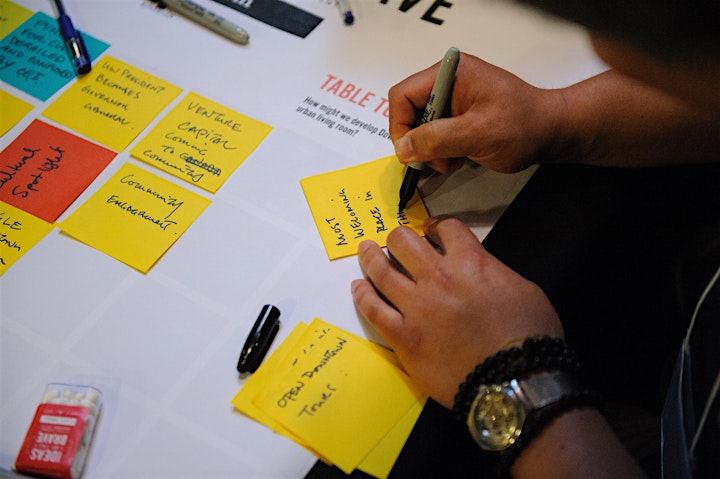 AGENDA
5:00pm-5:45pm - Registration & Networking (Light Refreshments)
5:45pm-6:00pm - Announcements and Instructions
6:00pm-7:45pm - Round Table Workshops
7:45pm-8:00pm - Closing Remarks & Networking
**Please arrive no later than 5:30pm for registration**
PARKING AND TRANSPORTATION
Our venue Catalyst 137 is a short ten minute walk from the Grand River Hospital LRT Station stop and is also located on the #4 Grand River Transit bus route. There is also plenty of parking available.
FOOD AND BEVERAGES
Lights snacks and refreshments will be provided but please plan to eat dinner before or after the event. A cash bar hosted by a local brewery will also be available.
WHAT IS 'MAKE IT KITCHENER'? WHAT IS AN ECONOMIC DEVELOPMENT STRATEGY?
Not familiar with Economic Development – no worries. You should still attend! Make it Kitchener is our award winning strategy that identifies initiatives and partnerships the City will help lead to keep our community and economy vibrant. Learn more here.