IDEAS Free Online Workshop - How Does IoT Impact you?
Description
Topic:
IoT includes everything from cellphones, coffee makers, washing machines, headphones, lamps, wearable devices and almost anything else you can think of. It allows for virtually endless opportunities and connections to take place, many of which we can't even think of or fully understand the impact of today. The analyst firm Gartner says that by 2020 there will be over 26 billion connected devices. That's a lot of connections (some even estimate this number to be much higher, over 100 billion).

How Does This Impact You? Join our workshop to discuss together with Jerry Power from USC.
He willl introduce the I3 (Intelligent Internet-of-Things Integrator) Consortium, which is a newly formed open consortium being created to encourage the accelerated formation of community-based IoT networks. These networks are formed when independent IoT device owners work together to create data "rivers" that have more composite value than a series of individual IoT data streams.
I3 is an innovative IoT data management system was first conceived at USC and evolved with encouragement from the City of Los Angeles and other entities seeking to create an ecosystem that will encourage the accelerated deployment of IoT technology by creating an environment that allows citizens and businesses to form community managed data marketplaces.
This presentation will cover the challenges that must be overcome to realize what is, in effect, an open data market place that allows producers and consumers to connect and exchange data on mutually acceptable terms. The presentation will also cover the motivational issues that have driven the program with a focus on the implications such a system has for the larger IoT market. To close the session, a number of use cases will be presented that serve to illustrate application of the system in a live IOT environment.
Speakers:
Jerry Power (Exec Director Institute for Communication Technology Management from University of Southern California) - https://www.linkedin.com/in/jerry-power-8816842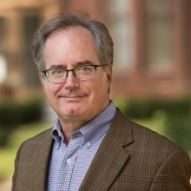 Jerry Power is the executive director of USC-Marshall's Institute for Communication Technology Management, a think tank that is dedicated to understanding how technology will impact markets and business processes. The CTM community serves as a focus point for innovative thinking in support of business strategy. Jerry is also one of the founding members of the I3 Consortium which is applying innovative thinking in the IOT space to realize a democratized vision of IOT networks. Jerry is also authoring a new book entitled "The Real-Time Revolution", is active with NISG, NGA, and WEF.

About Us
Our goal is to create a data science learning platform to connect data science & blockchain enthusiasts. These online conferences will demonstrate cutting-edge technology and feature a variety of data science & blockchain experts covering topics including industry trends, data science applications, open-source software, machine learning and many others. This is the must-attend event for anyone that is already in the field or just looking to expand their career network in the Data Science & Blockchain arena.