Description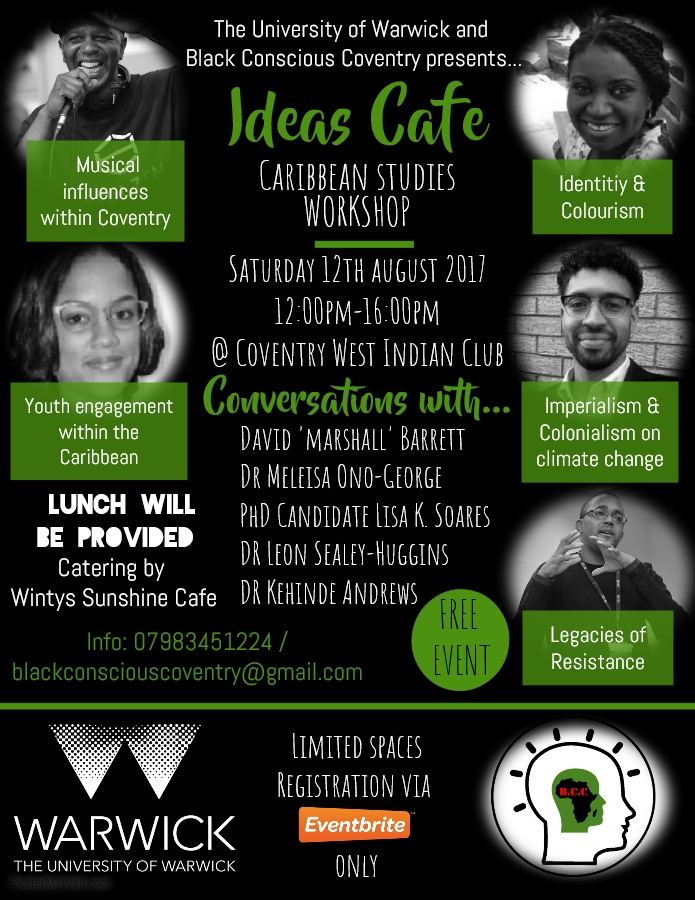 Ideas Café: Caribbean Studies
Saturday 12th August 2017 12pm-4pm
At Coventry West Indian Club
159 Spon Street, Coventry CV1 3BB
The University of Warwick & Black Conscious Coventry are pleased to invite you to:
Ideas Café - Caribbean Studies
The Ideas Café is an interactive & engaging event which brings together members of the public and academics to discuss and engage in exciting research topics. The University of Warwick & BCC bring you the first Ideas Café on Caribbean Studies looking at different areas of research with a focus on the Caribbean.
Dr Kehinde Andrews – Legacies of Resistance
http://www.bcu.ac.uk/social-sciences/about-us/staff/kehinde-andrews
Dr Meleisa Ono-George – Identity & Colourism
http://www2.warwick.ac.uk/fac/arts/history/people/staff_index/ono-george/
Dr Leon Sealey-Huggins – The Effects of Imperialism & Colonialism on climate change
http://www2.warwick.ac.uk/fac/soc/sociology/staff/leon_sealeyhuggins/
PHD Candidate Lisa Soares – Youth engagement in the Caribbean
https://warwick.academia.edu/LisaSoares
Mr David Barrett – Afro Caribbean Presence in Coventry – The Role of music on society
http://www.hillzfm.co.uk/show/dave-marshall-experience/
This event is informal and designed to promote different ways of thinking about research and its practical applications in real life situations. The audience will listen to short presentations from each speaker and then have the opportunity to sit with the academics to discuss and reason on their thoughts and experiences of that topic.
A Caribbean lunch, with a vegetarian and vegan option, will be provided free of charge.
There are limited spaces for this event.
To help us plan for the right number, and to let us know dietary preferences,
Please register to attend below:
https://www.eventbrite.com/e/ideas-cafe-caribbean-studies-workshop-tickets-35721103783?aff=utm_source%3Deb_email%26utm_medium%3Demail%26utm_campaign%3Dnew_event_email&utm_term=eventurl_text
We look forwards to seeing you there.
Many thanks
The University of Warwick and Black Conscious Coventry
For more information please contact
blackconsciouscoventry@gmail.com