Description
HYDE Sunset Kitchen & Cocktails
Everyone knows great design means great business. Especially in the product world, the winning philosophies always center upon the keystones of responsiveness, usability, and simplicity. Sometimes, however, it can be hard to convince key decision makers of the immense value that accompanies brilliant design when there are often few quantifiable measures.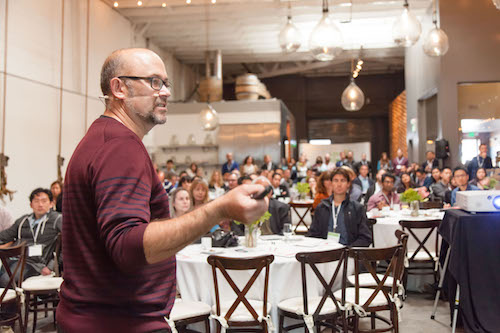 At our next UX Summit in August our discussion will centre around the Art of Storytelling in Design - how content and storytelling shapes the process of effective design and product management.
We will be bringing in powerful speakers from the industry:
• Michael Doyle, VP of Interactive at Fox
• Thorben Neu, Design Director at Belkin International
• Risto Lahdesmaki, CEO of Idean
• John Linden, CEO of Grue Games
• John Canning, VP of Interactive Experiences at NBC Universal
• Shawn Johnson, VP of Design and UX at NBC Universal
• James Knight, Virtual Production Director at AMD
Check out http://bit.ly/uxsummit16 to learn more!
---


Watch what happened last time in San Francisco:

---
Feedback from our previous Summits:
"These summits are some of the most inspiring gatherings that I've attended in years."
– Attendee
"I was blown away at the quality of both the content and production at the UX summit. I try to attend about 12-15 conferences a year and I rank yours as one of the best. It was a great venue, perfect size, excellent topic, and outstanding speakers."
– Mark Hanson, Sr. Strategist, Nuance Communications
"It was, hands down, the best summit, seminar, conference...doesn't matter what it's called, I've attended in years. Clearly your network includes some amazing folks, and not just the speakers. I really enjoyed talking with the other attendees as well. Again, thank you for allowing me to have a little glimpse into your world...it was absolutely time well spent."
– John Ledingham, UX Director at Plantronics
"Got me out of my day-to-day execution to see a big picture that opens a lot of exciting possibilities. Each person has real rigor behind what they do; it wasn't just fluff and rah-rah. Met some really interesting people outside my usual circle."
– Bob Ertl, Sr. Director, Product Management at Sentilla
---
Venue:
HYDE Sunset