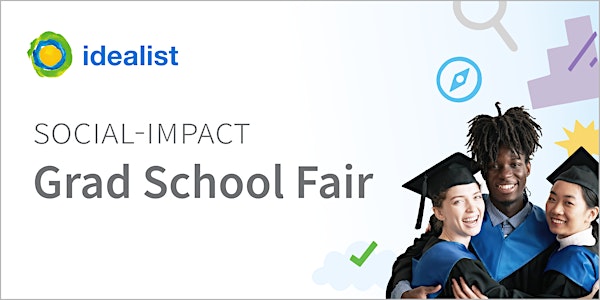 Idealist Grad School Fair: Chicago 2022
The Idealist Grad School Fair is FREE to attend and will feature over 120 graduate programs that can elevate your social-impact career.
When and where
Location
Isadore and Sadie Dorin Forum 725 West Roosevelt Road Chicago, IL 60608
About this event
At the Idealist Grad School Fair you'll be able to:
Explore graduate programs in social work, public policy, nonprofit management, international affairs, public interest law, social entrepreneurship, and many more
Meet graduate admissions advisors from local, national, and international universities
Get details on admissions requirements and application deadlines
Decide if grad school is right for you if you're still on the fence
*By registering you agree to share your information with Idealist and its members for the purpose of sharing graduate school information and related events.
**While masks are optional at this event, Idealist will provide masks at the check-in booth for anyone that wants one. Please stay home if you're feeling sick.
SPONSORED BY


Exhibitor List
Adler University- Psychology, Counseling, Public Policy, and Leadership
American University School of International Service
American University, School of Public Affairs
Annenberg School for Communication and Journalism, University of Southern California
Arizona State University Watts College of Public Service and Community Solutions
Bard Graduate Programs in Sustainability
Binghamton University - Institute for Genocide and Mass Atrocity Prevention
Boston College Graduate School of Social Work
Boston University School of Public Health
Boston University School of Social Work
Brandeis University, The Heller School for Social Policy & Management
Brown University School of Public Health
Carnegie Mellon University's Heinz College of Information Systems and Public Policy
Case Western Reserve University Mandel School of Applied Social Sciences
Claremont Graduate University
Columbia Climate School's Earth Institute - MA in Climate and Society | MPA in Environmental Science and Policy | MS in Sustainability Management | MS in Sustainability Science
Columbia University - School of Professional Studies
Columbia University Mailman School of Public Health Graduate Admissions
Columbia University School of Social Work
Columbia University, School of International and Public Affairs
Cornell Institute for Public Affairs MPA Program
DePaul University - Graduate Admissions
Dominican University
Duke University - Nicholas School of the Environment
Duke University, Sanford School of Public Policy
Durham University
Emory University Rollins School of Public Health
Fordham University - International Political Economy & Development (Fordham IPED)
George Washington University Elliott School of International Affairs
George Washington University Graduate & Professional Programs
Georgetown University, Edmund A. Walsh School of Foreign Service
Georgetown University, McDonough School of Business
Georgetown University's McCourt School of Public Policy
Goldsmiths, University of London
Graduate Admission
Harvard Graduate School of Education - Admissions Office
Harvard Kennedy School
Harvard T.H. Chan School of Public Health Admissions Office
Hult International Business School
Imperial College London
Indiana University Lilly Family School of Philanthropy
Indiana University School of Social Work
Johns Hopkins Bloomberg School of Public Health
Johns Hopkins School of Advanced International Studies (SAIS)
Johns Hopkins University Carey Business School
La Follette School of Public Affairs
Loyola University Chicago Graduate and Professional Programs
Marquette University Graduate School
Medill-Northwestern University
Methodist Theological School in Ohio
Middlebury Institute of International Studies at Monterey
National Louis University
National Urban Fellows, Inc.
North Park University
Northeastern University Khoury College of Computer Sciences
Northeastern University School of Public Policy and Urban Affairs
NYU Robert F. Wagner Graduate School of Public Service
O'Neill School of Public and Environmental Affairs - Indiana University Bloomington
Oxford Brookes University
Pacific Northwest College of Art, MFA in Collaborative Design, MA in Design Systems, MA in Critical Studies
Portland State University Graduate School
Princeton School of Public & International Affairs
Queen's University Belfast
Rutgers School of Public Health
Saybrook University
School of Diplomacy and International Relations, Seton Hall University
School of Social Work, University of Illinois at Urbana-Champaign
Simmons University- Graduate Studies Admission
SIT Graduate Institute
SOAS University of London
Stanford Graduate School of Education
Stevenson Center for Community & Economic Development, Illinois State University
TEXAS A&M UNIVERSITY- Bush School of Government & Public Service
The Hebrew University of Jerusalem
The New School - Graduate Programs
The University of Manchester
Tufts University - The Fletcher School
Tufts University Public Health & Professional Degree Programs
Tulane University School of Professional Advancement
UC Berkeley Graduate School of Journalism
UCLA Luskin School of Public Affairs: MPP, MSW, MURP
University of Arkansas - Clinton School of Public Service
University of Chicago Crown Family School of Social Work, Policy, and Practice
University of Chicago Harris School of Public Policy
University of Denver -Josef Korbel School of International Studies
University of East Anglia - UK
University of Essex
University of Glasgow Scotland
University of Houston Graduate College of Social Work
University of Maryland School of Public Policy
University of Miami Master of Arts in International Administration (MAIA)
University of Michigan School of Public Health
University of Michigan School of Social Work
University of Minnesota Humphrey School of Public Affairs
University of Minnesota School of Public Health
University of North Dakota College of Business and Public Administration
University of Notre Dame Graduate School
University of Pennsylvania School of Social Policy & Practice
University of Pittsburgh School of Social Work
University of Pittsburgh, Graduate School of Public and International Affairs
University of Pittsburgh, Graduate School of Public Health
University of Pittsburgh, School of Education
University of Roehampton, London
University of San Francisco - College of Arts and Sciences
University of San Francisco School of Education
University of Southern California-Sol Price School of Public Policy
University of Southern California, Suzanne Dworak-Peck School of Social Work
University of Strathclyde, Glasgow (UK)
University of Sussex
University of Washington - Evans School of Public Policy and Governance
University of Washington School of Social Work
University of Wisconsin - Milwaukee Urban Studies Programs
Vanderbilt University's Peabody College of Education and Human Development
Vermont Law School
Washington University in St. Louis, Brown School - Social Work and Public Health
Weill Cornell Medicine, Department of Population Health Sciences
Western Illinois University, Fellows Program in Community Development
Yale School of Public Health
Yale School of the Environment