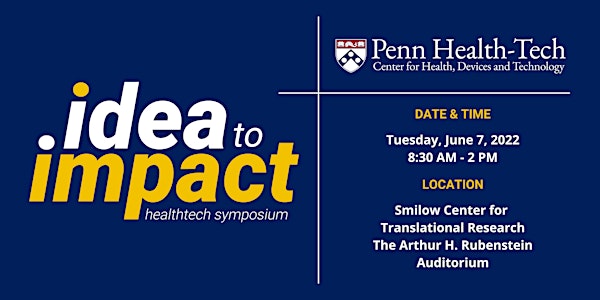 Idea to Impact Health-Tech Innovation Symposium
Location
Smilow Center for Translational Research
3400 Civic Center Boulevard
Arthur H. Rubenstein Auditorium
Philadelphia, PA 19104
Penn Health-Tech Celebrates 5-years with Idea to Impact Health-Tech Innovation Symposium on June 7
About this event
The Idea to Impact Health Tech Innovation Symposium, in addition to marking Penn Health-Tech's fifth-year anniversary, is a celebration of the Innovation Community at the University of Pennsylvania, Penn Medicine, and Children's Hospital of Philadelphia in advancing health technology innovation at the intersection of healthcare, engineering, and medicine. 
With special keynote by Pitou Devgon, MD, MBA, Co-Founder and former President of Velano Vascular.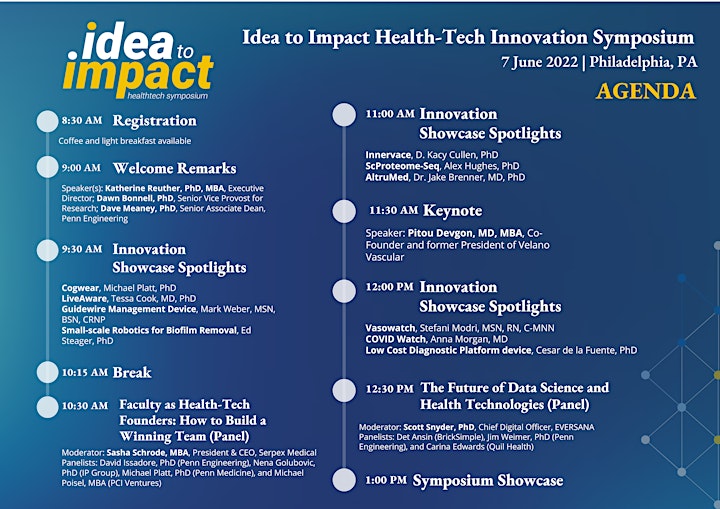 Panel Topic: Faculty as Health-Tech Founders: How to Build a Winning Team
featuring moderator Sasha Schrode, MBA (Serpex Medical) and panelists: David Issadore, PhD (Penn Engineering), Nena Golubovic, PhD (IP Group), Michael Platt, PhD (Penn Medicine), and Michael Poisel, MBA (PCI Ventures)
Panel Topic: The Future of Data Science and Health Technologies
featuring moderator Scott Snyder, PhD (EVERSANA) and panelists: Det Ansin (BrickSimple), Jim Weimer, PhD (Penn Engineering), and Carina Edwards (Quil Health)

Symposium Showcase
The Idea to Impact Health-Tech Innovation Symposium program will feature podium presentations of startups and technology-focused projects with an opportunity for an audience-driven Q&A. ​​To accompany the podium presentations within the Symposium program, there will also be poster presentations in the foyer area outside the Arthur H. Rubenstein Auditorium. From 1-2pm, participants will stand by their posters, available to chat and answer questions.
If you would like more information about participation, please email Penn Health-Tech.
Please note:
(1) The Symposium event is in-person. All University of Pennsylvania event participants, day visitors, vendors, and non-badged contractors must complete a COVID-19 screening through PennOpen Campus before arriving on campus: https://pennopen.med.upenn.edu/campus
(2) Boxed lunch will be provided. If there are serious food allergies, please email Penn Health-Tech.