Description
Embrace your impact at IDEA 2020!
The annual IDEA Conference is a one-day event for college students and young alumni across New England to explore innovation and entrepreneurship of every kind. Whether it's through technology, social impact, or arts and culture, we empower all students to embrace their passions and use them to create meaningful impact.
From start to finish, attendees will be inspired by world-class innovators, engage with strategies and useful tools for developing new ideas, and connect with resources and people from across Boston University and beyond.
The IDEA Conference is organized and hosted by Boston University's Innovate@BU initiative and is generously sponsored by Lou Volpe, Questrom'78, Managing Partner, Kodiak Venture Partners

IDEA 2020 tickets are open to current students from BU and other colleges/universities, and a select number of tickets will be available to alumni and community members. Tickets go on sale December 3, 2019.

The conference is perfect for students and young alumni who are eager to explore innovation and entrepreneurship concepts, learn new skills, and get inspired to create impact in their own way whether it's through enterprise, social impact, or the arts.

Attendees will participate in workshops and exercises, including live case studies, group collaboration, and self-reflection.

Attendees will have multiple opportunities to learn about and connect with innovation resources and people at BU and in the community.

Attendees will leave with an understanding of the innovation process from diverse perspectives, stages, and industries.

From live performances to interactive artwork, creativity and collaboration will be embedded into your entire day!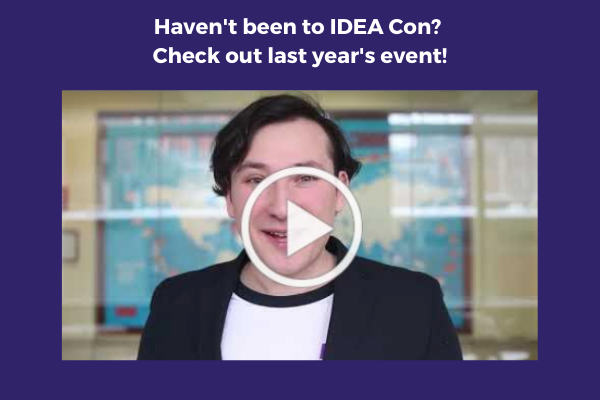 Meals: Breakfast, lunch, networking reception, and coffee breaks

Opportunities to meet world-class innovators and entrepreneurs from a variety of fields and industries.

Specialized workshops to choose from depending on your personal interests

9:30-11:00am: Welcome and IGNITE Talks!
Settle in for an amazing day. We'll kick-off the morning with short, inspirational lightning talks from innovators, entrepreneurs, and community changemakers from BU and the Boston-area.
Brook Wages (MIT, Harvard) - Founder, Surge Employment Solutions
Daylin Frantin (Questrom'19) - Cofounder & CFO, FluxMarine
Joel Nkounkoh (University of New Hampshire) - Founder, EcoText
Katleen Francios (Emerson College) - Founder, Gaeaux Network
Jun Yoo & Amanda Wang (Tufts University) - Cofounders, Potencia
Jade Zaroff (Emerson College) - Founder, Entertainment for Change
11:-11:15am: Morning break
11:15-12:15pm: Workshop Session 1
Who Wants My Idea and How Do I Know? This workshop will explore creative ways that early-stage businesses, nonprofits, and initiatives have quickly tested their ideas before they were fully built. Participants will walk away with clear next steps for testing their own ideas as they build them.

Money Hustle: Strategies for Funding Your Business and Yourself How do you fund an early-stage idea? Come learn the creative ways alumni and student founders have raised money - and worked their side hustles - to get their ideas off the ground. We'll help you to think through strategies that are likely to work best for funding your idea.

Building an All-Star Team What are the unique and powerful skills that you bring to your team? What are the critical gaps you need to fill? How do you find people to fill them? In this workshop, participants will examine their current teams' skills and gain insight into how to build a highly effective, rockstar team to achieve your dreams.

Pursuing Your Passion While Paying Your Rent Do you ever stay up at night wondering how to keep your dream alive while paying your bills? This interactive workshop is designed for artists, creative practitioners and anyone with a desire to balance meaning with money. Join us to learn more about cultivating a creative and entrepreneurial mindset and hear from recent grads who are striking the balance.

When to Make it "Official": Becoming a for-profit company How do you know when it's time to turn your project into an official business? What does it mean to become an official for-profit company? This workshop will help participants understand the options for incorporating your venture and key questions to consider when making this decision.

When to Make it "Official": Becoming a nonprofit organization How do you know when it's time to turn your project into an official nonprofit? What does it mean to be a nonprofit (and how is this different from other legal structures)? This workshop will help participants understand the options for incorporating your venture and key questions to consider when making this decision.

Networking Like a Boss How do you network like a pro? Participants in this workshop will learn the importance of authentic generous engagement along with some classic tricks to improve effectiveness.

How to Develop Your Personal Brand (details coming soon)
12:15-1:00pm: Lunch
1:00-2:00pm: Panel: How to Use Your Passion to Create a World You Want to Live In
Moderator: Scott Kirsner, Boston Globe Columnist and CEO, Innovation Leader

Lauren Betz, Head of Customer Success, Food for All

Greg Wellenius, Professor of Environmental Health, BU School of Public Health

Malay Mazumder, Research Professor, BU School of Engineering

Josefina Luna, Founder, CERO Cooperative
2:10-3:10pm: Workshop Session 2
Networking Like a Boss How do you network like a pro? Participants in this workshop will learn the importance of authentic generous engagement along with some classic tricks to improve effectiveness.

Marketing Your Idea: Who Are You Talking to and Where? How do you generate buzz about your idea? This hands-on workshop will guide you to identify your key stakeholders and customers and help you think through the best ways to reach them and get them excited about your idea.

How Does Financing a New Venture Work? 101 Guide to Startup Investing This workshop will explain how startup investing really works. In a fun hands-on workshop we will learn what terms such as "equity investing" "convertible notes" "dilution" really mean and how they impact the future of your venture.


Funding Your Non-profit Who gives to nonprofits? Who gets the money and how? This informative hands-on workshop will help nonprofit startups understand the terminology of the giving world (foundations, individuals and government) and how to best position themselves to get their piece of the philanthropic pie.

Pitch Perfect How can you get the point of your venture across to someone in 30 seconds? 1 minute? Or 3 minutes? Knowing how to pitch your venture is key to finding others who want to help you make your idea come true.

Project Management Basics to Go From To-do to done. Tah-dah! Do you find yourself drowning in to-do lists and procrastinating on deadlines while starting a new idea? This hands-on workshop will show you how to break a big idea into manageable pieces, set deadlines, and explore tools for personal and project success.

Leadership in Climate Action: Entrepreneurs, Universities, and Cities How can a university or a city pursue a goal of carbon neutrality? Partnerships with stakeholders who are committed to meeting the goal are key to bold solutions for big challenges.

How to Use Innovate@BU's Innovation Pathway to Move Your Idea Forward Learn about the Innovation Pathway, BU's student-driven accelerator program that supports ventures and projects! Hear advice from a panel of students with diverse ideas and in different stages. Non-BU students, consider how to apply the idea development process to your work and campus!
3:20-4:20pm: Keynote Speaker Annie Leonard, founder of The Story of Stuff Project and executive director of Greenpeace USA
4:20-5:00pm: Networking Reception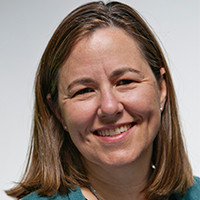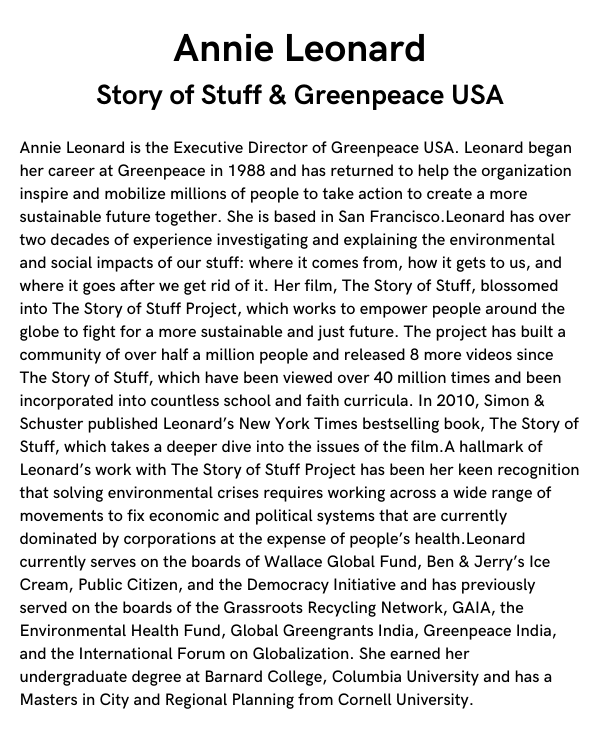 Violin Viiv: Let the music inspire you from the moment you arrive! During check-in and breakfast, enjoy Volin Viiv's signature electric violin music.
Vivian Luo throws pop-up performances of pop, EDM and hip hop mixes & mashups in Boston public spaces including Faneuil Hall and various MBTA stations. A classically trained contemporary violinist/DJ known as "violinviiv", she also brings her high energy spirited performances to weddings, corporate engagements and private parties, sharing her raw energy and unique spin on mainstream hits.
Max Bard: Throughout the day, Max will be building an IDEA 2020 installation made of waste materials from the surrounding area.
"My work is a unique, visual language that speaks directly to the complexities of the American landscape. Like the reflection of treetops on the surface of still water, my work captures a variation of reality, altered by perception. A rigorous collection process is the heart of my creative practice. My work is made entirely from materials I source from the environment."

We are working to reduce waste at this event. Help us reduce waste by:
Bringing your own reusable water bottle and reusable coffee cup

Using the special reusable cutlery set that will be given to each attendee

Following our recycle, compost, and trash guides throughout the day

Interested in volunteering at IDEA 2020? Apply here to volunteer for a morning or afternoon shift!


---
Innovate@BU is a University-wide initiative to enable all BU Terriers to become drivers of innovation in their own lives, careers, and communities. Innovate@BU's physical home, the BUild Lab IDG Capital Student Innovation Center, hosts experiential learning programs that foster an entrepreneurial mindset by teaching innovation, communication, and collaboration skills. Check our more Innovate@BU events!