About this Event
What Is It?
This year's Crandall Conference is in a different format in order to address two very critical and hot industry topics: IDDSI (International Dysphagia Diet Standardization Initiative) and PDPM (Patient Driven Payment Model). Simply Thick® is co-sponsoring the conference with Crandall because of their involvement with the IDSSI program and the close involvement the Speech Therapists need to have with Registered Dietitians, CDMs, DTRs and Directors of Dining Services / Food and Nutrition Services.
Why attend?
• IDDSI: The Academy of Nutrition and Dietetics and American Speech Language and Hearing Association (ASHA) announced IDDSI's official launch date of May 1, 2019 for implementation in the US. Therefore, the new IDDSI framework becomes the accepted professional standard of clinical practice.
• PDPM: For Long-Term Care communities, on October 15, 2019, the new PDPM is the proposed new Medicare payment rule. Payment is based on services provided by five disciplines. Dietitians, CDMs, DTRs and Directors of Food and Nutrition Services are involved in the 5th (NTA – non-therapy ancillary). This means communities will be reimbursed for services these individuals are already providing. Think advanced pressure injuries, morbid obesity, diabetes, HIV/Aids, malnutrition, mechanically altered (texture modified) diets, tube feedings and TPN. Come, learn about dietary and speech's key roles in PDPM.
What to Expect
• Discussion from top leaders in the industry on the What, How and Why of IDDSI, how dietary and speech can work together to improve the care of residents and play key roles in PDPM.
• Participate in demonstrations of proper consistencies of foods that meet the IDDSI standards. These will be shown by representatives from culinary, speech, and Registered Dietitians.
• Receive tips on how to implement IDDSI in your communities and how to contribute to a successful implementation of dietary and speech's roles in PDPM.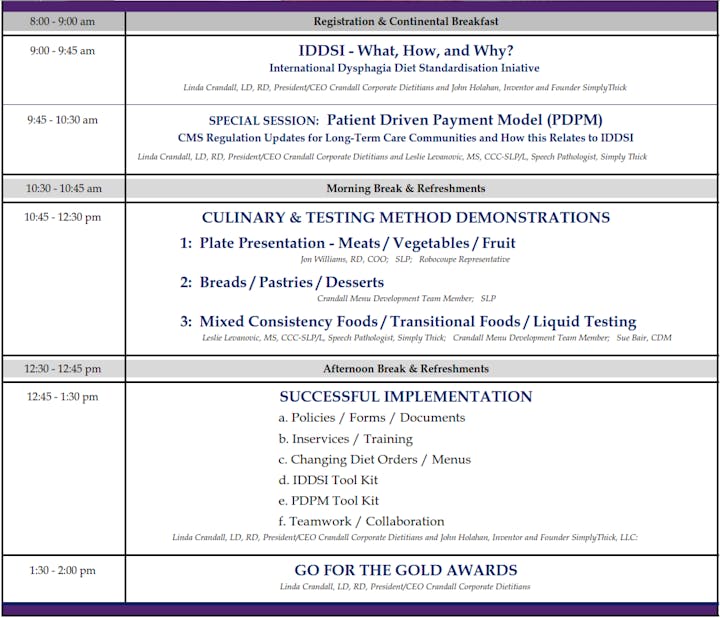 Guest Speakers and Presenters
Linda Crandall: President/CEO of Crandall Corporate Dietitians
Registered Dietitian and Licensed Dietitian in 40 states
Developed cutting edge management and clinical systems for senior living corporations and communities; unsurpassed Dietitian training; and Menus/TrayCard systems for over 2400 communities nationwide
Speaks regularly at healthcare conferences
Very involved with community and church
Most important thing in her life is her late husband, 5 children, 29 grandchildren, and 11 great-grandchildren
John L. Holahan: President / Founder of Simply Thick, LLC
Inventor of the company's original patented thickener – SimplyThick
Worked with thickeners—and not just in healthcare—for his entire business career
Presented to various long term-care trade organizations on the topics of IDDSI, dysphagia, thickeners, and rheology
Volunteer work includes being a Boy Scout Leader, a robotics coach, a rescue dog foster parent, and a church leader
Outside the business world, he has been married for over 25 years to his college sweetheart and can usually be found either driving to or from kid's (1 girl and 2 boys) events or cheer leading on the sidelines.
Somehow in the middle of it all, he still finds time to run—slowly—and play the piano—badly!
Jon Williams: COO of Crandall Corporate Dietitians
Responsible for all Assisted Living services across the country
Registered Dietitian and trained chef with over 23 years of experience
Originally from Pennsylvania, where he acted as the Manager of Nutrition Services for 4 years at a community managing nutritional services for 122 residents and food production for over 300 residents
Bachelors in Culinary Nutrition from Johnson and Wales University
Theresa Arguello-Thomas: Senior VP of Menu Operations of Crandall Corporate Dietitians
Entered the senior living industry in 2003 as a CDM and DSD with Sunrise Senior Living focusing in the CCRC sector of the industry
Joined the Crandall team in 2006 where she filled multiple responsibilities such as recruiting, training development, consulting, and served as a corporate liaison for the company
Continued to expand her career growth working as a Divisional Director Dining Services for Emeritus Senior Living which eventually became Brookdale Senior Living in 2010
Rejoined the Crandall team in 2017 and currently serves as the Senior Vice President of Menu Operations
Bachelor of Science Degree in Nutrition and Dietetics from New Mexico State University and a Masters in Business Administration from Grand Canyon University
Terry Szustak: VP of Menu Development of Crandall Corporate Dietitians
Registered dietitian with over 25 years of public and private food service management experience
Leads a menu development team that sources, tests new recipes, updates multiple menus seasonally, and develops all dietary components for menus to all care types assuring regulatory compliance.
Bachelor of Science in Dietetics from The University of Arizona
Leslie Levanovic: Simply Thick Regional Manager for Arizona
Received her BS and MS in Communication Sciences and Disorders from St. Xavier University
Worked as a speech pathologist in acute care setting for more than 20 years with focus on adults with dysphagia
Joined Simply Thick as a Regional Manager in 2016
Moved to Scottsdale Arizona with her family in 2013 where she worked in the acute care and home health settings
Passionate about maintaining the highest quality of life for individuals on modified diets