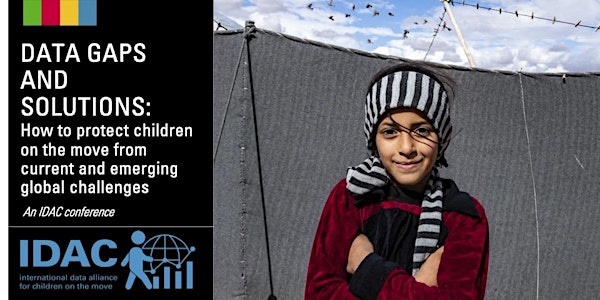 IDAC Annual Conference
Join us to discuss data & evidence-based solutions to emerging global challenges faced by migrant & displaced children!
About this event
For those participating online, tune into our zoom meeting here.
As of end 2020, there were a record 35.5 million international child migrants globally, and at the end of 2021 there were 36.5 million forcibly displaced children. Child migration and displacements are expected to dramatically increase over the next 25 years, with climate change alone estimated to place 1.2 billion people at risk of internal and cross-border displacement by 2050.
As the world braces for the compounding challenges caused by conflicts, climate displacement, food insecurity, health and other threats, timely, accurate and disaggregated data are urgently needed to ensure child-specific considerations are made in policy and program design. While addressing existing data gaps, new approaches and data partnerships will be needed to strengthen the capacity of national data actors and policymakers to ensure that vulnerable and hard-to-reach populations like children on the move will not be left behind.
The International Data Alliance for Children on the Move (IDAC) will convene a multi-stakeholder conference (in hybrid format) in Santiago, Chile on Friday, 27 January 2023 to reflect on progress made in improving migration and displacement data. It will also consider existing data gaps and evidence-based solutions that can protect children on the move from current and emerging global challenges. Government policymakers, national statistical authorities, international organizations, youth and other stakeholders working at the nexus of migration, displacement and child-specific data work are expected to join.
Secure your spot now and pre-register for in-person or online participation by Friday, 13 January 2023! The conference documents and other details will follow soon.
The IDAC conference will take place immediately after the International Forum on Migration Statistics (IFMS), in Santiago, where IDAC will hold a parallel session on January 25, 2023 (a separate invitation for this event will be sent out shortly). Check out the provisional agenda here!