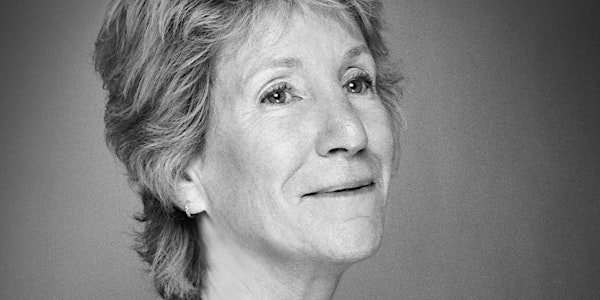 IDA Conversation Series: Joan Churchill
When and where
Location
Landmark Theater Westside Pavillion 10850 W Pico Blvd Los Angeles, CA 90064
Refund Policy
Contact the organizer to request a refund.
Description
Thursday, February 1, 7:30PM
Location:
Landmark Theater
Westside Pavillion
10850 W Pico Blvd, Los Angeles, CA 90064 (Map)

APPLY MEMBER DISCOUNT

Join the IDA now! For discounted admission prices and more!
Join us for a very special edition of the IDA Conversation Series, as we traverse the trailblazing career of the legendary filmmaker and cinematographer Joan Churchill. The evening will feature a clips program and lively conversation between Joan and Academy Award® winning editor and collaborator Kate Amend.
In a career that spans over 45 years, Joan Churchill has made her mark as one of the most influential cinematographers working in documentary film today. Early in her career, Joan shot groundbreaking films that helped define the style of vérité filmmaking, such as Gimme Shelter, with Albert and David Maysles, No Nukes with Haskell Wexler and Barbara Kopple, and Punishment Park with Peter Watkins, and spent seven months shooting on the seminal PBS series An American Family. Joan went on to direct the Sundance and BAFTA award winning film Soldier Girls, Lily Tomlin, Aileen: Life and Death of a Serial Killer, and the Emmy nominated Asylum. In 2005, Joan received the first International Documentary Association Award for Outstanding Documentary Achievement in Cinematography and is also the first documentary shooter and seventh woman inducted into the American Society of Cinematographers
Don't miss this rare opportunity to delve into the fascinating behind-the-scenes stories that illuminate both Joan's career and the art of documentary. Ample time for Q&A will be included in the program.
Joan Churchill
A graduate of UCLA Film School, Churchill began her career doing camera work on a series of music films – including such seminal classics as "Gimme Shelter," a Maysles film, "No Nukes," directed by Haskell Wexler and Barbara Kopple and "Hail, Hail Rock and Roll," directed by Taylor Hackford. Churchill also directed and photographed "Jimi Plays Berkeley," now a cult classic, and spent seven months shooting on the PBS series, "An American Family," the definitive verite study of dysfunctional family life. She was cinematographer on the Peter Watkins' recently re-released feature, "Punishment Park," and she also shot a second Watkins film in Denmark called "Eveningland."
Churchill was invited to teach at the National Film School in England where she took up residence for ten years. A long-term collaboration began with Nick Broomfield, resulting in a number of highly acclaimed films they co-directed. "Juvenile Liaison" exposed the harsh practices of a British police crime prevention program in the schools. Fifteen years later, they revisited the subjects of this film in a follow-up, "Juvenile Liaison 2." "Tattooed Tears" documents the indignity of life inside a California maximum security prison. "Soldier Girls," released theatrically & winner of the BAFTA Award, follows a platoon of women through the agonies of basic training. "Lily Tomlin," also released theatrically, chronicles the evolution of Tomlin's Broadway hit, 'The Search for Signs of Intelligent Life in the Universe.' She also shot on Broomfield's "Kurt & Courtney," and was D.P. on "Biggie & Tupac" and "His Big White Self."
Churchill also continued directing/shooting her own films including "One Generation More" for the BBC about an Estonian family rediscovering their Jewish roots in the shadow of communism; "Asylum," an Emmy-nomination for HBO, reveals life inside a prison for the criminally insane; "Arrested Development in the House," a Channel 4 feature length road movie about the grammy-winning hiphop group, Arrested Development.
She worked on two American TV reality series, producing and shooting a 13 part show for TLC, called "Residents," shot at UCLA hospital over a one year period. This series and "American High," (A PBS Emmy Award winning series also shot and produced by Churchill) were for R.J. Cutler of Actual Reality. Churchill shot and co-directed "Aileen Wuornos: Life & Death of a Serial Killer" with Broomfield. Theatrically released and shown on HBO. The film won first prize at the Tribeca Film Festival and the Amnesty International-Doen Award.
Kate Amend
Kate Amend is the editor of two Academy Award Winning Documentary features-- INTO THE ARMS OF STRANGERS and THE LONG WAY HOME--and is the recipient of the International Documentary Association's inaugural award for Outstanding Achievement in Editing. Amend also received the 2001 American Cinema Editors' Eddie award for INTO THE ARMS OF STRANGERS, and edited the 2001 Oscar-nominated documentary short ON TIPTOE (HBO). Kate was nominated for an Emmy for THE CASE AGAINST 8, a film that was an award-winner at the 2014 Sundance, South by Southwest, Vail, and RiverRun Film Festivals. Recent credits include SERENA: THE OTHER SIDE OF GREATNESS for Epix, and THE KEEPERS, a Netflix series to be released in May 2017.

THE SOUND OF REDEMPTION: THE FRANK MORGAN STORY premiered at the 2014 Los Angeles Film Festival and was named "Best of Fest" at the 2015 Palm Springs International Film Festival. BIRTH STORY: INA MAY GASKIN AND THE FARM MIDWIVES won the Audience Award at the 2012 Los Angeles International Film Festival.

Other credits include FOLK (Nashville Film Festival and DOC NYC, 2013) CRAZY WISDOM: THE LIFE AND TIMES OF CHOGYAM TRUNGPA, RINPOCHE, (2011 Santa Barbara Film Festival), FIRST POSITION, (Toronto International Film Festival, 2011): MAN FROM PLAINS (2007) directed by Jonathan Demme and a triple- award winner at the 2007 Venice Film Festival. THE BROTHERS WARNER was presented on American Masters in the fall of 2008. BEAH: A BLACK WOMAN SPEAKS, about the late actress Beah Richards and directed by LisaGay Hamilton, received the Grand Jury award at the 2003 AFI Film Festival, aired on HBO in February 2004, and received a 2005 Peabody Award. COWBOY DEL AMOR received both the Audience and Jury Awards at the 2005 South by Southwest Festival and was broadcast on Showtime in April 2006.

Amend is on the Board of Governors of the Academy of Motion Picture Arts and Sciences, and has served on the Board of Directors of the American Cinema Editors. She is on the faculty of the School of Cinematic Arts at the University of Southern California, and has been an advisor at the Sundance Institute Documentary Editing and Storytelling Lab since June 2004 In May 2016 she received an Honorary Doctorate from the Academy of Art University in San Francisco, California.
Driving & Parking
Parking is free for the first three hours, and $3 for an additional three hours with validation.
Special support provided by:
Members and Supporters of the IDA
Doc U
is the International Documentary Association's series of educational seminars and workshops for aspiring and experienced documentary filmmakers. Taught by artists and industry experts, participants receive vital information and insight on various topics relevant to the world of documentary filmmaking.