About this Event
This is a kick-off event for the ICW Youth Committee and features a paintball game at HQ Paintball in Kitchener followed by a BBQ at ICW Premises. We hope to see you there and make it one of many exciting events held for the youth of ICW. Some additional information about Paintball HQ is included below:
PAINTBALL HQ has been operating in Waterloo for over 9 years before moving to a better facility in Kitchener. The new location has a store as well as a new tactical field. This is the only indoor paintball field that is air conditioned.
The located is located right next to the expressway, beside the Concordia Club.
http://paintballhq.ca/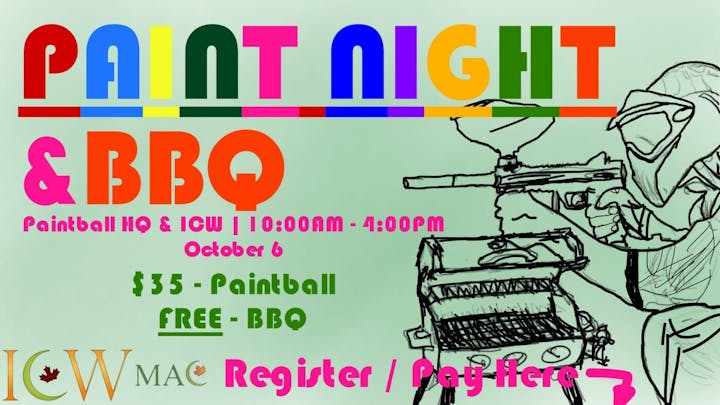 Registering yourself or your child for the event means you agree to the follower waiver, terms and conditions:
In consideration of my application and permitting me to participate in this event, I hereby take action for myself, my executors, administrators, heirs, next of kin, successors, and assigns as follows: (A) Waive, release, and discharge from any and all liability for my death, disability personal injury, property damage, property theft or actions of any kind which may hereafter accrue to me or my traveling to and from this event, THE FOLLOWING ENTITIES OR PERSONS: Muslim Association of Canada, Islamic Centre of Waterloo and their directors, officers, employees, volunteers, representatives and agents, the event sponsors and event volunteers, (B) indemnify and hold harmless all entities or persons mentioned in this paragraph from any and all liabilities or claims made by other individuals or entities as a result of my actions during this event.
I hereby consent to receive medical treatment that may be deemed advisable in the event of injury, accident, and/or illness during this event.
I understand that at this event or related activities I may be photographed. I agree to allow my photo, video, or film likeness to be used for any legitimate purpose by the event holders, producers, sponsors, organizers, and/or assigns.
This waiver shall be construed broadly to provide a release and waiver to the maximum extent permissible under the applicable law.
I hereby certify that I have read the above waiver and I understand its content.