About this Event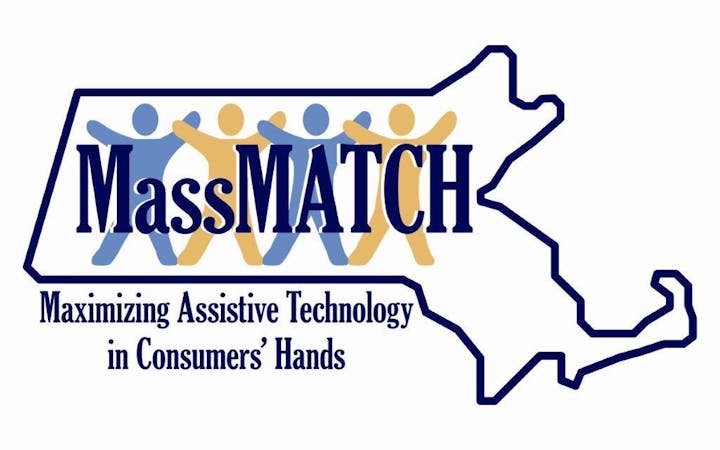 MassMATCH--a program of the Massachusetts Rehabilitation Commission--is dedicated to improving accessible information and communication technology (ICT) and access to assistive technology (AT) for individuals with disabilities. MassMATCH is the State AT Program for Massachusetts and is sponsoring this free training event as a part of its mandate under the Assistive Technology Act of 1998, as amended.
Join Us!
Learn about web accessibility and how to make accessible Microsoft Word docs, PowerPoints, and Adobe PDF files. Learn about the laws and standards that help ensure information is readable and usable by a wide audience, including seniors and individuals with disabilities.
The trainings are appropriate for a range of participants including web content managers and designers, policy and legal staff, and anyone who uses MS Word, PowerPoint or who needs to create accessible PDF files. Register for one or both days depending on your training needs. There is no registration fee for this event. Only 50 tickets will be issued for each day of training. Your ticket is your commitment to attend.
Certificates of Completion will be awarded to attendees who complete training sessions and corresponding evaluations (at the conclusion of either or both days of training).
For those requiring lodging, the Massachusetts Rehabilitation Commission has reserved a block of rooms at a rate of $179 per night. Please contact the hotel directly at 781-890-6767 to reserve your room.
Note: participants of Day 2 will have the best experience if they come with Microsoft Office 2013 (or newer) for Windows, and Adobe Acrobat Pro DC installed on their computers.
Training Schedule and Content:
Day 1: Monday, September 23rd
8:00 am to 9:00 am: Registration and Breakfast (provided)
9:00 am to 12:00 pm: An Introduction to Information and Communication Technology Accessibility (3 hours)
This discussion will introduce the basics of information and communication technology (ICT) accessibility. You will learn about some of the civil rights and technical standards that govern and define ICT accessibility as well as what more accessible technology looks and acts like. We will also include a discussion about the American with Disabilities Act, the Federal Rehabilitation Act and Section 508 to help to sort out what mandates what.
Interested participants may include anyone from hands-on practitioners, legal or policy staff, technical or non-technical roles. This will be a more high level overview of accessibility concepts, law and policy.
12:00 pm to 1:00 pm: Lunch (provided)
1:00 pm to 4:00 pm: Accessibility on the World Wide Web - Accessible Interaction Patterns and Identifying Barriers with Free Tools and Techniques (3 hours)
The discussion turns to the world wide web. We will take the concepts and standards of accessibility and apply them to the web. You will learn what makes interactive elements and web content more accessible to a larger audience of people. You will learn how different patterns and controls need to work so that they will support different interactions that people may have with a device. We will wrap up by introducing some of the basic techniques and tools that you can use to diagnose accessibility problems in web pages.
Participants may include web content managers, web designers, UX designers, software developers or anyone interested in learning what a more accessible website looks and acts like.
4:00 pm - 4:15 pm: Completion of training evaluations and raffle drawing
Day 2: Tuesday, September 24th
8:00 am - 9:00 am: Registration and Breakfast (provided)
9:00 am - 12:00 pm: Accessibility in Microsoft Word and PowerPoint (3 hours)
Learn how to use Microsoft Word to create more accessible Word and PDF documents. You will learn how Word documents should look and act in order to be more accessible. Specifically, we will introduce and apply the following:
Applying and changing Word Heading Styles
Word list formatting
Text equivalents and alternative text for images
Simple data table structure
Using color that conveys meaning and using colors with good contrast
Descriptive link text
Giving a document a title
Using plain language
Notes about multimedia
Participants may include anyone who uses Microsoft Word to create documents, whether the documents are published to a public website or distributed privately.
Next we will build on the lessons about Microsoft Word and learn additional tools and skills to help you to create more accessible PowerPoint slides. We will introduce and apply the following:
Using Slide Master
Managing content reading order
Using slide titles effectively
Animation considerations
Speaker notes
Ideas about delivery
Participants may include anyone who uses Microsoft PowerPoint to create slide decks. This may include human relations staff, educators, conference or event speakers or event organizers.
12:00 pm to 1:00 pm: Lunch (provided)
1:00 pm to 4:00 pm: Accessibility in Adobe PDF Files (3 hours)
This is a continuation of sorts from the morning session on Microsoft Word and PowerPoint. We strongly suggest that people attend the morning session as well, since this session will take concepts from the morning and apply them in PDF format. We will examine how to use Adobe Acrobat Professional to identify and repair accessibility barriers in PDF documents. This is an introductory level session, meant for PDF accessibility beginners.
Participants may include anyone who has a backlog of PDF files and wants to know how to remove accessibility barriers from the files using Adobe Acrobat Professional.
4:00 pm - 4:15 pm: Completion of training evaluations and raffle drawing
About the Trainers
Rob Carr is the ICT Accessibility Program Manager for Oklahoma ABLE Tech, Oklahoma's Assistive Technology Act Program housed at Oklahoma State University. Rob helps organizations to embrace inclusion through technology. He trains and guides state agencies, higher education institutions and the occasional private sector partner to make accessibility efforts into sustainable programs. From high-level topics like accessibility in procurement and building accessibility initiatives to the nuts and bolts of PDF and web accessibility, Rob makes accessibility something that organizations can fit into their existing operations. Rob works closely with peer Assistive Technology Act Programs around the country to provide training and technical assistance around technology accessibility. Rob also speaks at local and national conferences on various accessibility-related topics and organizes Oklahoma's statewide accessibility conference, TechAccessOK. Rob is an IAAP Certified Professional in Accessibility Core Competencies and an ACTCP Certified ADA Coordinator.
Lyssa Prince is an Information and Communication Technology (ICT) Accessibility Coordinator with Oklahoma ABLE Tech. She graduated from the University of Oklahoma with a Masters of Library and Information Studies degree in 2015 and applies the user-centered approaches from the information world to accessibility. Lyssa enjoys digging into websites and applications to test how accessible they are for all users, and she finds it especially exciting when this testing leads to providing targeted feedback for organizations. In addition to accessibility testing, she provides training and technical assistance on accessibility topics such as Adobe PDF, Microsoft Office, and accessibility testing to various groups across the state of Oklahoma.
Have questions about this event? Contact Kobena Bonney, MassMATCH Program Coordinator at 617-204-3826.