ICS Theater Fest

Sunday, June 2, 2019 from 2:00 PM to 8:00 PM (EDT)
Event Details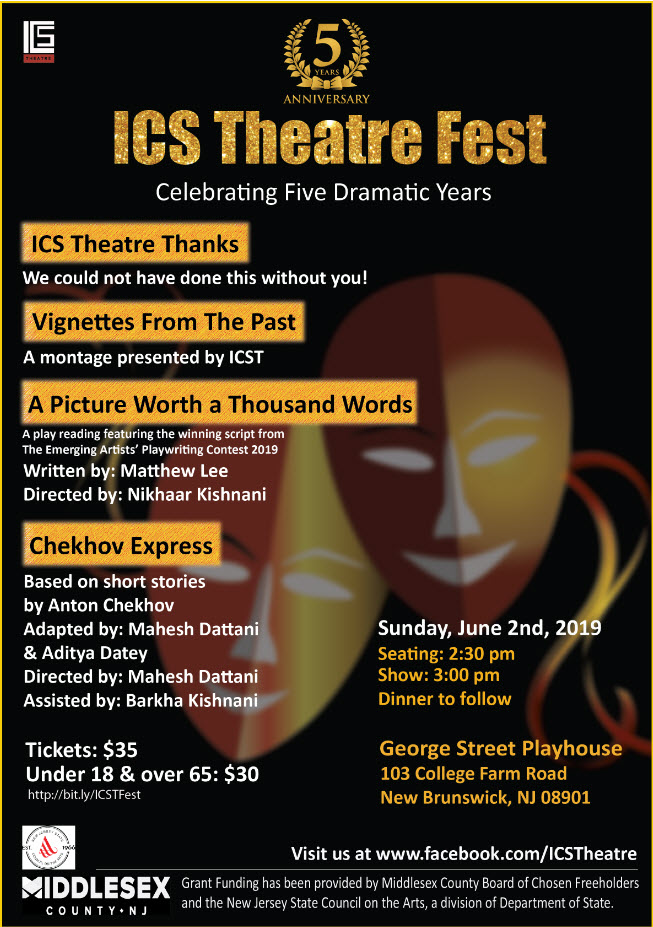 ICS Theatre Fest - ICS Theatre's grand 5th anniversary event
Program Info:
ICST Thanks (3:00 pm)  An expression of gratitude in honor of those that helped ICS Theatre take its first steps and stood strong in support, always.
Vignettes from the past (3:30 pm) A beautiful montage of memorable vignettes presented by ICST to showcase its journey.
Break (4:30 pm - 4:45 pm)
A Picture Worth a Thousand Words (4:45 pm) Directed play reading, featuring the winning script from ICS Theatre's Emerging Artists' Program (in collaboration with the East Brunswick Junior High and High Schools). Written by Matthew Lee; Directed by  Nikhaar Kishnani
Chekhov Express (5:30 pm, seating at 5:15 pm) A play in English and Hindi (with English supertitles)
ICS Theatre is back with its 10th production, Chekhov Express, a theatrical masterpiece by renowned playwright and director, Sahitya Akademi Award recipient, Mahesh Dattani.
Based on short stories written by the great Russian author, Anton Chekhov, this English/Hindi adaptation by Mahesh Dattani & Aditya Datey, transposes beautifully to an Indian railscape and will help you relive the magic of Indian railway stations and train journeys!. In 2017, with its production Chak De Chekhov!, ICS Theatre found that audiences had a deep thirst for these short stories that transcend the barrier of time and place. Stories that transport you to modern day India, in a voice that's fresh, unique and resonant with Chekhov's delicate humor.
Staged as envisioned by maestro Mahesh Dattani, Chekhov Express is sure to be an immersive experience lush with music, movement, and some fantastic storytelling!
Thoda chai coffee thanda garam with Anton Chekhov!
(Translation: a little tea and coffee; a little hot and cold with Anton Chekhov)
The Hindi segments will have English supertitles.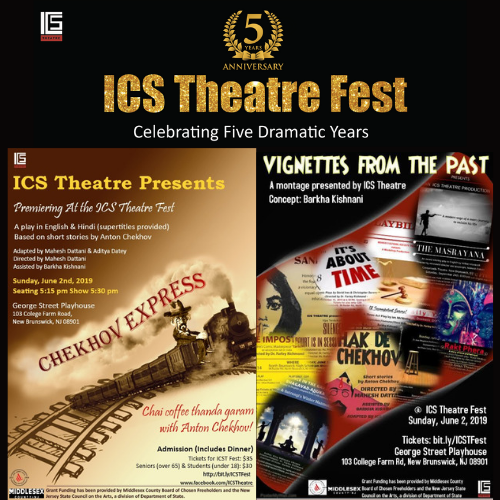 When: Sunday, June 2nd, 2019
Seating 2:30 pm
Show 3:00 pm
Dinner to follow
Where: George Street Playhouse
103 College Farm Road, New Brunswick, NJ 08901
Admission (includes dinner)
General $35
Students (under 18) $30
Seniors (over 65) $30
Please note: an additional Event Brite service charge will apply.
Please Note:
Please retain the email confirmation from Eventbrite, as proof of payment.
No separate email from ICS will be sent out.
Student ticket holders will have to present valid student ID at entry
Tickets are non-refundable.
Venue map / George Street Playhouse
When & Where

George Street Playhouse
103 College Farm Rd
New Brunswick, NJ 08901


Sunday, June 2, 2019 from 2:00 PM to 8:00 PM (EDT)
Add to my calendar
Organizer
Established in 1999, the Indian Cultural Society of East Brunswick evolved out of a need for members of the Indian community in and around East Brunswick to have a platform to gather and celebrate cultural events and holidays, and promote cultural awareness. It provides families of Indian origin - and those with interest in India - avenues to celebrate and share in its diversity and to stay connected to its traditions, heritage, and innovations. Through regular social and cultural events and volunteer activities, this organization creates a forum to create fellowship among its members and foster strong relationships in the community.
ICS Theatre, a part of ICS EB, was established three years ago, and since then the group has staged several successful productions, from classics like Moliere's Tartuffe to one act plays like It's About Time, a theater workshop production of Twelve Incompetent Jurors to productions like The Masrayana. ICS Theatre has been fortunate to have worked under the guidance of renowned directors such as Dr. Farley Richmond and Mr. Mahesh Dattani. Our plays have been staged at several prestigious theater festivals like the South Asian Theater Festivals in NJ and Ohio. In the ever-changing theatrical landscape, ICS Theatre stages plays that speak to its audience. Questions or inquiries email icstheatrenj@gmail.com