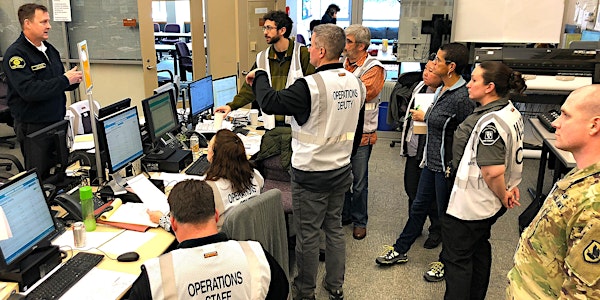 ICS-300: Intermediate ICS for Expanding Incidents (Aug. 02-06, 2021)
This is a special remote-access delivery of FEMA's ICS-300 course. The course length is five *partial* days.
About this event
This course provides training for personnel who require advanced application of the Incident Command System (ICS). This course expands upon information covered in the ICS 100 and ICS 200 courses.
NOTE: This is a remote-access class that will be using the Zoom video-conferencing system. Because of the amount of small-group exercises in this course, unless there are technological hurdles for someone, all students will be **expected** to participate in the class with a live video camera during most of the class (even if it's just from their cell phone).
Intended Audience
This course is open to staff from cities, tribes, counties, state, and federal agencies, special purpose districts, and their private and non-profit partners.
The target counties are King, Pierce, Snohomish, Kitsap, Skagit, Thurston and Kittitas Counties. We have also reserved some seats for anyone that responds elsewhere in the state of Washington, but *not* in the target counties. (There are also a limited number of seats set aside for responders from other states that do not typically respond in the state of Washington.)
Course Objectives
Describe how the National Incident Management System Command and Management component supports the management of expanding incidents.
Describe the Incident/Event Management process for supervisors and expanding incidents as prescribed by the ICS.
Implement the Incident Management process on a simulated Type 3 incident.
Develop an Incident Action Plan for a simulated incident.
Prerequisites (REQUIRED):
NOTE: As a first step, register for the class on this site. After registering for the class, you *MUST* send electronic copies of your completion certificates from these courses (below) to this e-mail address: oemt@kingcounty.gov  If you do *not* submit copies of your completion certificates within 14 calendar days of registering for the class, YOUR REGISTRATION WILL BE CANCELLED and you will have to re-register for the class (or be added to the wait-list).
IS-100.c, "Introduction to the Incident Command System" (IS-100.b will also be accepted);
IS-700.b, "National Incident Management System, An Introduction" (IS-700.a will also be accepted);
IS-800.d, "National Response Framework, An Introduction" (IS-800.c will also be accepted).
.
And, either:
IS-200.d, "Incident Command System for Single Resources and Initial Action Incidents" (IS-200.c will also be accepted)   
** OR **
IS-2200 "Basic Emergency Operations Center Functions"
(You can visit FEMA's Emergency Management Institute to complete these free Independent Study courses.)
Recommendations
Experience using concepts and principles from ICS 100, ICS 200, and the use of skills in a response or exercise.
Course Length
**5** Days (21+ hours). NOTE: On four of the days of this class (M, Tu, Th, F), we will meet from 8:00 AM to 12:30 PM. On Wednesday, the class will meet from 8:00 AM to 1:00 PM. On all days there will be 10 minute breaks every 50 minutes.
Class Size
12-36 participants
Cost: 
None
Other Information
If you need to cancel your registration for this class, please contact me at Eric.Obrien@kingcounty.gov. Our classes have limited availability and waiting lists. Please be considerate of others and cancel if you will not be attending. Those who do *NOT* attend the class and remain registered will be asked to contact me prior to registering for any future classes.
All participants are welcome. For questions about accessibility or to request an accommodation, please contact Eric O'Brien at Eric.Obrien@kingcounty.gov   (Requests should be made as soon as possible, but preferably at least 14 calendar days prior to the class.)