Actions and Detail Panel
ICR State of Economic Development
Thu, June 8, 2017, 7:30 AM – 9:30 AM EDT
Description
Indiana markets itself, and has built its reputation on being, a "State that Works." The economic success of Indiana relies heavily on the hard work our local, regional, and state economic development corporations do to attract and retain business. The ICR will be hosting "The State of Economic Development" on June 8th, with the goal of providing leaders from all levels of Indiana's economic development a forum with which to inform the industry on priorities and initiatives.
Featured Speaker: Elaine Bedel, President, Indiana Economic Development Corporation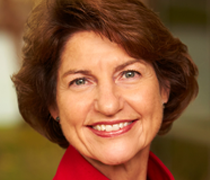 Elaine Bedel, Indianapolis, was appointed by Governor Eric Holcomb in 2017 to serve as president of the Indiana Economic Development Corporation, the state's lead economic development agency.
Prior to serving the state in her current role, Elaine served as president, chief executive officer and chief compliance officer of Bedel Financial Consulting Inc., a role held since she founded the company in 1989. Bedel is an author of a personal finance book and is a nationally-recognized speaker, providing financial expertise at conferences hosted by Schwab Impact, the University of Indianapolis and the Financial Standards Board. Previously, she served as the director of personal finance planning at Coopers and Lybrand.

Throughout her career, Bedel has been recognized for dedication to her profession and her community. Bedel was recognized as a 2014 Enterprising Woman of the Year by Enterprising Women Magazine and received a Trailblazer Award from the National Association of Women Business Owners (NAWBO). She was inducted into the Business Hall of Fame by the Junior Achievement of Central Indiana and received the Financial Planning Association's "Heart of Financial Planning" Award in 2013.
The event will begin with a short address from Bedel, in which she will describe the major priorities and objectives of the IEDC, and talk about the role of the construction industry in her vision.
Following Bedel's remarks, the ICR will host a panel of economic development leaders including;
Elaine Bedel, President, Indiana Economic Development Corporation
Greg Wathen, President, Economic Development Corporation of Southwest Indiana
Eric Doden, President, Greater Fort Wayne, Inc.
Lynn Coyle, President, Greater Bloomington Economic Development Corporation



Moderator: Larry Gigerich, President, Ginovus
Larry is a nationally recognized economic development leader with more than 25 years of local and state government, not-for-profit and private sector experience. Throughout his career, Larry has worked on approximately 500 economic development projects resulting in over $10 billion in capital investment, the creation of over 80,000 new jobs, and the retention of over 160,000 existing jobs.
Named by Governing Magazine as one of the nation's best economic development officials, Larry is a member of The Site Selector's Guild, an internationally recognized site selection organization, and is a regular speaker and panelist at conferences throughout North America.
Please join us for this important discussion on June 8th, at Indiana Landmarks, 1201 Central Ave., Indianapolis, IN 46202, from 7:30am-9:30am.
Contact Paige Riley with any questions at paige@indianaconstruction.org.