Description
The Indiana Construction Roundtable is excited to announce that this year's Annual Event will focus on a Culture of Success!
Wednesday, October 5th, 2016
Ivy Tech Culinary Center, Indianapolis
Schedule of Events*
Luncheon 11:30am-1:00pm
Keynote Speaker: Kevin Sheridan Sponsored by Relocation Strategies, Inc.
The keynote speaker for this year's event will be Kevin Sheridan, bestselling author of "Building a Magnetic Culture." Kevin is an Internationally-recognized Key-Note Speaker, a New York Times Best Selling Author, and one of the most sought-after voices in the world on the topic of Employee Engagement. He spent thirty years as a high-level Human Capital Management consultant, helping some of the world's largest corporations break down detrimental processes and rebuild a culture that fosters productive engagement, earning him several distinctive awards and honors in the process. Kevin's premier creation, PEER®, has been consistently recognized as a long-overdue, industry-changing innovation in the field of Employee Engagement.
Breakout Sessions 1:15-2:25pm
Knowledge Management: How do we capture our knowledge: Our personal experiences and expertise, market expertise, connections and content? How do we protect it in an evolving technology driven world.
Presented by Bill Krausen, Vice President of Professional Development, Messer Construction Co.

IU Health Project Update: This panel will take a look at how IU Health has successfully navigated the process of transforming healthcare delivery and culture, to meet the evolving needs for healthcare providers.
Presented by Jim Mladucky, VP of Design and Construction, IU Health.
Regional Cities Panel Discussion: This panel will focus on the state's Regional Cities Initiative and the redefining of regional cultures. This panel will also discuss how stakeholders and regional leaders have come together under the Regional Cities Initiative.
Panelists Include:
John Sampson, President & CEO, Northwest Indiana Regional Partnership
Greg Wathen, President & CEO, Economic Development Coalition of Southwest Indiana
Regina Emberton, President & CEO, Michiana Partnership, Inc.
Moderated by: Eric Shields, Vice President of Policy and Strategic Initiatives, IEDC.
Closing Panel 2:30pm-3:30pm
Appreciating Corporate Culture: What drives the need for cultural changes? This session will focus on best practices involved in building a successful sustainable culture, including; driving factors, implementation strategies, and desired outcomes.
Panelists Include:

Mike Strohl, Senior VP, Chief Customer Officer, Citizens Energy Group
Ann Murtlow, President & CEO, United Way of Central Indiana
Richard Whitney, Global Employment Brand Leader, Cummins
Moderated By: Michael Huber, President & CEO, Indy Chamber.
Penthouse Reception 3:30pm-5pm, Sponsored by FA Wilhelm Construction Co.
The reception will be on the top floor in the penthouse area and will include food and drink pairings prepared by Ivy Tech Culinary Students.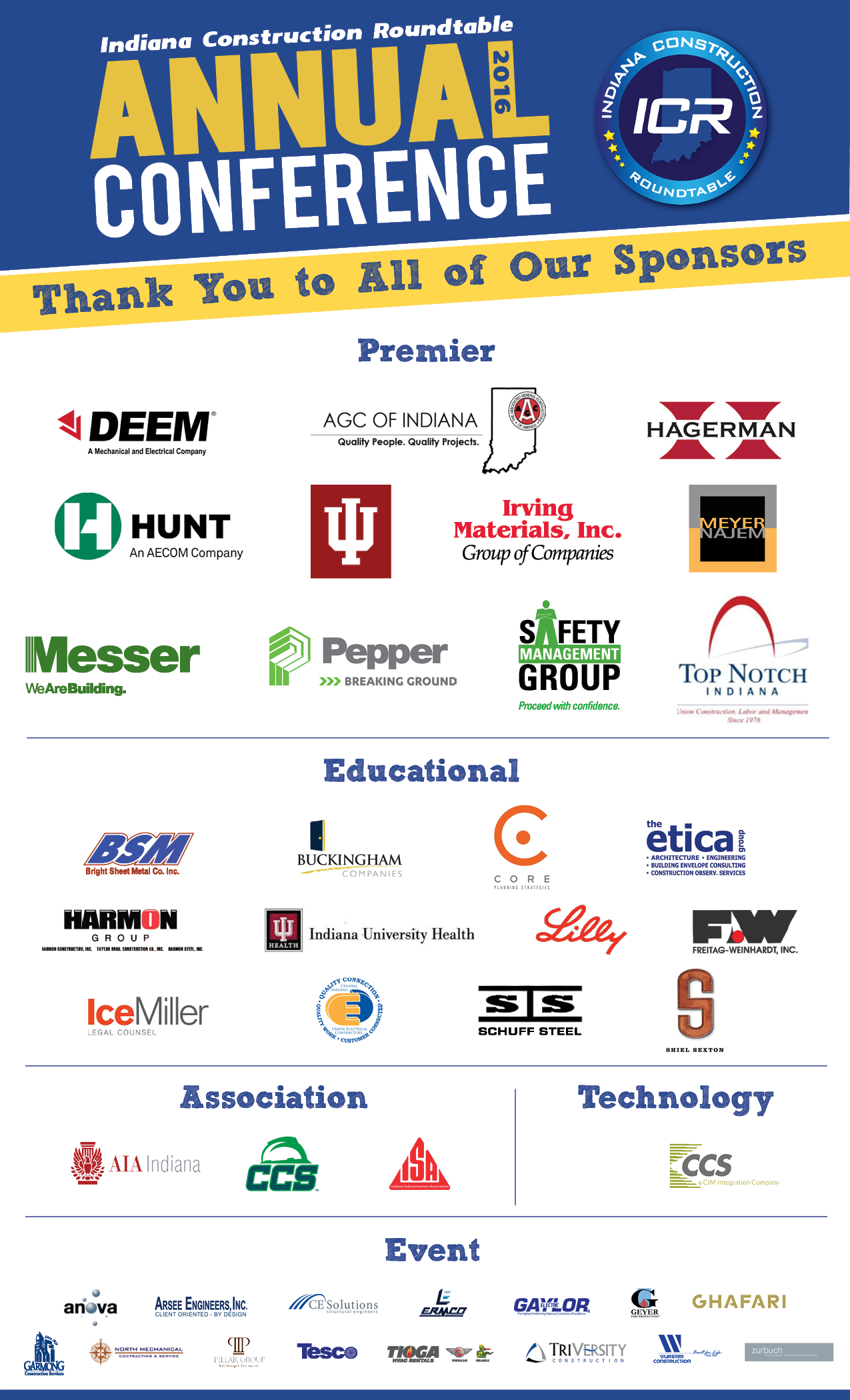 *Schedule subject to change
For more information please contact Mike Thibideau with ICR at mike@indianaconstruction.org or 317-686-2669.