About this Event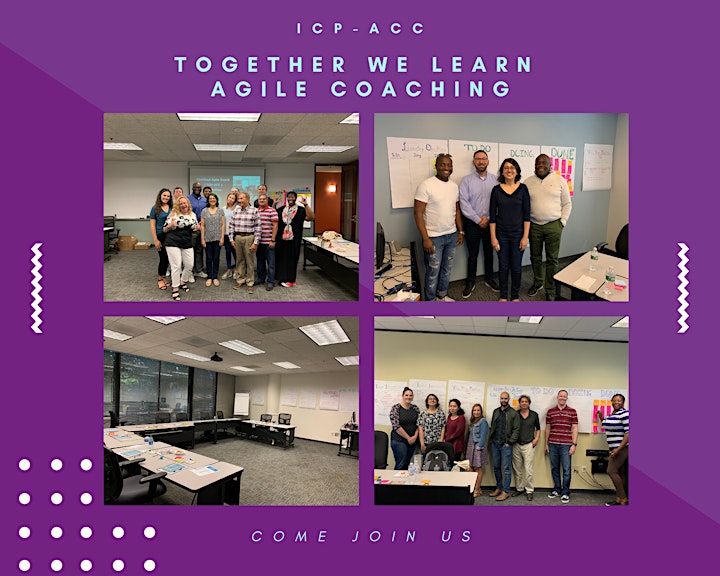 Absolutely latest material that meets the 2019 ICAgile learning objectives.
Workshop is right before the Global Scrum Gathering. Perfect if you're travelling in to attend the Global Scrum Gathering in New York. Arrive the week prior and leave with your ICP-ACC certification.
What is the ICP-ACC?
It's a 3 full day workshop to take your agile coaching experience to a new level with activities, case studies, simulations, discussions and a thoughtful curation of relevant theories and practices.
You'll learn through hands on practice of actual coaching conversations and learn critical skills to hone your agile mindset, create high performing teams, naivgate conflicts and much more!
And you'll learn all this from an actual Agile practitioner it in a fun, interactive way.
At the end of the workshop you will receive the highly respected International Corsortium for Agile (ICAgile) Agile Coach certification which is also known as the ICP-ACC.
What does my ticket include?
Daily light breakfast, lunch, all day snacks and beverages
Fresh baked cookies in the afternoon (yum)
Participant workbook, notebook & pen
Printed color copy of the agile manifesto
Electronic version of the slides used in the class
Practitioner kit with fun stuff
Certification fee
Is this for me?
This workshop is great for executives, leaders, program managers, product owners, project managers, entrepreneurs, team leads, Scrum Masters, development team members and practicing agile coaches. Even if you're in none of these roles and just curious about what agile is and how you can bring it to your company as a coach, come along! Wherever you are in your career, this course will help you with the tools, frameworks and methodologies to up your game. Plus, the professional contacts you make during the workshop will help you to broaden your learning and strengthen your network.
What are the pre-requisites?
Some understanding of Agile and experience with working with any one Agile framework is preferred. If you have no experience with Agile please contact us so we can share some material you can review before attending the workshop.
Ok, I'm in. What do I bring to the workshop?
Just yourself! Everything you need will be provided at the workshop.
FAQs
Will I get parking?
Yes! You'll find parking options here: https://www.mclabs.com/room-rentals/microtek-new-york-city/
I'm travelling in from outside. What are my stay options?
You can find some here: https://www.mclabs.com/room-rentals/microtek-new-york-city/
Also, if you put this location in Google Maps and press the "nearby" button on your desktop and then type in hotels, you'll be able to find the hotels in the vicinity of this venue. This place is conveniently located close to the World Trade Center with lots of hotels in the area.
Who am I learning from?
Arundhati is an experienced startup founder/CEO and product owner with 7+ years of building companies from the ground up using Agile, Scrum and Lean methodologies. Prior to that she worked at Deloitte Consulting, New York where she provided strategy consulting to multiple Fortune 100 companies. She brings a diverse background with a Masters from NYU in Clinical Social Work and has provided coaching and advisory to 5000+ individuals and startups. As an ICP-ACC certified IC Agile authorized instructor she brings an unique blend of her knowledge and skills in psychology, lean, agility and change management to her workshops—themes that are integral to agile coaching. She also brings diverse international perspectives to her workshops from her experience of living and working in 8+ cities in USA and India. She is currently based in San Francisco and is the co-organizer of the Women in Agile San Francisco chapter.
Instructor Certifications: LMSW-New York, CSP, ACSM, CSM, CSPO, LKP, KMP 1, ICP-ACC, TBR, TBR-CT, Licensed Scrum Trainer (LST).
What exactly will I learn?
Here's a more detailed look at what we'll cover:
Agile Mindset
What Agile Coaching actually is (yes there are many misconceptions around it)
Agile Coaching Stance - what it is and why you need it
Difference between Agile Coaching, Mentoring, Teaching & Facilitating
Coaching Competencies like Powerful Questions, Emotional Intelligence
Agile Competency Framework
Breaking down the Agile Coaching Conversation and practicing it!
Practicing mentoring, teaching and facilitation modules
Team Coaching & Systems Thinking
Dealing with Resistance
Handling Agile Role Transitions
Building High Performing Teams (Psychological Safety & Team EI)
Conflict Navigation (models from Kilmann, Satir etc.)
Giving and Receiving Feedback (models from Goldsmith, Bowman and others )
Coaching Alliances & Contracts (DTAs and formal contract designs)
Are workshops guaranteed to run?
Workshops run if there are a minimum of 5 registrants. Due to the participatory and interactive nature of the workshops, less than 5 participants wouldn't be a quality experience.
Should I book my hotel/flight?
Unless the workshop heading says "Guaranteed To Run" there is a possibility that the workshop will not run. We advise you to book cancellable tickets if you are booking for a workshop that doesn't yet say "Guaranteed To Run."