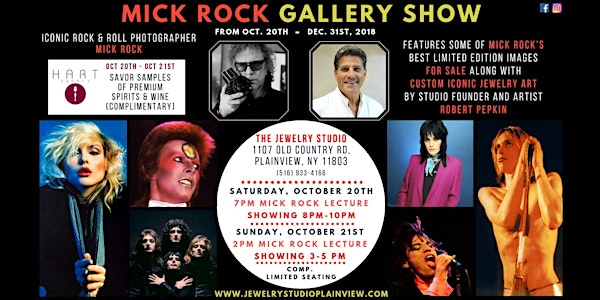 Iconic Rock & Roll Photographer Mick Rock, Known as "The Man Who Shot the Seventies" Holding Gallery Show At The Jewelry Studio in Plainview October 20th-21st
When and where
Location
The Jewelry Studio 1107 Old Country Road Plainview, NY 11803
Description
The "Mick Rock Iconic Gallery Show" Will Feature Some of the Photographers Best Works For Sale Along with Custom Jewelry Art By Studio Founder And Artist Robert Pepkin.

This October, one of the world's most influential Rock n' Roll photographers who was instrumental in creating some of the most widely known iconic images in rock history, Mick Rock, will join forces with highly respected jewelry artist Robert Pepkin for a unique retrospective on Rock's astounding career. The Mick Rock Iconic Gallery Show will be held Saturday, October 20th (7PM Lecture, Showing 8-10PM) through Sunday, October 21st (2PM Lecture, Showing 3-5PM) at The Jewelry Studio (1107 Old Country Rd, Plainview, NY 11803)! Exhibition will be displayed in store until December 31st.

This unique gallery experience is set to include a collection of limited edition photographic pieces--on sale to the public--with wearable jewelry art designed by Pepkin and Rock, book signings, meet-and-greet red carpet opportunities, and more. With exhibits ranging from classic portrait pieces of LI natives like Joan Jett and Lou Reed to Mick Rock's quintessential album covers from the late 60's through today including Lou Reed's "Transformer", Iggy Pop's "Raw Power", The Ramones "End of the Century", and works from his incredible creative partnership with David Bowie - attendee's can view and purchase copies of some of the most legendary images in music history. And with the upcoming release of Queen's biopic Bohemian Rhapsody in theatres this November, the collection will include some of Mick's timeless works with the band including their "Queen II" and "Sheer Heart Attack" album covers!