Description
Old SOUL Entertainment & Cultural Cannibals present:
ICON: NYE 2014. Three Parties. Three Floors. One Night. One Price.
December 31, 2013. New Orleans on the Ave. 543 Indiana Avenue. Indy.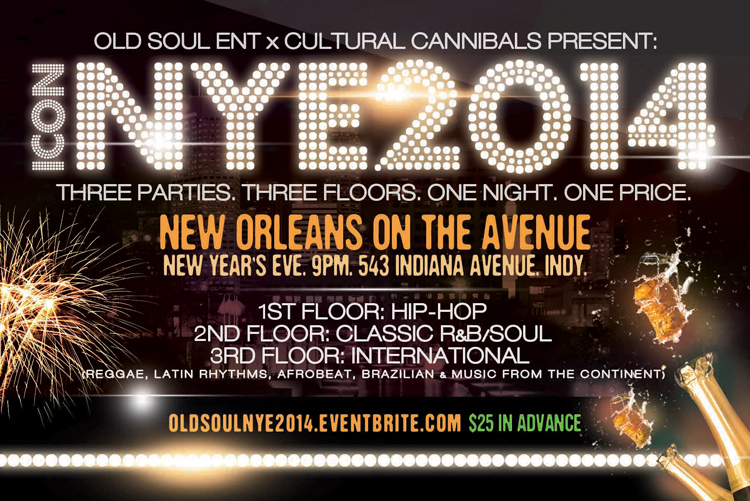 All year, Old SOUL Entertainment has brought you back to back events that have offered diversity in deejays, attendees and music. Old Soul Entertainment and Cultural Cannibals are joining forces to create the most unique NYE party in Indy. One ticket provides you access to three parties, each featuring a distinct musical experience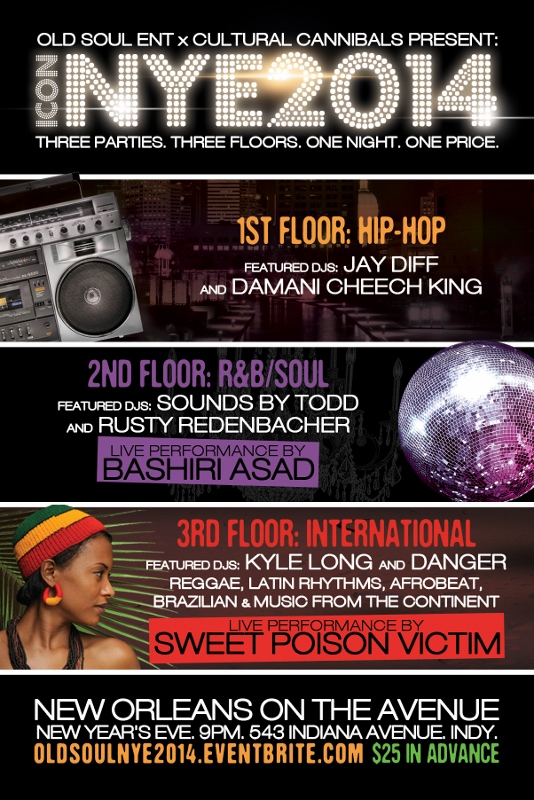 On the first floor, you will find deejays spinning Hip-Hop. On the second floor, you will find deejays spinning Classic R&B /Soul. On the third floor, you will find deejays spinning World Rhythms.

Level three: Featuring a live performance from African rock band Sweet Poison Victim. DJ Kyle Long playing the hottest Indian, African and Latin rhythms. The legendary Jamaican DJ Danger spinning dancehall, reggae and other Caribbean favorites. Plus visuals created by artist Artur Silva.

Level two: Featuring a live performance from acclaimed soul singer Bashiri Asad. Indianapolis own ionic DJ / personality, Rusty Redenbacher along with Sounds by Todd will be spinning classic R&B and soul.

Level one: DJs Jay Diff and Damani "Cheech" King playing classic hip-hop and top 40 music all night.

Admission price includes champagne toast at midnight.
$25, Advance discount tickets available at: www.OldSoulNYE2014.eventbrite.com