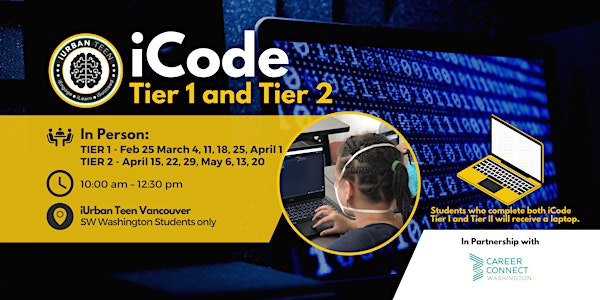 iCode: Tier II
The iCode program is an iUrban Teen developed fast-paced Introduction to Coding program for HS students. In person and virtual.
Location
iUrban Teen Office 808 Harney Street Vancouver, WA 98660
About this event
iCode Tier II takes students to the next level with the development of websites, more complex games and introduces the addition of music into programming. Students deepen their knowledge & use of Java Script, Python, HTML & CSS. Completion of iCode Tier I required.
---
In-Person
Saturdays, 10 am - 12:30 pm
April 29, May 6, 13, 20, 27, June 3
Virtual
To be scheduled with the Instructor on the first day of in-person class, April 29
---
Students who complete both iCode Tier I and Tier II will receive a laptop.
iCode Tier I and Tier II are for high school students who reside & attend school in SW Washington and identify as Black, Latinx, Pacific Islander, Indigenous
About the organizer
iUrban Teen is a STEM+Arts education program that brings together underrepresented teens and young adults for career exploration and mentoring. The non-profit organization which launched in 2011 has positively impacted over 9,000+ youth with a geographic reach covering Oregon, Washington, California, Texas, and soon New York. In addition, there is a focus on family engagement and that all programs are free to eliminate cost barriers for youth to participate. There is an emphasis on cultivating strong family relationships and building a sense of community for the youth. iUrban Teen has established a welcoming community that also provides a strong support network, not only for historically excluded youth, but also those in foster care and youth with disabilities.