Description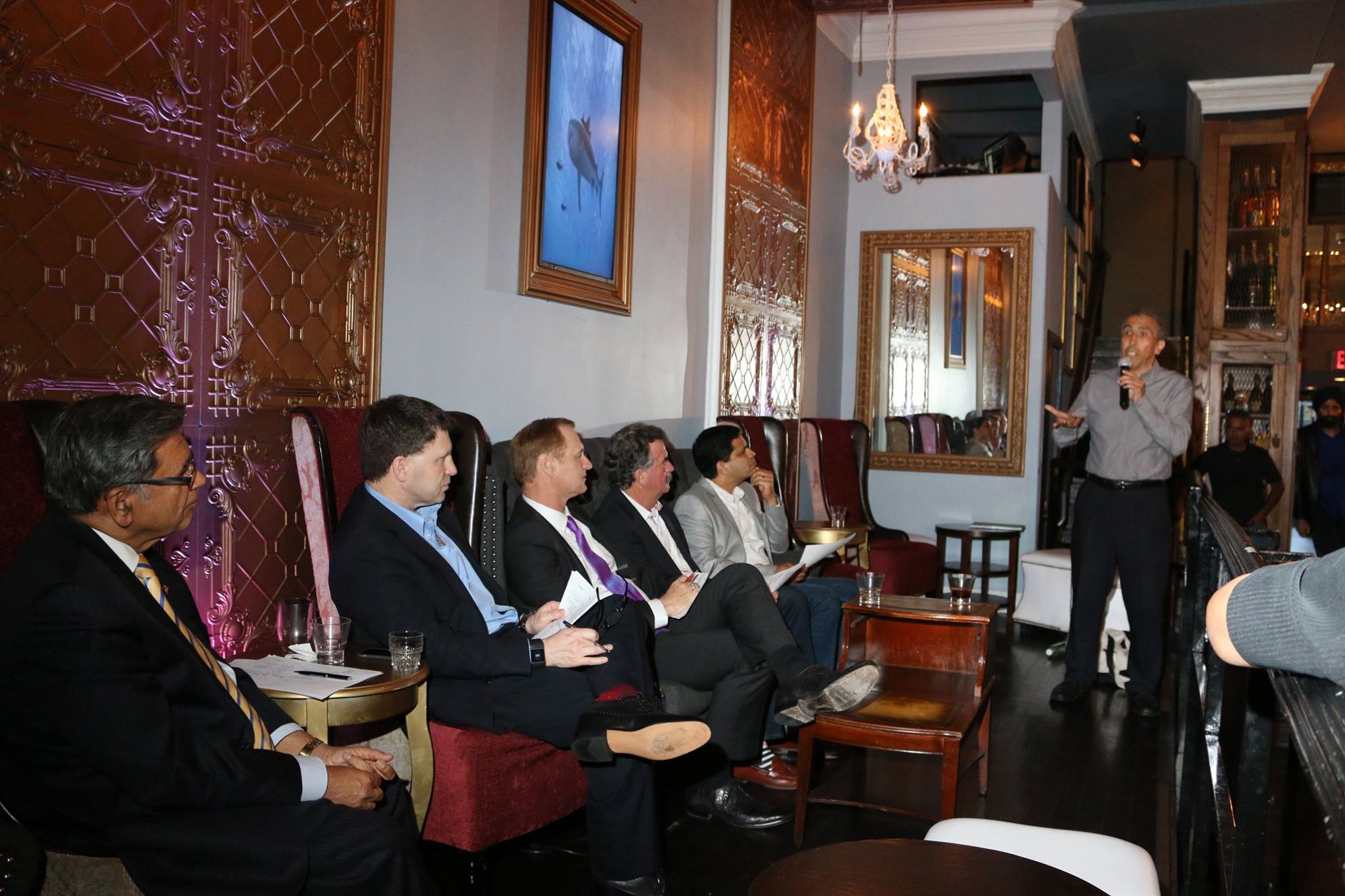 Seen in this picture from a prior Pitch Globally event, SV legends (from left), Vish Mishra (Clearstone VC+longterm President of TIECON), Roger Royse, Owner large Tech Law Firm, Royse Law, Bill Sautter (Galaxy VC +1st US employee of Business Objects which SAP acquired for $ 8 b), Roger King (Founder Bay Angels)
Welcome to Pitch Globally(www.pitchglobally.com) Sharktank Style -- Silicon Valley's most connected pitch and social event where you connect with VCs, connectors, mentors, and entrepreneurs. At a recent event, we had team from Alibaba Ventures walk in the door looking for startups to invest – is that you?
As an added bonus, we have an ICO Chat hosted by Roger Royse, owner large Tech Law Firm who hosts Congressmen, Senators, Presidential candidates, Governors in his offices when they want to connect with the movers and shakers of Silicon Valley. For example, he hosted the Governor of Illinois in his office for a private meeting with senior partners of Kleiner Perkinsand Anderson Horowitz and is hosting the Governor of Arizona in his upcoming Agtech Conference. Roger will interview some Panelists who has led successful ICO's in the recent past. In our last ICO event, our Panelists included Basil Elotol, CEO and Founder of Triphop which is conducting an ICO, Alex Bessonov, CEO of Bitclave who conducted an ICO and Alex Fedosseiev, CEO of Oneworld who also conducted an ICO and we expect couple of them to be on the Panel on June 1st as well.
Join us at 6pm on Friday the 1st of June at ActionSpot Incubator at San Jose and Pitch to a Panel of Silicon Valley Super-connectors and Network with interesting people.
Watch a video from a prior event where leading Tech celebrities and investors are being interviewed.
https://www.youtube.com/watch?v=o0hr_ikCVwg&sns=fb
The following are some of our recent panelists: Vish Mishra, Clearstone VC (former President of TIE); Roger Royse, owner large Tech Law firm(Royse Law); Robert Winter (40 exits); Jim Simmons (Simmons Goodspeed Ventures); Bill Sautter, Galaxy Ventures; Deepak Gupta; Bessemer VC & Accelerator Mentor of 500 Startups and Alchemist; Roger King, Bay Angels; President Emeritus of Sand Hill Angels; representatives from DNA Partners; Combustion Ventures; Draper; DFJ Nexus, etc.
Some of them will be on the Panel on this month as well.
Our Pitch tickets get sold out in advance. Any questions, feel free to email startups@pitchglobally.com
Agenda:
5:30-6:00 pm: Registration, Demo & Networking.

6:00-7:00 pm: Startups Pitch to the Panel; brief Q&A after every pitch.

7:00-7:15 pm: VC's create the shortlist while the audience gets a chance to give 30 secs Elevator Pitches.

7:15-7:30 pm: Surprise way of selecting the winner by a distinguished Board of Cheerleader Mentors.

7:30-8:30 pm: More Networking.

9:00 -close: After-Party till club closing.
Our Refund Policy: Credit may be applied to a future event at the discretion of the Organizer.
The organizers reserve the right to shift the startups and audience to an alternate date/venue in the area and within a week

This is a Pitch Globally Event.