Event Information
Location
Aqua Turf Club
556 Mulberry Street
Plantsville, CT 06479
June 10, 2022: Aqua Turf Club - Dr. Buffy Lloyd-Krejci - Kim Hrecniak RN - Reserve your ticket now. At a limited capacity. With bfest/lunch.
About this event
Infection Control Nurses of Connecticut Annual Spring Seminar
Meeting IP Challenges in Long Term Care
Ticket cost (Event General Admission): $100.00 each. Seating is limited.
Payments are only accepted online (here) and need to be purchased by the end of the standard business day on or before June 6th. Registration fees are non-refundable but may be transferred to another facility employee. Please include your credentials with your name.
A continental breakfast and lunch are included with the purchased ticket. For lunch choose from pan-seared salmon, chicken Florentine, or pasta primavera.
June 10th Event (at the Aqua Turf Club from 7:45AM–3:00PM)
Morning
Registration / Vendors / Breakfast / Welcome
Dr. Buffy Lloyd-Krejci CIC, Infection Prevention, and Control Consultant. She has more than 20 years of experience in healthcare and public health. Her approach is data-driven, hands-on, and collaborative. She is one of the foremost authorities on infection prevention, control, and mitigation in the long-term care industry. As a result of her work with hundreds of nursing homes, she is a frequent contributor or interview source for the national trade press and has written a recent book that will be reviewed late morning.
"Developing Successful IP Protocols in Your Long-Term Care Community"
"The Most Overlooked Infection Prevention & Control Practices"
The "Book - Broken: How the Global Pandemic Uncovered a Nursing Home in Need of Repair and the Heroic Staff Fighting for Change" - For more information go to: www.doctorbuffy.com - Her book will be available for cash sale at $15.00 each.
Afternoon
Lunch / Raffles
Kim Hrecniak RN CT DPH will provide an "Update from Facility Licensing."
Evaluations, Certificates, and Raffles
Disclosure Policy
It is the policy of ICNC that all speakers and planners disclose any real or apparent conflicts of interest related to the content of the educational activity and also disclose discussions of off-label or investigational uses of drugs or devices during their presentations. These disclosures will be made before the presentation.
This activity has been submitted to the Connecticut Nurses' Association for approval to award contact hours. The Connecticut Association is accredited as an approver of continuing nursing education by the American Nurses Credentialing Center's Commission on Accreditation.
For more event information and objectives go to www.infectioncontrolct.org - For event questions email: contacttheicnc@gmail.com - Vendor opportunities are available, please contact the ICNC administration.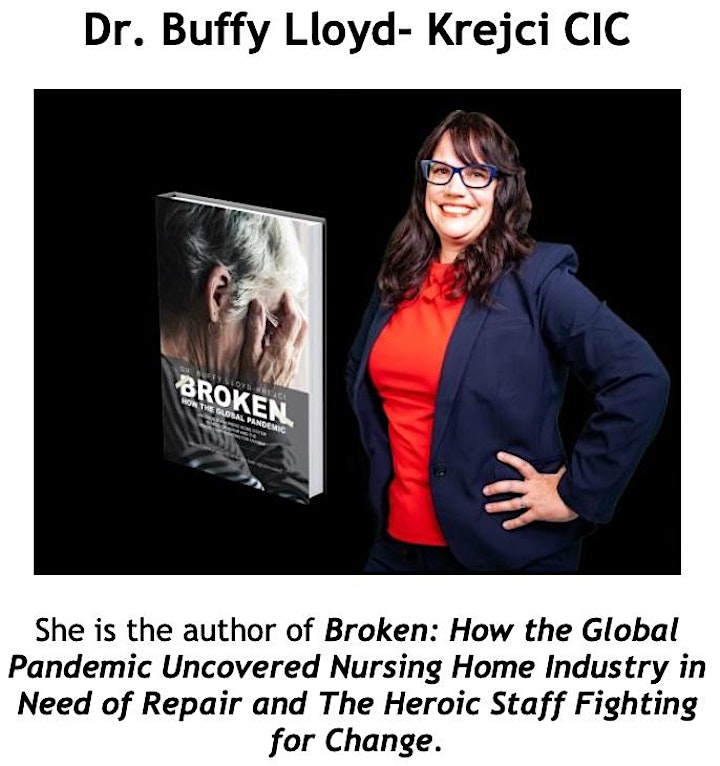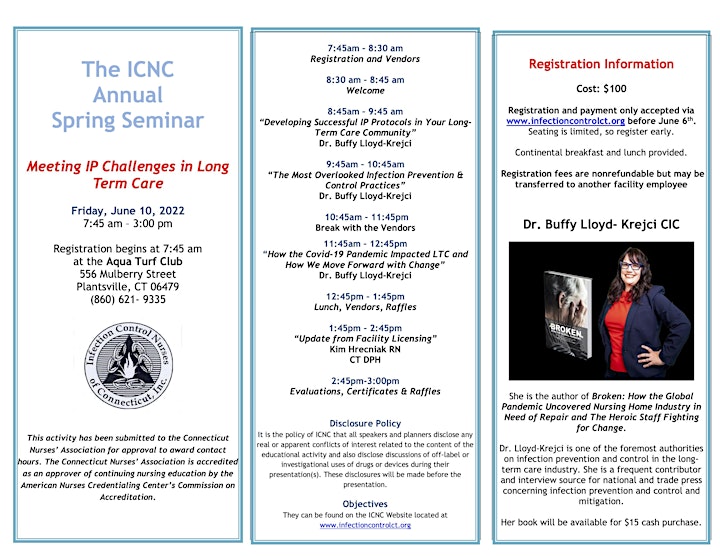 Seminar at: Aqua Turf Club, Plantsville, CT 06479 - Venue contact Info: (860) 621-9335 | info@aquaturfclub.com | https://aquaturfclub.com
Date and time
Location
Aqua Turf Club
556 Mulberry Street
Plantsville, CT 06479
Refund policy