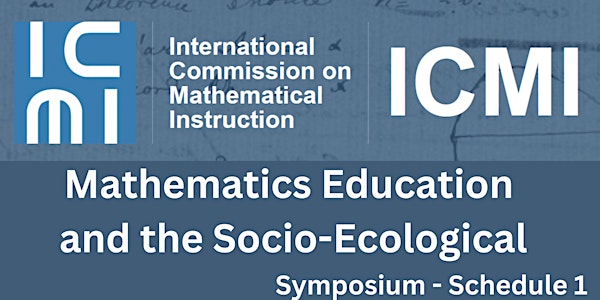 ICMI Socioecological Symposium - Schedule 1
A one-day online symposium hosted by ICMI
By ICMI - International Commission on Mathematical Instruction
Date and time
Mon, 20 Mar 2023 02:30 - 08:10 PDT
About this event
ICMI is hosting this one-day online symposium, to act as a gathering point for scholars working in what might be diverse areas, but whose concerns could be broadly grouped together as "socio-ecological". More information found here.
The symposium will take place twice, to cover different time-zones (with the Plenary Talk in common). This is the booking page for Symposium 1 with timings as listed below.
Symposium 1 Timings:
09.30-11.00 GMT 15.00-16.30 IST Opening plenary panel Munir Fasheh, Jodie Hunter, Berinderjeet Kaur, Jeff Murugan
11.20-12.00 GMT 16.50-17.30 IST Parallel Research Reports
12.20-13.00 GMT 17.50-18.30 IST Parallel Online Poster Session
14.00-15.10 GMT 19.30-20.40 IST Plenary Talk Willy Alangui, Armando Solares- Rojas, Discussant: Rochelle Gutierrez
If you wish to book for symposium 2 instead, please click here.
To submit a proposal to the symposium, see full details here.