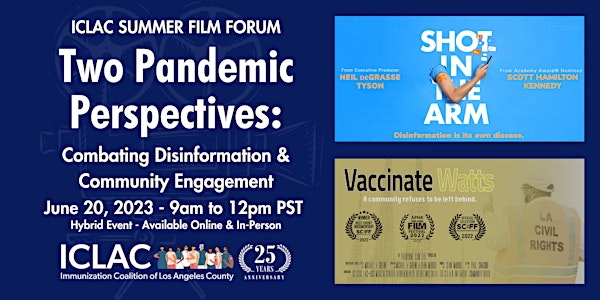 ICLAC Summer Film Forum - Online
Join us for the ICLAC Summer Film Forum, "Two Pandemic Perspectives: Combating Disinformation and Engaging Communities."
By Immunization Coalition of Los Angeles (ICLAC)
Date and time
Tuesday, June 20 · 9am - 12pm PDT
Agenda
9:00 AM - 11:00 AM
Opening Remarks and Screening of first film, "SHOT IN THE ARM"
---
Opening remarks; state of immunization disinformation & community relevancy; first film screening, "SHOT IN THE ARM"
11:00 AM - 12:00 PM
Screening of "Vaccinate WATTS"
---
Preliminary comments from filmmakers; film screening; post-film discussion and Q&A with filmmakers and panelists.
About this event
Tuesday, June 20, 2023
9:00 am -12 noon PST
Location: In-Person and Online
California Endowment | 1000 N Alameda St., Los Angeles, CA 90012 | Phone: 213.928.8900
The June 2023 Vaccine Forum is the Immunization Coalition of Los Angeles County's (ICLAC) general educational session. The series' goal is for Los Angeles County partnering organizations to share the latest vaccine guidance and best practices to improve immunization coverage, especially among those at the highest risk in Los Angeles County.
We will be featuring two award-winning films, "Shot In The Arm" and "Vaccinate Watts", to highlight two perspectives on the challenges brought on by the pandemic, including fighting disinformation, community engagement and more.
For registration contact Dr. Tracey Veal @ TVeal@ph.lacounty.gov
About "SHOT IN THE ARM - Disinformation is its own Disease"
Before anyone had heard of COVID-19, filmmaker Scott Hamilton Kennedy (THE GARDEN, FOOD EVOLUTION) began investigating the global measles epidemic. Filming with top public health officials–including Tony Fauci–as well as rare interviews with anti-vaccine activists who were persuading parents by the millions to refuse vaccines for their children.
Then COVID-19 happened.
Acting quickly, Kennedy shifted his directorial eye to this once-in-a-century tragedy. Both skeptical and hopeful, SHOT IN THE ARM explores vaccine hesitancy historically and in the context of our modern pandemic. Can we replace cynicism with healthy curiosity and bridge the political divides that make us sick?
Executive Producers: Neil deGrasse Tyson and Scott Hamilton Kennedy
Learn more at SHOT IN THE ARM - Disinformation is its own Disease
About "Vaccinate WATTS"
A documentary from creators, Michael Greene and Sean Sullivan McBride.
As LA County emerges as the epicenter of the COVID-19 pandemic, church leaders and political officials are forced to confront the city's long-standing health equity issue, as doctors struggle to get the residents of a historically marginalized community vaccinated.
Watch the Vaccinate WATTS trailer.
Panelist:
Dr. Jerry Abraham
Pastor Alvin Stafford, Jr. of Bethel Missionary Church of South Los Angeles
Michael V. Greene
Sean Sullivan McBride