ICG Real Estate 1-Day EXPO December 2016

Saturday, December 3, 2016 from 10:00 AM to 6:30 PM (PST)
Event Details
YEAR END ICG REAL ESTATE 1 DAY EXPO
DECEMBER 3, 2016
It is the year end; the most important expo of the year! This quarterly event, now in its 30th year has never been more exciting, with the constant changes and fluctuations in the marketplace it is more important than ever to not only invest in real estate, but manage what you already have more efficiently. With a new administration on the way, make sure you are protected, OR take advantage of what that may offer.
Are you just curious about how to invest and don't think you can? Think again - come spend a day with us and soak it all in.
Speakers: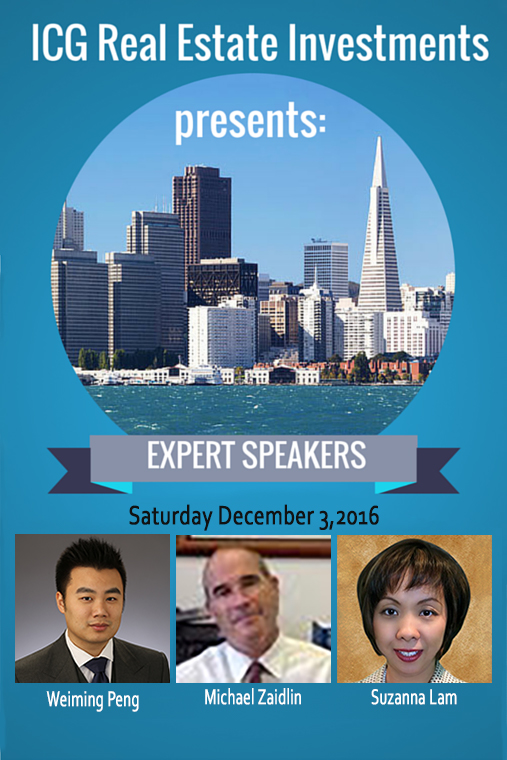 Weiming Peng, Asset Exchange Company.  Weiming
is a 1031 Tax Deferred Exchanges expert. He will be educating us on the complexities of the 1031 Exchange process, reverse 1031 and how to use exchanges to our advantage as investors with possible end of year changes. 
Michael Zaidlin, J.D., is an Accredited Investment Fiduciary®.He is an investment, and financial planning expert who will speak on active versus passive investing and owning real property in retirement accounts. He will address any
changes coming up for us in the New Year. 
Suzanna Lam CPA, author, serial entrepreneur and insurance specialist.She helps people optimize returns on their idle funds. She will speak on how to be your own banker and build a cash reserve that grows like the equity market with no current taxation, which can be accessed without any loan qualification. She will address what we can expect in the coming year. 
LENDERS:
GREAT loans for investors. New markets and updates on all markets. Special Deals. Extensive Q&A. Roaming Experts. Incredible Cash-flow Opportunities!
NETWORKING AND Q & A:
We always dedicate a generous amount of time for networking and an interactive Q & A with our roaming team of experts, speakers and other like-minded investors. Don't miss out on your chance to participate in this critical expo. It sells out every quarter we offer it! The event is a fantastic opportunity for learning from other like-minded investors.
MARKETS:
Teams from the most interesting and relevant markets will be present with real estate deals ready to move, and updates and forecasts will be discussed. One-on-one discussions will be available on individual interests and needs.
#expo #business #real estate #real estate investing #icg1dayrealestateexpo
When & Where

South San Francisco Conference Center
255 South Airport Boulevard
South San Francisco, CA 94080


Saturday, December 3, 2016 from 10:00 AM to 6:30 PM (PST)
Add to my calendar