Description
The Institute for Transformational Leadership (ITL) at Georgetown University is proud to partner with the International Coach Federation (ICF) to sponsor Professional Certified Coach (PCC) Marker Training. The ICF has set a standard that all assessors and faculty who observe coaching students in an ICF ACTP program will be trained to listen for and evaluate according to the PCC Markers.
Format
The training is a blended format with a total of 30 hours of instruction. This includes 22 hours of virtual training and a one-day in-person workshop on November 3, 2017 at Georgetown University's School of Continuing Studies campus in downtown D.C.
Participants will be awared 30 hours of core competency Continuing Coach Education Units (CCEUs) by the ICF upon completion of this training.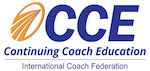 Purpose of the training
To prepare credentialed coaches to assess students in ACTP schools using the PCC markers.
Outcomes
At the conclusion of the program the participant will:
Demonstrate understanding of the ICF Core Competencies and the behavioral markers.
Demonstrate the ability to assess coach recordings within an established range determined by the ICF.
Demonstrate the ability to stay neutral and objective in assessing recordings at a PCC level.
Schedule
All live calls are scheduled for 1:00-2:00 pm EST.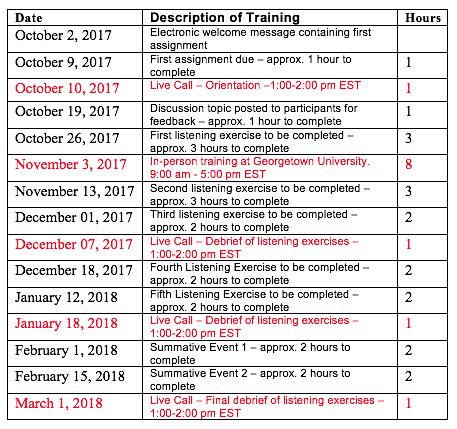 Instructors
Julie Shows, MCC


As a Master Certified Coach and Certified Mentor Coach, Julie has been working with coaches in developing a deeper understanding of the ICF Coaching Core Competencies for over 15 years. Since 2003, Julie has been on the faculty of the Georgetown University Leadership Coaching Program. She is currently Training Director where her responsibilities include training students and faculty in the ability to demonstrate the ICF Core Competencies. The Georgetown Program has fully integrated the PCC markers into their curriculum and assessment process.
For the past 10 years, Julie has been a volunteer on the PCC/MCC Assessors Team with the International Coach Federation and has reviewed PCC and MCC candidates who are pursuing their credential through the portfolio process. In 2014 she joined the PCC Markers Training Team and has co -facilitated ICF training in the markers for ICF assessors and assessors for ACTP accredited schools. An experienced leadership coach, Julie works with emerging leaders in corporate, non-profit and government organizations.
Julie can be reached at jks3@georgetown.edu or julie@connectwiththecoach.com.
Pat Mathews, MCC

Pat Mathews, Master Certified Coach, is the owner of Mathews Associates, a leadership and executive coaching business. She completed the Georgetown Leadership Coaching Certificate Program in 2001 and has done extensive work in mentor coaching both within the Georgetown Program and with coaches who are working toward an ICF credential.
Pat received her MCC from the International Coach Federation in 2006 and has successfully renewed that credential by completing the required hours of CCEUs in core competencies every 3 years.
Pat chaired the ICF Credentialing and Accreditation committee for two years and served on the committee for 4 years. She has served on the ICF Global Board of Directors for 5 years and served as Vice Chair in 2016.
Pat has been a volunteer on the ICF PCC/MCC Assessors Team for 10 years. She was one of the members of the core team that developed the behavioral markers for ICF. She delivered the training for the trainers in this process. She has delivered the markers training for both ICF and in the Georgetown Leadership Coaching Certificate Program.
Since 2006, Pat has been on the faculty of the Georgetown Leadership Coaching Certificate Program and served as a Program Director from 2010 to 2014.
Pat lives with her husband in Philadelphia, PA and Harvey Cedars, NJ. She is an avid walker, average tennis player and enjoys and traveling. She has traveled extensively to all 7 continents. She loves the beach and recharges there as well as enjoying time spent with her friends. She is the mom of two sons, both of whom live in Massachusetts.
Pat can be reached at pam23@georgetown.edu or pat@patmathews.com.
---
FAQs
1. Do I have to be an ICF certified coach to attend this training? Yes, you must hold a PCC or MCC credential from the International Coach Federation.
2. How much time is involved for the completion of the entire course? Approximately 30 instruction hours. See the Participant Schedule for details including the dates of the live calls and the one-day onsite session.
3. What will I get out of this training? In-depth understanding of the ICF PCC markers and how to apply them in teaching and assessing students. Those who successfully complete the training will be allowed to use the PCC markers process for assessment within an ACTP. Individuals who successfully complete the training also may be invited to conduct assessments for the ICF portfolio process. (Please note that this is by invitation based on the needs of ICF to review Portfolio and ACSTH applicant recordings in any of the languages accepted for performance evaluations.)
---
---
In-person Portion of Program - November 3, 2017
Georgetown University School of Continuing Studies
640 Massachusetts Ave, NW Washington, DC 20001
November 3, 2017
Time: 9:00 am - 5:00 pm
A light breakfast and lunch will be provided.
---
CANCELLATION POLICY
Cancellation notices must be emailed to itlprograms@georgetown.edu by 5 PM on Monday, September 25 to receive a full refund of registration fee, less the nonrefundable processing fee of $100.00. If a cancellation is received after the deadline above, no refunds will be issued. No-shows are non-refundable.
In the unlikely event of program cancellation, Georgetown will refund 100 percent of registration fees paid. Georgetown assumes no liability for any penalty fees on airline tickets, deposits for hotel accommodations or any other fees, charges, penalties or other incidental costs that a registrant might incur as a consequence of a program cancellation.
CONTACT US
For questions regarding this event, please contact Georgetown's Institute for Transformational Leadership (ITL) at ITLprograms@georgetown.edu or call 202-687-7000.