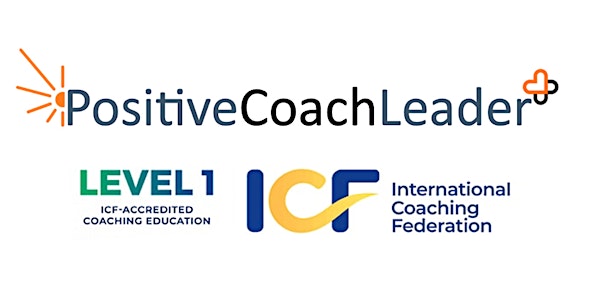 ICF Level 1 Certification - Positive Coach Leader Program (Pathway to ACC)
Next Generation Coaches at the Forefront of Transformation
Date and time
July 18 · 9am - December 31 · 5pm +08
Refund Policy
Contact the organizer to request a refund.
About this event
166 days 8 hours

Mobile eTicket
What is ICF Level 1, 2 & 3 Accreditation?
In 2022 - 2023 ICF is updating their accreditation structure to replace the previous ACTP and ACSTH with levels tied to ICF Credentialing pathways. Read about this Evolution of the ICF Accreditation here.
Level 1 Accreditation (formerly ACSTH) is at least 60 contact learning hours, and it is designated as a pathway to the ACC Credential.
Level 2 Accreditation (formerly ACTP) is at least 125 contact learning hours, and it is designated as a pathway to the PCC Credential.
Level 3 Accreditation, a brand-new offering, offers at least 75 advanced contact learning hours, and it is designated as a pathway to the MCC Credential.
NB: All new ICF Accredited Coaching programs will use the Level 1, 2 & 3 structure. Legacy ACTP and ACSTH programs will have to transition to the new Level 1, 2, & 3 in 2022 - 2023.
Positive Coach Leader:
An ICF Level 1 Accreditation Program
Our Positive Coach Leader is the next generation coaching program which harnesses the power of Positive Relationships and Emotional Intelligence which are highly sought after in the current and Future of the Workplace. Recent research confirms that coaching creates positive workplaces which are ultimately more productive, agile, innovative, are able to retain talent and more profitable.
Our program has been designed to meet ICF Level 1 Accreditation and is intended to provide participants with coach education that is accredited by ICF Coaching Education.
The program is 64 hours and is designated pathway to becoming an ACC credentialed coach with ICF.
Graduates from a Level 1 education and training programs may apply for the Associate Certified Coach (ACC) Credential using the Level 1 application path if they meet the credentialing requirements.
This program is delivered in English.
Structure of 64 hours of professional coach training:
48 hours of contact hours via zoom including Learning Lab and Practical Lab; 12 hours of Learning assignments and 10 hours mentor coaching (which 4 hours are 1-on-1). Total = 64 hours.
Content of Learning Labs:
12-two hours sessions to learn the ICF Gold Standard of Coaching Core Competencies including:
1. Demonstrates Ethical Practice
2. Embodies a Coaching Mindset
3. Establishes and Maintains Agreement
4. Cultivates Trust and Safety
5. Maintains Presence
6. Listens Actively
7. Evokes Awareness
8. Cultivating Learning and Growth
Content of Practical Labs:
12-two hours sessions of coaching practice supervised by ICF Professional Certified Coaches. Participants will get feedback of their coaching competencies and learn 12 different real life coaching cases with debriefing led by practising coach supervisor.
Learning Assignments:
There is pre-reading for the training course, 6 hours of reflective learning, 1 research paper writing and submission of 30 minutes of coaching recording demonstrating participant's coaching skills.
Mentor Coaching
10 hours mentor coaching (which 4 hours are 1-on-1)
Eric Toh
Eric is a seasoned executive coach and management consultant with over 25 years' professional experience in Asia, Europe, USA and Australia.
Eric is a Professional Certified Coach (PCC) with the International Coaching Federation (ICF) and on ICF's Global Diversity & Inclusion (D&I) Cultural Committee (2022 – 2024). Eric has an MBA, USA and a BSc (Honours), Australia and started his career with KPMG Consulting in Australia.
With extensive experience with training and coaching assessments, Eric is a DISC Master Trainer with DISC Flow® and Master Trainer for Genos® International Emotional Intelligence (EI) Practitioner Accreditation programmes.
He is accredited in MBTI® Step II™, LEA360™ (Leadership Analysis Effectiveness) and official authorised trainer for Country Navigator™, Culture Wizard™ (both cultural and diversity profile assessments) and Implicitly® (Harvard University's Unconscious Bias Assessment). Eric is also a Human Resources Development Fund (HRDF) Accredited Train the Trainer (TTT) in Malaysia.
Leona Wan
Leona is a passionate coach. Her mission is to promote and sustain her clients' successes. She specializes in inspiring her clients to deliver their personal best. In her most recent appointments with MNCs, she supported her clients to excel in their leadership competencies and to engage their teams to deliver higher performance.
Leona is a Master Certified Coach (MCC) with the International Coaching Federation (ICF), American Board of NLP Master Coach and a Certified Practising Accountant (CPA) Australia.
Leona believes that awareness and flexibility makes you the most influential person.
Leona draws from a corporate experience of over 30 years including senior leadership roles in frontline operations, financial services and external consultancy. Her philosophy is that people are the most valuable resources of an organization and leaders get result via their people. Her success is based on building positive relationship by focusing on resourcefulness and creativity of human potential.
Wilson Li
With over 25 years of extensive professional experience in managing businesses and teams in multi-national corporations (MNC) and smaller organisations across diverse markets, Wilson's transition to Executive Coaching in 2015 was natural due to his combined passion for talent development as well as customer and commercial centricity.
Wilson's experience includes working with Shell (the global energy corporation), and expatriate assignments in China, Hong Kong, Malaysia, Singapore, Vietnam and the United Kingdom. He brings a wealth of experience in leading people and teams from sales & operations, brand & marketing, business development and strategy.
Aided by his own diverse background (Chinese with a UK upbringing), he has invaluable experience in effectively leading teams and engaging stakeholders from diverse markets and cultures (from mature to developing markets as well as west and east cultures).
He has now conducted over 600 hours of coaching with senior level executives. Due to his professional and diverse background, Wilson is a highly sought-after Coach for C-Suite leaders, emerging leaders as well as in the arena of career coaching.
Kenneth Chai
Kenneth is a corporate director and he serves as an Independent Non-Executive Chairman in a public listed company. In addition, he is also an Ambassador of the International Coaching Federation Foundation (ICFF) (ICFF 2023 Council of Ambassadors), a member of the International Coaching Federation, a member of the International Coaching Federation Malaysia Charter Chapter and a member of the Malaysian Estate Owners' Association.
Kenneth is an Associate Certified Coach credentialed by the International Coaching Federation and a HRD Corp Accredited Trainer. As a coach and facilitator, Kenneth is passionate about facilitating executive, leadership and personal development and transformation so that people become better versions of themselves at their workplaces and in their personal lives.
Specialising in emotional intelligence and human behaviour, Kenneth shapes emotionally intelligent future leaders, develops leaders to lead with emotional intelligence, and helps people connect better with others and achieve their desired results.
For more Information, we would love to hear from you:
eric.toh@etpotential.com (+60 17 644 6032)
leona.wan@etpotential.com (+852 9273 5058)
wilson.li@etpotential.com (+852 6903 5109)
kenneth.chai@etpotential.com (+60 12 225 5352)
Program Dates
Our next 2023 cohorts dates are as follows:
July 2023 Cohort No: 07/23:
18, 19 & 20 July 2023
15, 16 & 17 August 2023
2 days Coach Mentoring (TBC)
November 2023 Cohort No: 11/23:
7, 8, 9 November 2023
5, 6 & 7 December 2023
2 days Coach Mentoring (TBC)
Registration & Contact:
Director of Education
ET Potential
ICF Accredited Coaching Education Provider
T: +60716446032