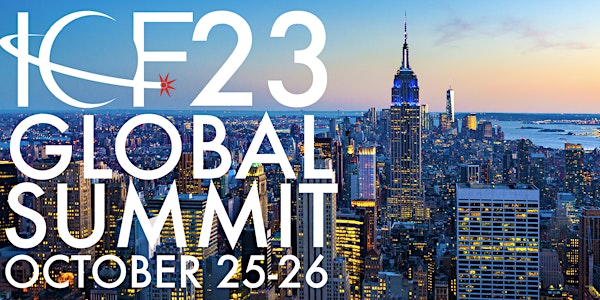 ICF Global Summit 2023
The ICF Summit is unlike any "smart city," urban planning or economic development conference you will attend.
By Intelligent Community Forum
Date and time
October 25 · 8am - October 26 · 10pm EDT
Location
New York City - For Full Venue List See Program 137 West 26th Street New York, NY 10001
Refund Policy
Contact the organizer to request a refund.
Eventbrite's fee is nonrefundable.
About this event
1 day 14 hours

Mobile eTicket
Summit Theme: The Middle of Nowhere is No More
Ask a young person who was born in a small town or city where they came from, and the answer is likely to be, "You've never heard of it – it's the Middle of Nowhere." But where is the Middle of Nowhere today?
The global pandemic unraveled large chunks of urban life. Empty offices, closed retail stores, fewer tourists visiting big cities for entertainment. Investments moving elsewhere. As we predicted in our 2008 book, Broadband Economies, it also did something unthinkable to most city leaders and urban thinkers. It peeled back the cover hiding a completely different economy.
Call it "Broadband Economy 2.0"
In this distributed economy, connectivity is as disruptive as the railroad and highway once were. The extra bedroom has become the office and the living room turned into the movie theater. The favorite store is the laptop, tablet or phone, powered by artificial intelligence and tapping the limitless resources of the cloud.
Today, small and and midsize communities have the chance to leave the Middle of Nowhere behind. They can build dynamic and innovative economies that give the next generation the opportunities they deserve. Places connected to the world, without sacrificing their culture. Places that attract talent and grow their populations instead of seeing them shrink.
They just have to know how it's done.
Join the community of Intelligent Communities
In October 2023, the ICF Global Summit brings together ICF's international network to share the best practices and cases from today's winning communities, large, medium and small:
Attracting and retaining talent
Preparing your workforce to work remotely and effectively
Structuring a local economy to attract investment and grow new businessses
Reimagining the downtown district
Empowering local employers to navigate a digital economy
Using apps and AI to put the citizen first
The 2023 Global Summit is an intimate invitational gathering that makes the most of person-to-person networking while offering powerful lessons for our online audience. It provides small-group sessions in which attendees map out solutions to challenges while learning from each other and building new relationships.
The Summit also welcomes the Top7 Communities of the Year and names one of them as Intelligent Community of the Year, successor to New Taipei City, at a prestigious dinner event. And, as a special feature: we will explore Taiwan, home to two dozen Intelligent Communities and most of the world's chip manufacturing, a vibrant economic and cultural center that punches far above its weight. We will answer the question, "How Does Taiwan Do It?"
Because your city can too.
For more information including program and speakers, see www.icfsummit.com
Are you a student? Email Matthew Owen at mowen@intelligentcommunity.org for more information.