ICEE HOT & PUBLIC WORKS present MARTYN, BOK BOK, GIRL UNIT, SANTIAGO SALAZAR

Saturday, October 1, 2011 at 10:00 PM

-

Sunday, October 2, 2011 at 4:00 AM (PDT)
Event Details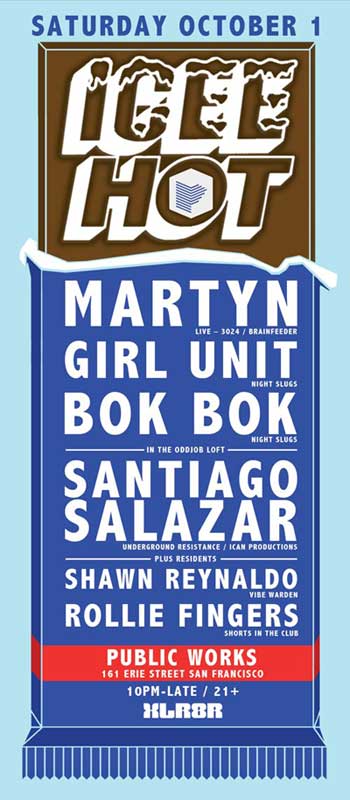 We ICEE bruvs are NOT fond of hyperbole. We don't want to keep telling you that THIS MONTH WE HAVE THE MOST INSANE LINEUP YET every time we throw a party, because you might not believe it after a while. Ah well… THIS MONTH WE HAVE THE MOST INSANE LINEUP YET, a lineup that includes FOUR amazing acts from THREE countries spanning a huge spectrum of dance music, a LIVE PA from an absolute ICEE legend, TWO SLUGS, and a special two-plus-hour set from a member of the most legendary Detroit techno crew in history.

Detroit native SANTIAGO SALAZAR got his musical training from none other than MAD MIKE BANKS of UNDERGROUND RESISTANCE. He has mixed and edited several UR releases and released music on the label as well. He's also a core member of the live GALAXY 2 GALAXY act. Honestly, do we really need to say anything more than UR?

Also spinning are NIGHT SLUGS legends BOK BOK and GIRL UNIT. For those of you who know, Mr. Bok smashed up NYE 2011 like a serious crazy person, and Girl Unit created a serious few hours of ecstasy when he made his SF debut at ICEE HOT back in August 2010. U KNOW WUT THE DEAL IS.

Last, but certainly not least, is MARTYN, who will be doing a LIVE PA for the first time ever in San Francisco. He'll undoubtedly be performing tracks from his new album, Ghost People, which comes out in October via Flying Lotus' Brainfeeder imprint. You may have seen the 3024 boss before, he MELTED our party at 222 Hyde last year, but you have never seen him like this. Ghost People is a MONSTER and his set will be emotional.

This party will take up the entire venue of Public Works, but there won't be any room to stretch out. DON'T BRING YOUR HULA HOOP.

We ♥ U!
Have questions about ICEE HOT & PUBLIC WORKS present MARTYN, BOK BOK, GIRL UNIT, SANTIAGO SALAZAR?
Contact Icee Hot
When & Where

Public Works
161 Erie Street
San Francisco, CA 94103


Saturday, October 1, 2011 at 10:00 PM

-

Sunday, October 2, 2011 at 4:00 AM (PDT)
Add to my calendar
ICEE HOT & PUBLIC WORKS present MARTYN, BOK BOK, GIRL UNIT, SANTIAGO SALAZAR