Icebreakers Comedy Festival Opening Weekend Gala
About this Event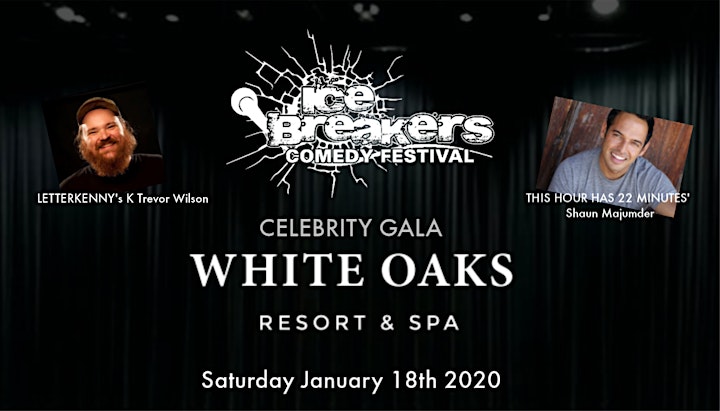 The CELEBRITY GALA for the 7th annual Icebreakers Comedy Festival at White Oaks Resort promises to be a star studded evening with Gemini award winning actor and comedian from This Hour Has 22 Minutes, Newfoundland's own Shawn Majumder.
With opening act K. Trevor Wilson, best known as Squirly Dan from Letterkenny, this show will be the event of the fest!
Ticket includes admission to the after party on site with DJ Blake Blecher spinning, cash bar & meet the comedians! 10pm following the show in the Grand Event Hall at White Oaks.
Saturday January 18, 2020
White Oaks Resort & Spa
253 Taylor Rd.
Niagara-on-the-Lake
Doors: 7PM
Show: 8PM
VIP RECEPTION INCLUDED WITH TABLE TICKETS: 6PM
VIP Reception includes a glass of Jackson Triggs wine & food stations.
CANADIAN CHEESE BOARD: selection of Canadian Cheeses with Fresh and Dried Fruits, Crostini, Crackers, and Local PreservesANTIPASTO STATION: Prosciutto, Salami, Soppressata, Cured Sausage, Parmigiano Reggiano, Bocconcini, Balsamic Roasted Vegetables, Giardiniera, Olives, Roasted Peppers
HOT STATION: Sliders, Potstickers
Snacks provided on the table during show.