99 Rock Presents Ice Nine Kills - Hip To Be Scared: Severed Leg 2 at Club L.A. in Destin on Saturday, Nov. 13th w/special guest Currents.
About this event
99 Rock, Steve Hall Productions, & Club L.A. Present
Ice Nine Kills - Hip To Be Scared: Severed Leg 2
at Club L.A. in Destin, FL on Saturday, November 13th, 2021
Doors 6:30p | Show 7:30p | Ages 16+ (Under 16 admitted with parent or legal guardian).
RSVP to the Facebook event and invite your friends! ->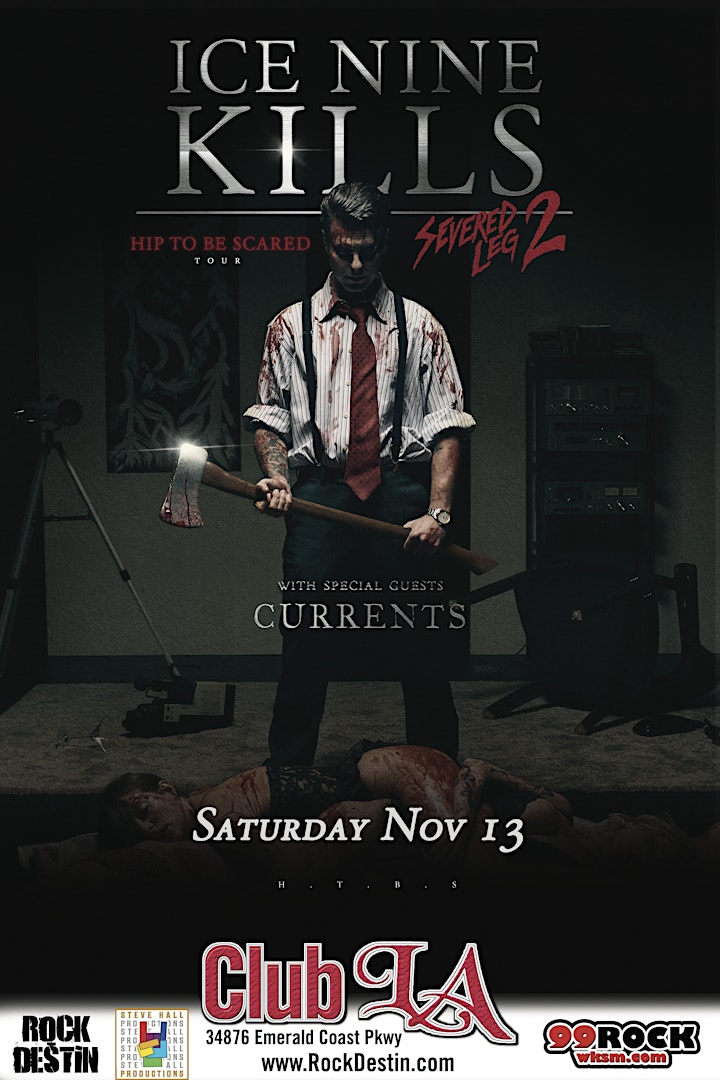 ICE NINE KILLS
Website | Facebook | Instagram | YouTube | YouTube (Fearless Records) | Twitter | TikTok | Spotify | Amazon Music | Apple Music | Pandora
In a landscape littered with celebrity fakes and would-be influencers, ICE NINE KILLS stand apart. Visionary trailblazers and multimedia raconteurs, INK has steadily built a thrilling new underworld for a growing legion of devoted true believers, with theatrical shows, high-concept videos, and inventive band-to-fan communion.
Ice Nine Kills summon the most captivating elements of metal, punk and hard rock and combine it with melody, cinematic obsession, and a literary fascination.
Loudwire hails them as "one of the most unique acts in metal right now," a declaration supported by the band's Billboard Hard Rock Albums chart topping slab, The Silver Scream. 13 songs of devilishly devious odes to classic horror, The Silver Scream generated anthems for the disenfranchised and subculture obsessives, like "The American Nightmare," and broke them into Active Rock radio.
After a decade of studio wizardry and live theatricality, ICE NINE KILLS draws favorable comparisons to rock icons like Slipknot, Rob Zombie, and Marilyn Manson, via a likeminded synergy of music, lifestyle, and cult following reverence.
ICE NINE KILLS is at the forefront of the natural crosspollination of subcultures. "Heavy music and horror are both escapes from our mundane struggles," singer Spencer Charnas points out. "You could be having the worst day, then you put on a great metal record or horror movie and forget about all of your problems."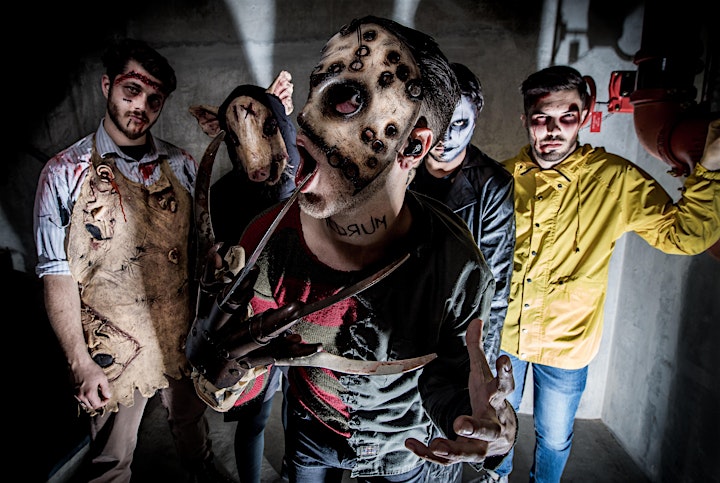 CURRENTS
Website | Facebook | Instagram | YouTube | Twitter | Spotify | Amazon Music | Apple Music | Pandora
CURRENTS is the new standard for death-infused metalcore. This is emotionally fraught and impossibly angry music soaked in cold, depressive atmosphere. CURRENTS explore the forbidden realms of a tortured psyche, searching for meaning amidst uncertain chaos and venom.
Heartache, physical abuse, abandonment, trauma – no dark emotion is spared examination. CURRENTS also turn their gaze outward, offering no mercy to man-made catastrophes like climate change and animal abuse. An exploitative system that inflicts such harm upon humanity and the entire world will not be spared the wrath within this explosive, weaponized bombast.
The Way It Ends, the second full-length from the Connecticut bruisers, is a thematic and spiritual successor to their dense, bludgeoning, and smartly constructed full-length debut, The Place I Feel Safest (2017), and a direct follow-up to the blistering and diverse EP, I Let The Devil In (2018).
Those well-versed in Meshuggah, Humanity's Last Breath, Vildhjarta, and Architects have embraced CURRENTS with full-throated passion. A combination of their contemporaries and influences, channeled through unique perspective and personal experience, resulted in something revolutionary. It's why they were handpicked for tours with August Burns Red, As I Lay Dying, We Came As Romans, Fit For A King, Born Of Osiris, and the Impericon Never Say Die! Tour.
As New Noise declared: "CURRENTS is a band not to be ignored."
LINEUP
Brian Wille – Vocals
Chris Wiseman – Guitar
Ryan Castaldi – Guitar
Chris Pulgarin – Bass
Matt Young – Drums