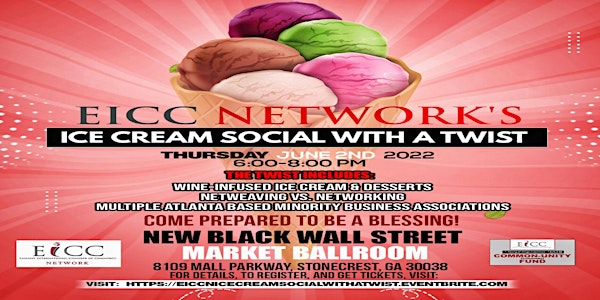 Ice Cream Social with a Twist
Campaign Fundraiser for the upcoming launch and capital resourcing for the "Common-Unity Fund" our peer-resourcing program
When and where
Location
New Black Wall Street Market 8109 Mall Parkway Stonecrest, GA 30038
About this event
We are excited to host our EICCN Campaign Fundraiser for the upcoming launch & capital resourcing for the "Common-Unity Fund," our peer sowing program that bridges small & short-term access to capital for black faith-driven entrepreneurs and EICCN Members. Each ticket sold will donate to the fund.
Common-Unity Fund Program comprises Five Team Cohorts (4 members each) who are assembled and matched in way that compliments their business services/products for optimum success and provides on-going relationships with members beyond the program.
Each Cohort is required to individually invest $500 a month for four months ($2,000 equity investment); participate in the training program uniquely designed to hold one another accountable; get financially educated through our unique training program; and get prepared for accessing the fund, repay proceeds within 18 months at a low harvest rate; understand and generate reports/financial statements; and obtain overall success in the program.
Each member will be required to provide a plan with detailed objectives, strategy & execution, and time markers to measure success and/or make adjustments.
Financial transparency and accountability as well as profit & loss, income statement, balance sheet, cash flow statement, statement of retained earnings, and other related financial reporting will be required throughout the program.
PLEASE come prepared to NETWEAVE as you network!
During the ice cream social event, focus on being the following:
a People Connector: Introducing and/or bringing persons together with their Needs, Problems, and Opportunities in mind.
a Information/Resource-Provider: Offering your capabilities or others in your Trusted Resource Network - no strings attached - as a way to build meaningful relationships.
a Trusted Resource Network: Establishing a wide and deep network made up of persons whom you have personally qualified to be exceptional at what they do, or someone who comes highly recommended from someone you completely trust.
*****************************************************************************************************************
Ice Cream & confections provided by Scoops And Mini Desserts
Flavors available: Tulsa Black, Jack-N-Berry, Peach Henny, Nutt Butties, & Tropical Breeze.
Other items available for sale: $10 Strawberry, Red Velvet, Humming Bird, & Pound Cake Muffins.
$10 Milkshakes in various flavors.
Spirit infused ice cream & dessert samples will be limited to 1 each per specific ticket holder. [Please consume responsibly].
For more information or if you have questions, email common-unity@eiccnetwork.com.