Ice Climbing and Mountaineering Training Program - Mount Washington

Friday, February 24, 2017 at 6:00 PM

-

Sunday, February 26, 2017 at 9:00 PM (EST)
Event Details
Mount Washington:
Ice Climbing and Mountaineering Training Program
The White Mountains of New Hampshire

---
Saturday: Option A: Full Day Ice Climbing Training: (All Levels of experience welcome)
At one of three different locations depending on crowds and ice conditions.
Possibilities are the North End of Cathedral, Texaco Amphitheater or Frankenstein Cliffs.
Participants will meet at 8:00am for a gear check and to get fitted for mountaineering boots, crampons and ice axe.
Sunday: Option B: One-Day Ascent of Mt. Washington:
Situated at the intersection of three major storm tracks which affect the northern Appalachian Range, and rising from the surrounding lowlands for much of its 6,228 feet, Mt. Washington is known for its extreme weather conditions.  Mt. Washington is the highest peak in New England and the conditions above timberline are as serious as any mountain in North America.  You will learn general mountaineering skills, winter navigation and avalanche awareness in this popular one-day trip.  No previous mountaineering experience is required to register. However, participants should be physically well prepared and equipped for a rigorous all day experience.

A note on Ice Climbing and Mountaineering:  You have to start somewhere. This one-day course is a general introduction to waterfall ice climbing and general mountaineering. It is best suited for novice winter climbers. The first half of the day will be spent learning about the equipment, crampons, ice axes, anchors and belays. The second half of the day will be spent climbing to gain a practical appreciation for efficient movement over moderately angled snow and ice terrain. This course is a fun way for groups of friends or a family to learn the basics without having to invest a lot of time and money. We provide all technical gear. Course participants will need to provide a day pack and appropriate clothing.
Pricing & Details:
$195 - Early Bird Special - if you sign up by Wednesday, Feb 8
$245 - Regular Price - if you sign up after Feb 8, 2017 - Limited Capacity
- Included: Round Trip Transportation from New York, Accommodations, and Breakfast and Lunch Snacks (Saturday & Sunday)
Activity Options and Costs:
Option A: Day of Ice Climbing $120
Option B: Day of Mountaineering $120
Included: All Technical Gear! Mountaineering boots, crampons and ice axe, helmet, etc
Option C: Skiing/ Snow Boarding at cost of Lift Tickets
Option D+: Cross Country Skiing, Snowmobile, etc; at cost of rental equipment...
Departing Friday - 5.45 pm - from New York to New Hampshire - a 6 hour ride:
Returning to New York Sunday, about 9.30/ 10 pm - depending on traffic
Accommodations: Amazing Aparthotel & Country Resort in fabulous North Conway, NH.
Questions / RSVP:  igorbass@dynamicoutdoors.com

Feedback/ Testimonials:
Thank you for an awesome weekend! The group and accommodations were excellent. I'm willing for a rematch with Mount Washington in less snowy weather, I'm glad I got to try it out and see what mountaineering is about. My life would be even more non-adventurous without Dynamic Outdoors, I'm glad there's groups like yours available and (pleasant) people willing to go on them. 

Until next time....
Julie V. - Ice Climbing/ Mt. Washington - March 2014
Thank you for the exceptional weekend in New Hampshire. I feel very lucky to have had such perfect weather conditions and knowledgeable, fun hiking companions to succeed in my first ascend of the feared Mount Washington. This experience is so far the highlight of my year - I'll be dreaming of these stunning mountain views and the fun, challenging path to get there until the next adventure!
Sarah & Mario - Mt. Washington (Summit) - Winter 2011 


Hey Igor,
Just wanted to say thanks again for an awesome trip this past weekend to mt. Washington! I was amazed at how beautiful and difficult this hike was, but I was able to summit thanks to you and your team. I realized that I better train harder and eat healthier to do more difficult hikes cause this hike really kicked my butt. But it was all worth it, I had a great time and will always keep this memory. I was wondering if Maria forwarded you the pictures or whenever she gets a chance to send me copies, I would really appreciate having a copy of those pictures since I will frame it where we are all at the summit. Thanks again to you and your team, you guys are great!
Ray - Mt. Washington (Summit) - Winter 2011 

Hi Igor,
Just wanted to thank you for all your help on Mt. Washington.  It was an awesome trip and a HUGE learning experience for me as I had no idea what I was getting myself into.  Kudos to your teammate Maria for all her help, patience and generosity all the way through.  And not to forget, Max who let me hang onto his pole at certain points of the trail so that I did not slip.....had a great time, thanks again for leading us to the top!!
~Sabrina - Mt. Washington (Summit) - Winter 2011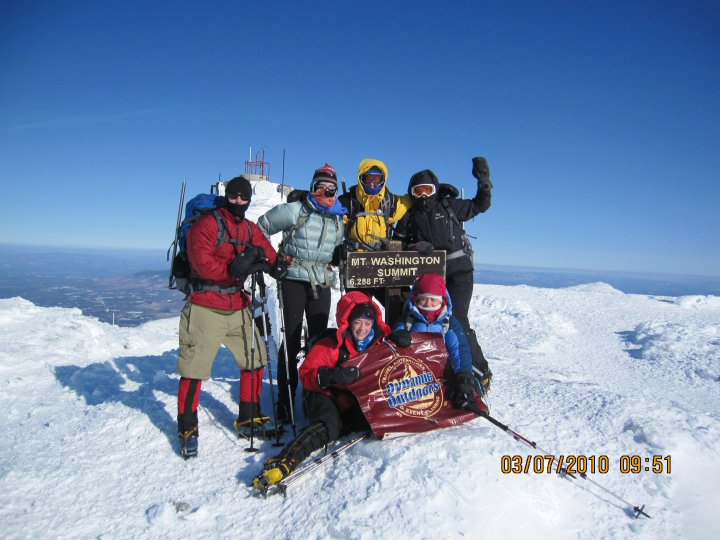 *** CANCELLATION POLICY:
Registration is refundable up to 15 business days prior to the activity date minus a $50 administrative & processing fee per ticket.  Within 15 business days of the activity date all purchases are final and Non-Refundable unless we can replace you.  A partial credit may be assigned and forwarded to your next activity with us.

*** Weather Policy:
In case we have to cancel due to weather; we will refund in full and/ or a full credit will be given for a future event of choice.
When
Friday, February 24, 2017 at 6:00 PM

-

Sunday, February 26, 2017 at 9:00 PM (EST)
Add to my calendar
Organizer
Dynamic Outdoors
We are an energetic and friendly club dedicated to offering the best outdoor adventures. All of our events are designed to ensure that everyone is involved and has a great time. Whether it is hiking in a lush forest, canoeing down a crystal clear river or galloping on horseback along the sandy beaches, we offer a personalized approach so that you gain the most out of each trip. Our goal is to provide a simple, convenient way to escape the concrete jungle for a day of fresh air, fantastic views and memorable interaction with other like minded individuals who share a passion for the outdoors.