Description
Dear Applicant,
Greetings from TERARON...
Everyday I get many questions like ...
What are my option for Canada?
how much I should score in IELTS?
How do I check autherised consultants?
How much is the cost?
Like this I have many questions I would like to discuss with you. If you are also having some questions related to Canada Immigration Please join me on WEBINAR or Meet me in below location.
Venue: TERARON CONSULTING Pvt Ltd
T3, 3rd Floor, Smart Avenue Building
80 feet road. Indiranagar Bangalore- 560038
For free booking contact us on 9886966602 or write email to harish.ka@teraron.com
Canada is now planning to take 300000 New Applicants in 2018. Among Many countries like US, Aus, UK, NZ and Ca. Only Canada allowing Immigrants to apply for PR along with Job Posting.
Since you are an Qualified applicant for Canada Immigration and got the assessment report. We would like to post you a information about next year intake for Canada. Click here to read more..
What is Express Entry?
Express Entry Canada eligibility is determined using a unique point-based system called the Express Entry Comprehensive Ranking System (CRS). The Canada Express Entry CRS is designed to identify potential immigrants that are likely to succeed economically once living in Canada. To do so effectively, the Express Entry CRS awards points for factors that Citizenship and Immigration Canada (CIC) have found to correlate positively with future economic success for new immigrants to Canada. These Canadian Express Entry eligibilty factors include age, level of education, French or English language proficency, as well as previous work experience in Canada.
How it works? and who will be invited?
Anyone who meets the requirements of the Federal Skilled Worker Program, Canadian Experience Class or Federal Skilled Trades Program is eligible to create an Express Entry profile. There is no minimum score for Canada Express Entry eligibility.Prospective immigrants with enough Express Entry points will be invited to apply for Canadian permanent residency, however. To help determine your Express Entry eligibility score, we have provided the detailed assessment report earlier. Once you have Express Entry points you are eligible for, you can compare this number to the minimum CRS points required from the latest Canada Express Entry draw. If your Express Entry CRS points score is near or above the minimum required points from the latest draw, you are likely a very competitive candidate.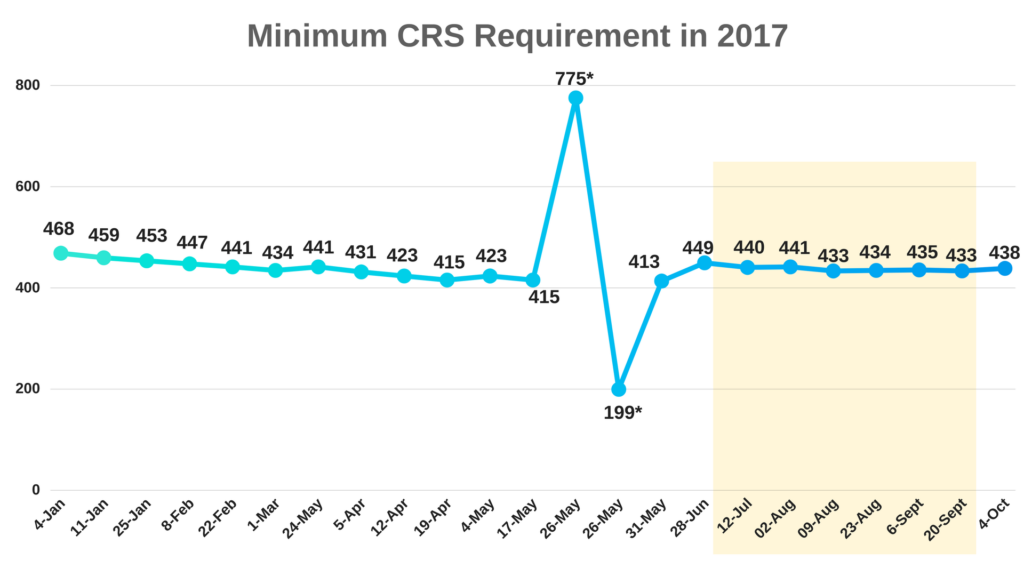 What about candidates with lower scores?

If your Express Entry score is significantly below the minimum cutoff score from previous draws,
Many candidates who entered the pool with CRS scores below the minimum drawn were able to raise their scores and obtain ITAs. This was shown over the course of 2016, when more than half (approx 72 percent) of candidates who received an ITA had core CRS scores below 413 . Core CRS indicated a candidate's score without the additional points for a provincial nomination, a job offer, or post-secondary education obtained in Canada.

Since 2016, new additional point's factors have been introduced for candidates with a sibling in Canada and for candidates with French ability. With these new factors, the range of possible ways to increase one's score has expanded.

The most valuable single factor under the CRS is a provincial nomination, which is worth 600 CRS points; therefore, a candidate with a CRS score of 200 would become a candidate with a score of 800 as soon as he or she obtains a provincial nomination. With this nomination, a candidate will receive an ITA at a subsequent draw from the pool.

Most Canadian provinces dedicate a portion of their Provincial Nominee Programs (PNPs) to select candidates in the Express Entry pool. As we move deeper into 2018provinces are coming up with pioneering new strategies to welcome newcomers from the Express Entry pool.
Why Teraron?
We are ICCRC Authozed Consultants, We represent cases as per IRCC law legally. You can check our Legality by Clicking hereEnter company name as TERARON you can See Mr. Mitesh listed his RCIC # R510250.
Regards,
Teraron Immigration