ICCE Webinar: Re-shaping FDIs to drive sustainable growth
The Institute of Certified Chartered Economists -ICCE, presents this webinar on Foreign Direct Investments (FDIs).
About this event
DATE: September 23, 2021
TIME: 3:00PM CET
TOPIC: Re-shaping FDI to drive sustainable growth amidst global health crisis.
OVERVIEW
According to the UNCTAD World Investment Report 2021, Global foreign direct investment (FDI) flows fell by 35 per cent in 2020, reaching $1 trillion, from $1.5 trillion in 2019. This is the lowest level since 2005 and almost 20 per cent lower than the 2009 trough after the global financial crisis.
The lock-downs around the world in response to the COVID-19 pandemic slowed down existing investment projects, and the prospects of a recession led multinational enterprises (MNEs) to re-assess new projects. The fall in FDI was significantly sharper than the fall in gross domestic product (GDP) and trade.
This webinar will explore what the future of cross border investment looks like and what governments and global investment policy makers are doing to attract high quality investments to drive FDI growth.
SPEAKERS:
Thorsten Terweiden, Head of the International Office for Economic Development, City of Magdebug, Germany
Nisan Abdulkader, Vice President, Africa, Wavteq
------ ABOUT ICCE--------
Institute of Certified Chartered Economists® – ICCE is building a community of economists globally.
We are the professional body dedicated to equipping professionals in the economics and finance industries with the needed skill sets, expertise and qualification that helps them to rise to the top of their chosen career paths, and thus, shape the future of the industries.
Our commitment is to raise professional economists with the highest ethical standards through quality education and collaborative learning.
Find out more: www.charteredeconomist.org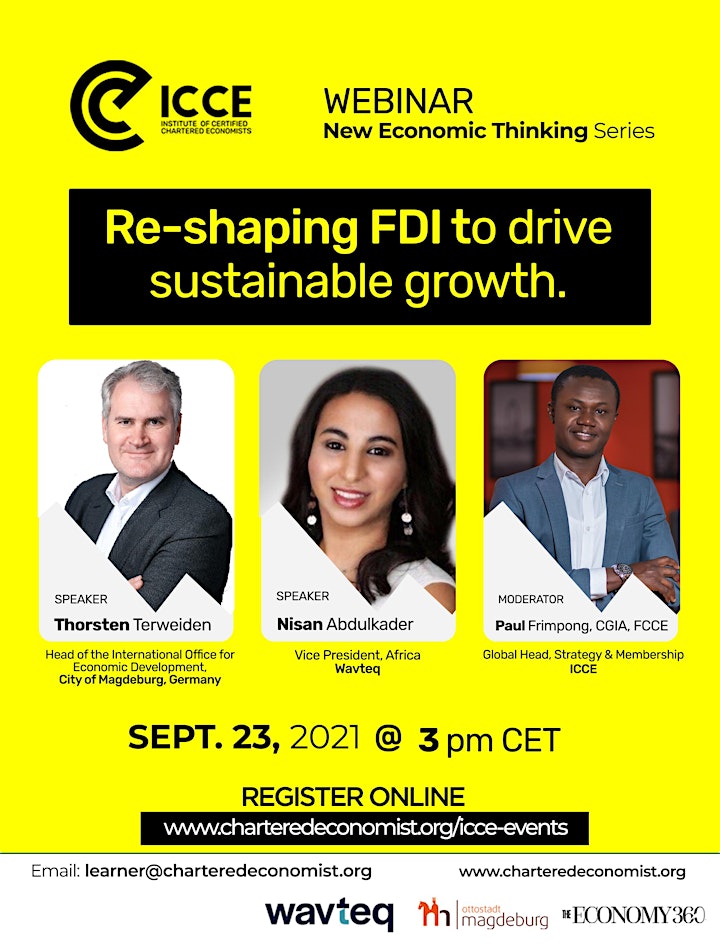 Organizer of ICCE Webinar: Re-shaping FDIs to drive sustainable growth