Description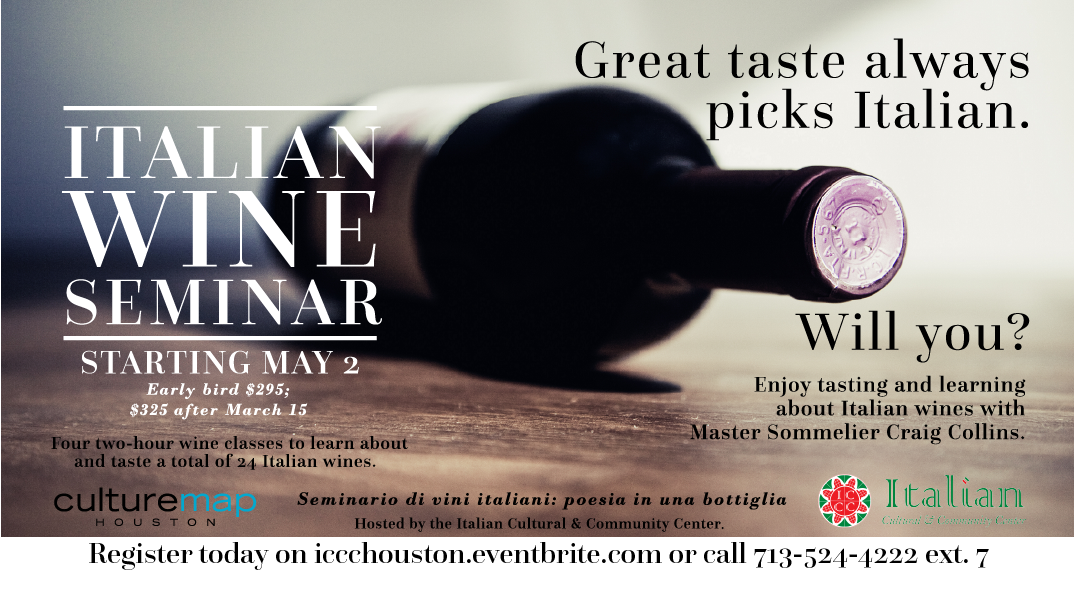 Seminario di vini italiani: poesia in una bottiglia
Join our new cultural enrichment course, an Italian wine seminar taught by Master Sommelier Craig Collins. Seminari di vini italiani: poesia in una bottiglia, will consist of four two-hour classes starting on Tuesday, May 2, 2017 with the last class being held on May 23, 2017.

This course will introduce you to Italian wines in a detailed way, starting with wine fundamentals, followed by a focus on the Italian regions (Northern, Central and Southern).
Great taste always picks Italian. Will you?
Come learn about and taste a total of 24 Italian wines.

Registration is now open!
Each class will run from 7:00 pm – 9:00 pm
Classes will be taught by Master Sommelier Craig Collins
Registration fee: $295* | registration fee will be $325 after early bird promo ends
*Early bird registration ends on Wednesday, March 15, 2017
To register: iccchouston.eventbrite.com, email ProgramEvents@iccchouston.com or call 713-524-4222 ext. 7
Class itinerary:
Tuesday, May 2, 2017: Wine fundamentals
(Viticulture, oenology, Italian wine law and wine analysis)
Tuesday, May 9, 2017: Northern Italy
(Types of grapes, geography, climate, history and top wine producers)
Tuesday, May 16, 2017: Central Italy
(Types of grapes, geography, climate, history and top wine producers)
Tuesday, May 23, 2017: Southern Italy
(Types of grapes, geography, climate, history and top wine producers)


Meet the Sommelier:
Master Sommelier Craig Collins first became enamored with wine while working at a winery as an undergrad, an interest that led him to study abroad in Italy during his senior year at Texas A&M. He spent the next 20 years immersed in the beverage industry, from wineries to distribution and importing to restaurants. In 2011, Collins passed the esteemed Master Sommelier Exam, a feat mastered by just 200 people worldwide at that time. He now serves as the Beverage Director for ELM Restaurant Group in Austin, Texas, overseeing the offerings at nationally acclaimed hotspots 24 Diner, Easy Tiger Bake Shop & Beer Garden, Italic and Irene's. He sits on the Board of Directors for the Court of Master Sommeliers and frequently participates as a speaker and judge at wine and food festivals across the country.
---
This wine seminar is hosted by the Italian Cultural & Community Center of Houston (ICCC). This course is for people who want to learn about Italian wines in a fun and relaxed environment, to add to their interest in Italian wines and meet other aficionados.
Cancellation Policy: If the course is cancelled for any reason, including insufficient enrollment, tuition will be refunded in full; students will receive a notice by April 20, 2017 confirming their enrollment. Students who decide to drop the class for any other reason and would like to receive a full refund must send a written notification to ProgramEvents@iccchouston.com before April 10, 2017.