Description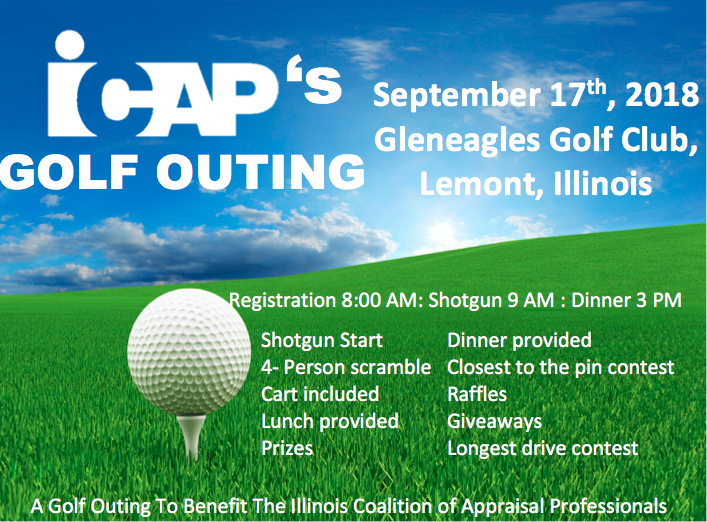 Click the green "get tickets" link on this page to register.
Availability will be limited : Registration deadline September 12, 2018
Golf Outing to benefit The Illinois Coalition of Appraisal Professionals!
Join us for a fun day of golf including lunch and dinner!
Shotgun start at 9 AM - 4 person scramble with golf cart included
Don't miss out on our fun contests - closests to the pin and longest drive!
Raffle with great prizes and giveaways!
Click the green "get tickets" link on this page to register.
Shotgun Start
4- Person scramble
Cart included
Beer/Water Included
Lunch provided
Prizes
Dinner provided
Closest to the pin contest
Raffles
Giveaways
Longest drive contest
FAQs
Who is allowed to participate in the golf outing?
ICAP's Golf Outing is open to all appraisers, vendors, and friends of ICAP. This outing is not exclusive to ICAP's membership, and we welcome any guest who would like to golf and help support the organization.
Where is this year's Golf Outing?
This year's outing will, be held at Gleneagles Country Club, 13070 McCarthy Road, Lemont, IL 60439. The phone number of the course is (630) 257-5466. The website address is http://www.golfgleneagles.com.
What time does the golf outing start?
This year's golf outing will start at 9:00 AM with a scramble shotgun start. Registration begins at 8:00 AM
How many people attend the golf outing?
The golf outing has spots open for a total of 72 golfers. We expect this event to sell out, and encourage all participants to reserve their spot by the deadline of September 12, 2018.
How does the Shotgun Scramble format work?
In a scramble, each player tees off on each hole. The best of the tee shots is selected and all players play their second shots from that spot. The best of the second shots is determined, then all play their third shots from that spot, and so on until the ball is holed.
How much does it cost to play in the outing?
The cost for this year's golf outing is $125/golfer. Fees include: greens fee, cart, course contests, raffle, lunch on the course, beer/water and dinner.
Will drinks will be provide?
Drink stations will be available, provided by a sponsor of the event.
Are there sponsorships available?
Yes, there are different sponsorship levels available. For more information on sponsorship packages click the green "get tickets" link on this page.

How do I sign up for ICAP's Golf Outing?
All registration will be done through Eventbrite, click the green "get tickets" link on this page.

What is the deadline for registration?
All reservations must be made by September 12, 2018. We only have room for 72 golfers, and we encourage you to get your reservations and payments in early.
What is the agenda for the day?
The agenda for the day is as follows:
9:00 AM Registration opens
10:00 AM Shotgun start, scramble format - Lunch at the halfway house opens, drink stations become available
4:00 Dinner, prizes, raffle drawing

What types of activities will be offered throughout the day other than the round of golf?
In addition to a great day of golf, we will have putting contests and longest drive contest.
What is the dress code for the day?
Appropriate golf attire including collared golf shirts and golf shorts are recommended. No jeans or metal spikes are allowed. Soft spikes only.
How can I help with planning ICAP's Golf Outing?
If you would like to help with ICAP's Golf Outing this year, the committee is seeking to fill some spots so we are looking for people to "talk up" the event and encourage participation. We also need help in securing corporate sponsorships. Lastly, one of the highlights of the day is the raffle drawing so if you can assist in securing some raffle prizes, we would appreciate it. Electronics are always very popular along with sports tickets, gift certificates and golf-related items.
I have a question that is not listed on this FAQ. Who do I contact?
For more information about the golf outing, please contact ICAP at info@icapweb.com