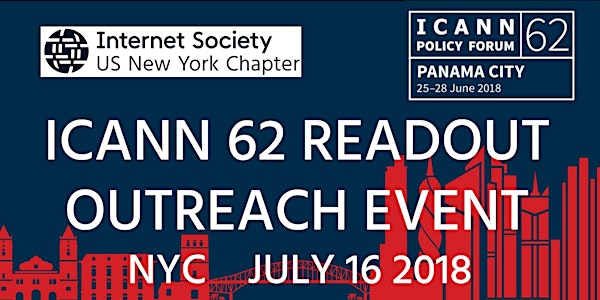 ICANN 62 NYC READOUT OUTREACH EVENT
By Internet Society NY Chapter (ISOC-NY)
Date and time
Monday, July 16, 2018 · 5:30 - 8pm EDT
Location
Moses & Singer LLP 405 Lexington Avenue New York, NY 10174
Description
On Monday July 16 2018 at 5:30pm, the Internet Society New York Chapter (ISOC-NY) and the Internet Corporation for Assigned Names & Numbers (ICANN), in partnership with the NY Tech Alliance, will host the ICANN 62 NYC Readout at the offices of Moses & Singer LLP in NYC. Speakers, including Veni Markovski (VP of UN Engagement, ICANN), Joe Catapano (Manager of Stakeholder Engagement North America, ICANN), Chris Mondini (Vice President, Global Business Engagement, ICANN), Judith Hellerstein (North America At-Large Organization, Chair of Technology Task Force), and Greg Shatan of ISOC-NY will review the Internet Corporation for Assigned Names and Numbers' (ICANN) 62nd public meeting - a Policy Forum - which took place in Panama City from 25-28 June 2018. Join us for an overview of the latest developments in the management of the Internet's names and numbering processes. The session will also be webcast live on the Internet Society's Livestream Channel.
Experts & novices are both welcome. Admission is free. Refreshments will be supplied.
A brief list of some of the topics to be covered:
Overview
The ICANN Community
How Does the Community Develop Policy?
About ICANN 62
ICANN 62 By the Numbers
ICANN 62: What happened at the meeting?
Domain Names
Delegated gTLDs by ICANN Region
Rights Protection Mechanisms Review
Subsequent Procedures Policy Development Process
What are New gTLD Auctions?
Auction Proceeds - who decides who gets the money?
At Large Review Implementation
ICANN Governance and Accountability
Legal
The General Data Protection Regulation (GDPR)
ICANN Fellowship/NextGen
ICANN 63
======================
** Permalink to here: https://icann62nyc.eventbrite.com
About the organizer
The mission of (ISOC-NY) is:
- in support of ISOC, to assure the beneficial, open evolution of the global Internet,
- to promote local initiatives, maximize the societal benefits which the Internet can bring to the New York area, and
- to advance the professional development of ISOC members in the New York area.
http://isoc-ny.org