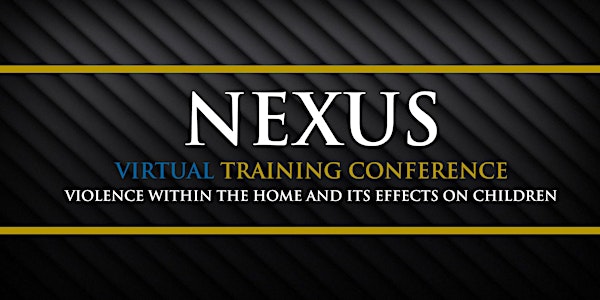 ICAN Nexus Virtual Training Conference
Each year the Nexus conference offers unique and innovative training for interested professionals, child advocates and students.
Refund Policy
Contact the organizer to request a refund.
Eventbrite's fee is nonrefundable.
About this event
The Inter-Agency Council on Child Abuse and Neglect (ICAN) and ICAN Associates welcome you to our first "NEXUS virtual training conference: Violence within the Home and Its Effects on Children" on Wednesday, March 2nd, 2022, via Zoom. (Log in time is 8:00 a.m. Conference start time 8:30 a.m. to 4:00 p.m.
For the past 25 years, the ICAN Nexus conference has offered a unique and innovative training experience for interested professionals, child advocates, students and the public. This year is no exception. Despite our need to limit public gatherings, we are once again, honored to provide you with the opportunity to hear directly from local, state, and national experts about the impact of violence within the home on children; so that together, we can explore potential solutions. It is hoped that the information presented will continue to inspire violence prevention efforts in our communities and throughout society. Thank you for joining us this year as we examine a wide range of issues related to child abuse and family violence.

*Please note agenda times subject to change*
SUGGESTED LOG-IN TIME ---- 8:00 a.m.
INTRODUCTIONS & WELCOME ---- 8:30 a.m. – 9:15 a.m.
Deanne Tilton Durfee, Doc.hc, Executive Director, ICAN
Mark Macabe, ICAN Ambassador
Annie Bosko - God Bless America
Department Head Messages and Videos
MORNING KEYNOTE PRESENTATION ---- 9:15 a.m. - 10:15 a.m.
Joe Torre, MLB Hall of Fame, Founder Safe at Home
BREAK ---- 10:15 a.m. -10:30 a.m.
WORKSHOP SESSION ---- 10:30 a.m. - 12:00 p.m.
LUNCH ---- 12:00 p.m. - 12:20 p.m.
WELCOME
ICAN Anthem: Silver Lining - Annie Bosco
Lindsay Wagner, ICAN Associates President
Justin Chambers, ICAN Associates Board Member
AWARD CEREMONY ---- 12:30 p.m. - 1:00 p.m.
Awards
Annie Bosko
Jack Dylan Grazer
Special Presentation - Dune Mecartney ---- 1:00 p.m. - 1:15 p.m.
AFTERNOON KEYNOTE PRESENTATION ---- 1:15 p.m. - 2:15 p.m.
Professor Evan Stark, "Coercive Control of Children"
BREAK ---- 2:15 p.m. -2:30 p.m.
WORKSHOP SESSION ---- 2:30 p.m. - 4:00 p.m.

Registration for one person is $35.00. Registration includes access to the Zoom training and 4 continuing education units (for LMFTs and LCSWs), if requested. Registration fees payment is by credit card. There is a group rate available for groups of ten or more. If interested in a group rate, please reach out to ICAN Associates at solanj@dcfs.lacounty.gov or urquina@dcfs.lacounty.gov.
Requests for refunds must be made in writing and received by ICAN on or before February 28, 2022. If you need to cancel, please contact John Solano at SolanJ@dcfs.lacounty.gov and include the following information: full name, e-mail address used to register, and confirmation number. Please allow at least a week for full refund.

ICAN Associates is a recognized CAMFT-approved Continuing Education Provider (Provider Number: 131324). This conference meets the qualifications for 4 hours of Continuing Education Units (CEUs) for LMFTs, LCSWs, LPCCs and/or LEPs as required by the California Board of Behavioral Sciences. ICAN is approved by the California Association of Marriage and Family Therapists to sponsor continuing education for social workers, therapists, community organizations, students, and advocates that work with children and families that have been affected by family violence. ICAN maintains responsibility for this program/course and its content.
LCSWs and LMFTs will be required to sign in for the event no later than 9:30 a.m. and sign out at the end of the conference day. The event will be monitored virtually, to ensure that the participant attended the entire event. To obtain full credit, attendees must complete the day and will need to have their cameras on during the accredited portion of the event. If there's a need to log on early please note, that we cannot provide partial credit for this conference. In addition, a signed and completed evaluation form is required. The CEU certificate will be sent two to three weeks after the conference via email. The initial CEU certificate and one replacement (if needed) are free of charge. However, there is a fee of $5.00 for any additional replacement certificates.
If any questions about CEUs or the issuing of certificates, please contact ICAN Associates at HuangJ3@dcfs.lacounty.gov.

Attention DCFS staff only: Please note, we are working with the DCFS training section to obtain a limited number of pre-paid slots for DCFS employees however they are not yet available. Those slots will be limited and available on a first come first basis to DCFS staff when approved. All DCFS staff will receive notice when pre-paid slots become available (approximately two weeks before the conference).
If you'd like to guarantee participation in the Nexus conference including obtaining CEUs, you may purchase your slot on your own for the low price of $35.
We ask that you wait until after February 15 before making inquiries pertaining toDCFS paid slots. After which time you may contact Nancy Urquilla at urquina@dcfs.lacounty.gov or Janae Reyes at reyesja@dcfs.lacounty.gov at the DCFS training section.

Payment
ICAN Associates never personally handles or collects financial information, and relies on Eventbrite's Payment Process for all financial transactions. We accept Visa, MasterCard, and American Express. If you need to pay via check or purchase order, please contact John Solano at SolanJ@dcfs.lacounty.gov to make arrangements.
Grievances
The Inter-Agency Council on Child Abuse and Neglect (ICAN) is fully committed to ensuring that all conference activities are in conformance with the California Association of Marriage and Family Therapists (CAMFT) Continuing Education Standards. ICAN assures that its training conference is appropriate for LMFT and LCSW professional development and that ICAN is suitable for BBS license renewal. Furthermore, ICAN Associates will comply with all legal and ethical responsibilities to be non-discriminatory in promotional activities, program content and in the treatment of program participants. The monitoring and assessment of compliance with these standards will be the responsibility of the ICAN Conference Chair in consultation with the Nexus Planning Committee and ICAN Executive Director. While ICAN Associates goes to great lengths to assure fair treatment for all participants and ensure conference content is in compliance with CEU standards, there may be occasional issues that come to the attention of the conference staff. In most circumstances, a solution can be easily identified. However, if, in the rare circumstance, the situation rises to a more serious level, the grieved individual must immediately request to speak with the Conference Chair or the ICAN Executive Director who will in turn, attempt to arbitrate the situation. In addition, within 48 hours, the grieved individual must submit their grievance in writing for a record of the incident to be kept on file.
Event recording notice:
By registering and by your presence at the event, you consent to be photographed, filmed and/or otherwise recorded. Your entry constitutes your consent to such photography, filming and/or recording and to any use, in any and all media throughout the universe in perpetuity, of your appearance, voice and name for any purpose whatsoever including, without limitation, advertising, trade, promotional activities, commercial activities of every description and/ any other lawful purpose whatsoever.