iCan Bike--Reno

Monday, July 8, 2013 at 8:30 AM

-

Friday, July 12, 2013 at 5:30 PM (PDT)
Event Details
The Down Syndrome Network of Northern Nevada, the Gannett Foundation, the Reno Rodeo Foundation and the City of Reno's Access Advisory Committee have partnered with the Nevada Center for Excellence in Disabilities to bring the iCan Bike Program to Reno!
From July 8-12, 2013, the iCan Bike program will teach individuals with disabilities how to ride a conventional two-wheel bike.
ICan Bike uses a fleet of adapted bicycles, a specialized instructional program and a trained staff to teach individuals with disabilities how to ride a bike.  Riders attend the same 75-minute session each day for five consecutive days (M – F) whereby they are physically assisted and encouraged by two volunteer "spotters".  As you register, you will rank the time slots from one to five.  First come, first served for the times.  
Over the course of the 5-day camp the adapted bike is adjusted to gradually introduce more instability in an effort to challenge riders at their own individual pace. The week is concluded with a touching and inspiring award ceremony!
ICan Bike riders are children ages 8 and up, teens, and sometimes adults who have a diagnosed disability but are able to walk without assistive devices and sidestep from side to side.  Riders are less than 220 pounds.  
Each rider is encouraged to bring 1 or 2 healthy family members or friends, age 16 or older, to volunteer for their assigned 75-minute session.  Riders should bring their own bike or purchase a bike by the 4th day of camp so they can transition to their bike before camp ends.  Please visit the iCan Shine website for help purchasing the right bike.  Our local bike partners are the Kiwanis Bike Program (used bikes) and Reno Cycling and Fitness.  They can help purchase the correct bike.
Parents/guardians are asked to stay on site during the 75 minute session for their rider each day for emergency purposes, personal care for your rider, and so that you don't miss their special achievements and success.  
There will be an orientation for parents/guardians and volunteers on Sunday, July 7 from 4:00 PM until 5:00 PM at the University of Nevada Reno College of Education, WRB 2030.  We ask the riders do not attend the orientation meeting.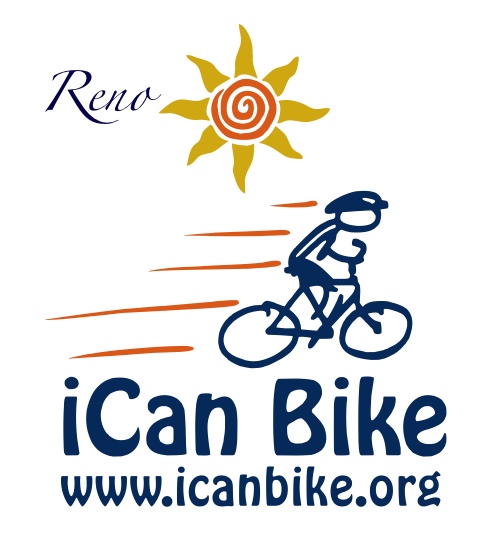 You will be prompted to choose one of the following time slots for camp 
8:30 - 9:45 AM
10:05 - 11:20 AM
11:40 AM - 12:55 AM
2:00 AM - 3:15 PM
3:35 PM - 4:50 PM
Parents, teachers and therapists describe our results as INCREDIBLE.  In 2012, by the end of the 5-day camp over 80% of riders learned to ride a conventional bike completely independently.  Success in learning to ride a bicycle is a major accomplishment.  Learning to ride builds confidence and an improved self-image.
When & Where
585 Reactor Way
Reno, NV 89502


Monday, July 8, 2013 at 8:30 AM

-

Friday, July 12, 2013 at 5:30 PM (PDT)
Add to my calendar
Organizer
Down Syndrome Network of Northern Nevada