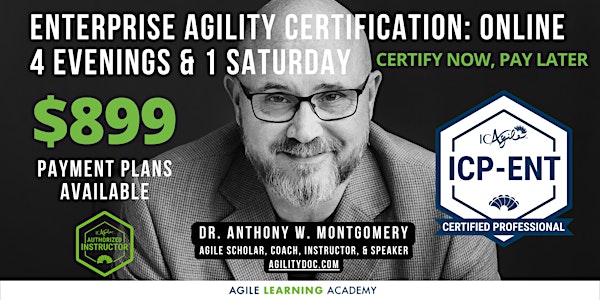 ICAgile Mastering Agility in the Enterprise (ICP-ENT) | Online | Aug 2022
ICAgile Certified Mastering Agility in the Enterprise (ICP-ENT)(Bootcamp: Part 1) | Online | Aug 22 -27, 2022
Refund Policy
Contact the organizer to request a refund.
Eventbrite's fee is nonrefundable.
About this event

This registration is Part 1, Mastering Agility in the Enterprise, for the ICP-ENT. This course meets Monday, Tuesday, Wednesday, and Thursday from 4 PM to 8 PM U.S. Mountain Time and Saturday from 8 AM to 4 PM U.S. Mountain Time.
The ICP-ENT is the first of two knowledge-based certifications on the Enterprise Coaching for Agility Track, one of ICAgile's most advanced tracks, and prepares professionals like you to work effectively at the enterprise level.
The ICP-ENT and ICP-CAT are the two (2) required courses within ICAgile's Enterprise Coaching for Agility Track that lead to the Expert-level Enterprise Coaching certification.
This Enterprise Agile Coaching Bootcamp combines Agile Learning Academy's ICAgile certified Mastering Agility in the Enterprise (Part 1) and Coaching Successful Agile Transitions (Part 2) into an immersive cohort training experience.
Agile Learning Academy's Mastering Agility in the Enterprise (ICP-ENT) (Part 1 of this Bootcamp) and Coaching Successful Agile Transitions (ICP-CAT) (Part 2 of this Bootcamp) courses equip students with the skills required to succeed as an Agile Coach at the Enterprise-level.
In this Enterprise Agile Coaching Bootcamp, you'll be guided through systems and complexity theory, measuring business performance from an agile perspective, building an agile framework for enterprise scaling, creating awareness of organizational design and structure, leadership development, and engaging leadership in the right conversations about organizational culture.
In addition, you'll explore the core elements of agile transformations and the enterprise coaching competencies in a way that empowers you to act as a successful catalyst for enterprise-wide organizational change.
Let's take your agile coaching to the enterprise-level.
What You'll Learn:
Part 1: ICP-ENT
Enterprise Agility, Business Agility, and Technical Agility
Systems and Complexity Theory
Organizational Design and Structure
Adaptive Patterns and Principles for Organizational Design
Agile Frameworks for Enterprise Scaling
Business Process, LEAN, and Agile Process Improvement
Leadership and Culture Alignment
Part 2: ICP-CAT (Requires separate registration)
Self-Mastery, Professional Development, and Ethics
Management Consulting and Organizational Development Tools
Organizational and Human Change Processes
Organizational Assessments
Transition and Transformation Change Strategies
Working with Organizational Impediments
Communicating for Organizational Change
Educating for Organizational Change
Facilitating for Organizational Change
Large Group Facilitation
And Much More
What You'll Do:
Examine multiple approaches, techniques, tools, and models
Engage with like-minded peers in enterprise-level discussions
Participate in hands-on interactive exercises
Examine multiple case studies
Recommend an organizational structure
Create a business case for change
Co-create a change strategy
Create an organizational communication plan
Devise considerations for an organizational training program
What You'll Take Away:
Deep knowledge of business, enterprise, and technical agility for increased credibility as an enterprise agile coach
Improved awareness, comprehension, and mastery of the competencies within the field of enterprise agile coaching
Robust, well-stocked toolkit with insights, approaches, tools, and techniques for enterprise agile coaching
Key self-reflection techniques to foster continuous improvement as an enterprise agile coach
Rich, empathetic understanding of human change dynamics and how to help people embrace change
Holistic understanding of organizational change models, change processes, and change strategies to help leaders navigate transformations
Enhanced capacity to influence executives and other organizational leaders
ICAgile's ICP-ENT and ICP-CAT credentials with successful completion and final instructor certification of both Part 1 and Part 2 of the Bootcamp
Agile Learning Academy alum status
Who Should Attend:
Agile Transformation Leaders
Agile Coaches (Team-Level, Program-Level, Enterprise-Level)
Executives, Senior Managers, and Managers
Consultants
Program and Project Managers
Scrum Masters looking to become Enterprise Agile Coaches
Anyone aspiring to improve their Enterprise Agile Coaching skills
About Your Instructor:
Dr. Montgomery is an agile scholar, agile coach, and a frequent speaker on agile, leadership, and Scrum in the U.S., Europe, and South America, including events such as Agile Alliance, Agilia, Agile & Beyond, DevOpsDays, Global Scrum Gatherings, Project Management Institute, and Scan Agile.
Anthony holds a Doctor of Education (Ed.D.) in Interdisciplinary Leadership from Creighton University in Omaha, Nebraska with a research emphasis on the socio-psychological nature of Scrum. His research has been cited by multiple other researchers.
He also holds Certified Scrum Professional (CSP-SM, CSP-PO), Certified Scrum Master (CSM), Certified Scrum Product Owner (CSPO), Enterprise Agility (ICP-ENT), Coaching Agile Transitions (ICP-CAT), Agile Coaching (ICP-ACC), Agile Team Facilitation (ICP-ATF), Agile HR (ICP-AHR), Agile Leadership (ICP-LEA), SAFe 5.0 Program Consultant (SPC), Agile Certified Practitioner (PMI-ACP), and Project Management Professional (PMP) credentials.
Dr. Montgomery believes all learners are capable of being collaborators in their own and other's understanding, which creates intellectual camaraderie in trainings. Every person is unique, enjoys distinctive capabilities, and holds particular experiences that can be shared in a reassuring educational setting. Anthony encourages learners to share opinions and urges them to ask questions. He teaches to engage, challenge, and inspire growth. He teaches for understanding over memorization, analysis over application, critical thinking over canned conclusions, pattern recognition and relationships over recall, and higher order thinking over lower order thinking. Dr. Montgomery believes in bringing enthusiasm and relevancy to instruction. Overall, Anthony applies a combination of assessment, community, knowledge, and learner centric approaches in training.
Who Has Benefitted From Dr. Montgomery's Coaching And Training?
"He has been an excellent sounding board anytime I have asked for time. His level-headed pragmatism and experience was extremely valuable as I worked to join the team. I look forward to learning more from him going forward." - Product Director
"You should be extremely proud of how you are helping this organization move forward operationally and culturally. And, a very personal thank you for being a sounding board for my questions, too." - Vice President
"Hey, I've noticed a lot of positive change in the way people communicate and I believe a lot of it has to do with the training you did. So thank you for being a good influence on this work place." - Engineering Lead
"Dr. Montgomery's lessons have really made an impact on how I interact with leadership regarding their roles and the consequences of their interactions with delivery teams. The results have been night and day. By following his directions, the productivity, quality of work, and speed of delivery have increased. I highly recommend Dr. Montgomery's lessons and material to anyone wanting to improve their company's culture, morale, and delivery or just to simply tune up their agile mindset!" - Scrum Master