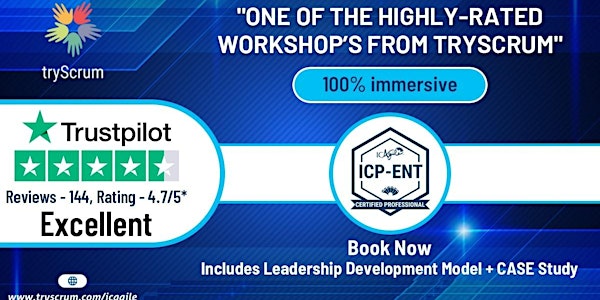 ICAgile- Agility in the Enterprise (ENT) by tryScrum
Overview The ICP-ENT is the first of two knowledge-based certifications on the Enterprise Coaching for Agility Track. This certification foc
About this event
Target Audience
Relevant roles include enterprise, program, and team-level Agile Coaches, Agile Team Facilitators, or anyone aspiring to these roles. Also, anyone with a strong background in change management and/or organizational design and a curiosity about agile approaches at the enterprise-level will benefit from this certification.
October 30 - 11:30 to 18:30 IST (GMT+5:30)
October 31 - 11:30 to 18:30 IST (GMT+5:30)
Course Agenda
Evolution of Agile
Enterprise & Business Agility
Enablers of Business Agility
Organization Structure & Processes
Leadership & Organization Culture
Leadership Coaching & Development Path
Agile Frameworks for Enterprise Scaling
Sustaining Agility in the Enterprise
Course Duration
2 Face to Face days (or) 3 -Virtual days
Certification
All participants completing the ICP-ENT course will receive one of the top industry-recognized coaching certificates. It is the most preferred certificate in the industry in terms of Enterprise Coaching.
Evaluation: Instructor Evaluation
Examination Format: No exam
The course designed by Marsha Acker • Lyssa Adkins • Luke Lackrone • Timothy Meyers
Course created by Venkatesh Rajamani & tryScrum team
Certifying body: ICAgile
Validity: Lifetime
Trainer:
Venkateswara Rao E
Why tryScrum
One of the highly rated companies on Trust Pilot 4.7/5
Promising Coaching Models are introduced including Neuroscience & Leadership Circle
Taught by one of the most respected coaches in the industry
Highly intense & creative workshop
Post-workshop support by the trainers to improve your Coaching & Mentoring skills through community meetups.
Take more than 3 workshops from us and become a Gold member of tryScrum to get exclusive benefits.
Other benefits
21 SEUs and 16 PDUs.
ICP-ENT Credentials from ICAgile.
The trainer holds CTC , SPC, ICF-ACC and is an enterprise agile coach with a product organisation.
The entire workshop is structured around TBR(Training from the back of the room format)
Course Duration
2 to 3 days
For Special Cohort Programs, it will be for 3 days