Location
Parkside Austin
301 E 6th St
Austin, TX 78701
You're invited to ICA's Seventh Dinner at NamesCon! Join us at Parkside Austin, on Thursday, Sep 1, at 6 pm after the auction.
About this event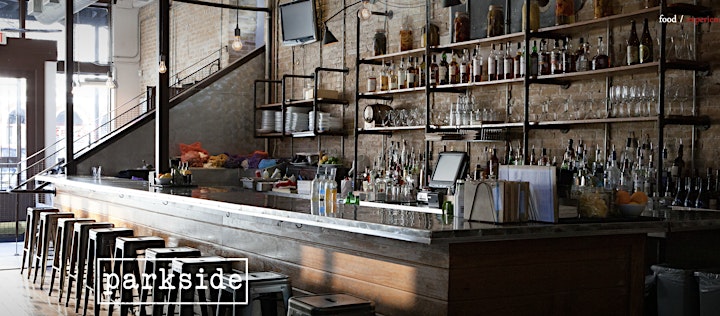 Dear ICA Members and Friends,
We would like to invite you to Internet Commerce Association's seventh dinner at NamesCon, co-hosted with Braden Pollock. Join us on Thursday, September 1st, at 6 pm for excellent food, drinks, and conversation with friends and colleagues. We're very proud that what started as a small gathering has become a popular tradition for a growing number of attendees each year!
We're excited to introduce a new venue for our dinner - Parkside Austin! Shawn Cirkiel's flagship restaurant, Parkside, opened on Austin's historic 6th Street in 2008 and first introduced the "farm-to-table" concept long before it became commonplace in town. The restaurant quickly became a major influence in Austin's growing culinary landscape as the city's first gastropub and set the standard for local, sustainable dining. Parkside's seasonally changing menu offers classic American fare, elevated with the highest quality, locally sourced, and sustainably grown products. The meal will be reception style with delicious dishes to choose from and a limited open bar. A huge perk is that Parkside is located a short, 3-minute walk from the Omni!
As with the previous years' dinners, we expect high demand for the tickets, so please reserve yours quickly! This is a smaller venue than in recent years, so we, unfortunately, may not be able to seat everyone who wishes to attend. Early-bird ticket sales are now open to ICA Members - Premium Individual and above only - at a discounted, subsidized price of $100. Starting July 25th, Basic Individual Members can purchase their discounted tickets. Starting August 1st, tickets will be available for both members and non-members at the standard price of $150.
As in previous years, we have a special offer for new members. Anyone joining the ICA at a Premium Individual membership level or higher will receive a free ticket to the dinner! Also, any ICA member at the Basic Individual level who upgrades to a Premium Individual level or higher will also receive a free dinner ticket. The opportunity to join or upgrade is provided directly when purchasing the dinner ticket, through our website.
We've also included an opportunity for anyone to donate to the ICA while purchasing their ticket. You can do that by selecting one of the add-ons at checkout.
The ICA gives the domain industry a voice in policy matters with a focus on protecting the rights of domain owners and of other businesses in the industry. If you are not yet a member, we welcome you to join with your friends and colleagues who are already ICA members.
Thank you to our Sponsors: Gold Sponsor - GoDaddy, Silver Sponsor - Dynadot, and Bronze Sponsor - Greenberg & Lieberman / EscrowDomains!
Please get in touch if you have any questions.
Kamila Sekiewicz
You'll find the FAQs below.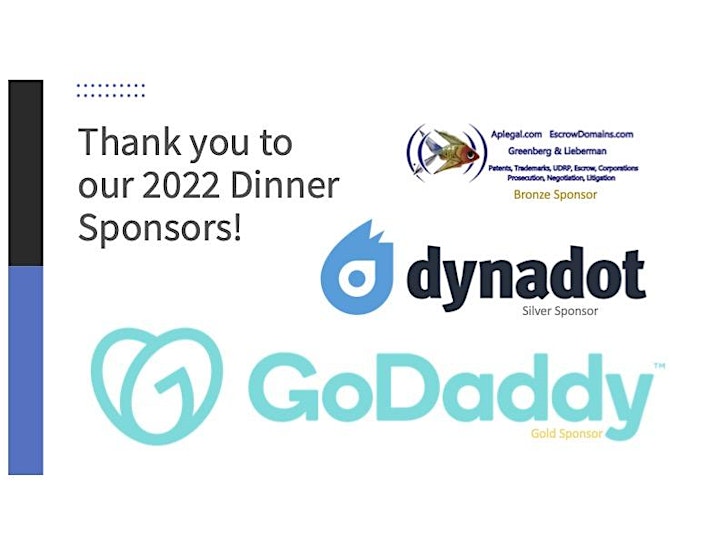 Important Information and FAQs:
Ticket Price: $100 early bird price for ICA members and plus-ones, $150 for all after August 1st.
Age: 21 and over
Address: Parkside Austin, 301 E 6th St, Austin, TX 78701
When can I buy my ticket?
Premium Individual and above - anytime ($100 discounted price until August 1st)
Basic Individual Members - July 25th on ($100 discounted price until August 1st)
Non-members - August 1st.
Can I bring my spouse / partner / friend to the dinner?
Yes, all are welcome. Just order enough tickets or send us their email address.
What do you mean by a "limited open bar"?
We have a set budget for the open bar (wine, beer, and soft drinks) so we don't go over budget. From past years' experience, we expect the budget will allow the bar to be open for most, if not all of the evening. In the unlikely event that our group is more thirsty than usual and our limit is reached, the bar will convert to a cash bar. Premium drinks that are not available through the open bar will also be available at any time as a cash bar.
Will vegetarian options be available?
Yes, there will be a variety of vegetarian dishes. For our vegetarian and vegan guests, please get in touch with Kamila (kamila@internetcommerce.org) after you've purchased your ticket so we can make sure we'll have something available for you as well.
Where can I contact the organizer with any questions?
Please contact Kamila Sekiewicz (kamila@internetcommerce.org) with any questions.
How do I get to the venue?
Parkside is located a few-minute walk from the Omni Hotel. Google maps will show you the way!
Where can I learn more about the ICA?
If you are involved in the domain industry, then you have a home with the ICA. The ICA looks out for your interests and promotes the success of our members. We count many leading companies and individuals in the industry among our members. Give yourself a voice, and join with other engaged members of the industry in the ICA. Visit our website. See our members. Read our articles.