Description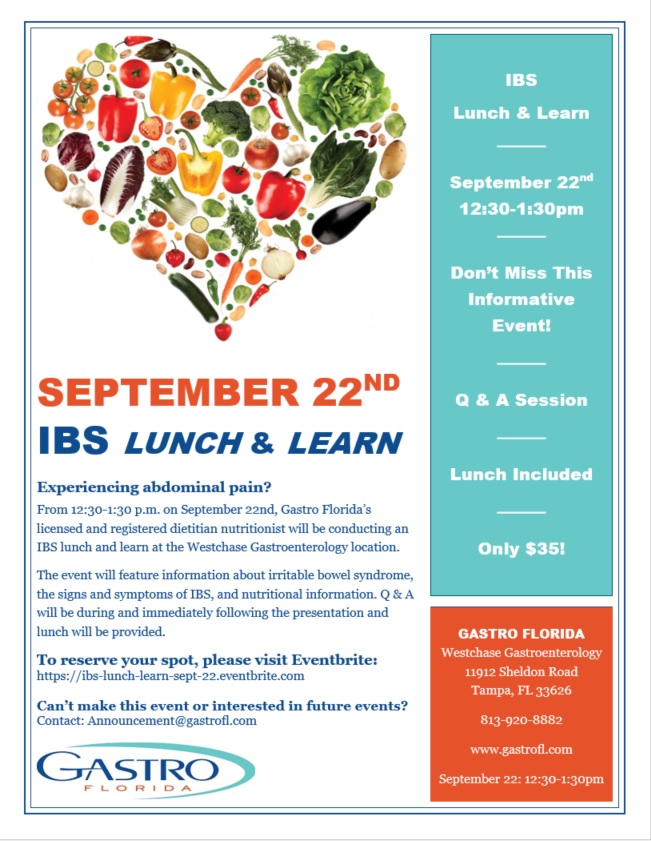 September 22nd
IBS Lunch & Learn
Experiencing abdominal pain?
From 12:30-1:30 p.m. on September 22nd, Gastro Florida's licensed and registered dietitian nutritionist will be conducting an IBS lunch and learn at the Westchase Gastroenterology location.
The event will feature information about irritable bowel syndrome, the signs and symptoms of IBS, and nutritional information. Q & A will be during and immediately following the presentation and lunch will be provided. Cost is only $35.
Can't make this event or interested in future events? Contact: Announcement@gastrofl.com
About Gina Gomez-Pratt, RDN, LDN:
Gina Gomez-Pratt, RDN, LDN has over two decades of experience working in healthcare. She obtained her B.A. in Psychology with a minor in Sociology from the University of South Florida and later went on to receive her B.S. in Dietetics and Nutrition from Keiser University in 2014. As a Registered Dietitian Nutritionist for the last three years, Gina specializes in using the functional medicine approach – a patient-centered method that addresses underlying causes of diseases which empowers patients and providers to create a treatment plan that improves the patient's overall health and well-being. Her focuses include: IBS, gastroparesis, lactose/gluten intolerances, Celiac disease, liver disorders, auto immune disorders, Crohn's and Colitis, GERD, Barrett's esophagus, Fatty Liver disease and Cirrhosis FODMAP and elimination diets, Diabetes management, weight loss, disordered eating, body composition, nutritional counseling, and meal planning. Gina has been a member of the Institute of Functional Medicine since 2014 and has sat on numerous advisory boards. Gina enjoys spending time with family and friends, paddle boarding, gardening, and traveling.
Date and Time
Location
Refund Policy