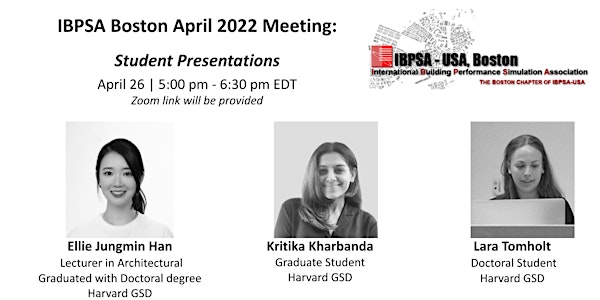 IBPSA-USA Boston: Student Presentations
Please join the Boston Chapter of IBPSA-USA for a networking session over Zoom, and student presentations from Harvard GSD.
About this event
IBPSA-Boston promotes the science of building performance simulation in order to improve new and existing buildings worldwide while connecting Boston-area practitioners.
Please spread the word among your colleagues in the Boston area! Stay informed about this event and future ones by signing up for our email list and joining our LinkedIn group. Contact ibpsa.boston@gmail.com with any questions.
A New Interoperability Framework for Data-Driven Building Performance Simulation
Recently, machine learning (ML) and deep learning (DL) have become more prominent in the building, architecture, and construction industries. One area ideally suited to exploit this powerful new technology is BPS for sustainable building design. As DL can handle large computational volumes in a short time, data-driven physical property-prediction models for buildings are becoming increasingly popular for their simplicity and high efficiency. For environmental analysis, artificial neural networks (ANNs) with prefabricated or simulated data are a more feasible option for designers than the physics-based method during the early design phase, and their use is expected to grow rapidly.
With this development, the interoperability framework for ANNs is required to convert the building and environment-related geometries and information into relevant 3D matrices for ANN model training and utilization. These have been delineated in a comprehensive process map that includes the BPS requirement for ANN modeling, related subprocesses (i.e., building geometry and environmental levels), specific rules and methods, and the processing of input and output data. To accomplish this, data exchangers for the ANN models, a geometry representation tool (GRT), and a BIM specification tool (BST) were developed as computational tools. The comprehensive framework has been validated via case studies, demonstrating its applicability for different computer-aided design tools (Rhinoceros and Revit) and ANN models (Solar radiation and airflow) and the application potential of integrated ANNs in BPS and early-stage modeling.
Presenter
Ellie Jungmin Han
Ellie Jungmin Han is a lecturer in Architecture at the Harvard University Graduate School of Design and a Research Assistant at the Harvard Center for Green Buildings and Cities (CGBC). She has developed several Building Performance Simulation (BPS) software packages to help architects with sustainable design decision-making on topics ranging from the building to urban scales of implementation. Her doctoral dissertation focused on the geometric properties of architecture and an exchangeable data format for geometries that can be used to evaluate the performance of building designs. Artificial intelligence (AI), and specifically deep learning, is her primary methodology for advancing the feasibility of BPS software. As a Research Assistant at the CGBC and using the HouseZero building, she has developed various AI models for estimating indoor airflow, localized weather, and energy loads.
ResilientHub: building resilience through a new design paradigm
In this era of Anthropocene, buildings will be subjected to rising temperatures and increased risk of natural disasters. In addition, a growing population and strong urbanization trend will increase the density of our cities. These environmental changes will have a considerable effect on future building performance. ResilientHub, situated in the Seaport District of Boston, Massachusetts, USA, is a future-ready building that maintains the highest energy efficiency and occupant comfort level possible throughout its lifetime. The proposed building design accommodates thirteen floors of office space, in addition to retail, restaurants, and a daycare center for children of office employees. Adaptable ETFE pillow façades optimize solar heat gain and daylight access in response to daily and seasonal weather changes, and future global warming and urbanization. A solar chimney, placed prominently at its most optimal position for solar heat gain, provides buoyancy-driven natural ventilation and significantly lowers the building's cooling loads with future rising temperatures. A series of indoor atria supply the office spaces with a healthy level of natural daylight and provide a space for informal social interaction. Situated in a flood zone, the building employs building and landscape-integrated strategies to mitigate flood levels and delay, resist and discharge floodwater. The innovative, high-performance design solutions ResilientHub employs are directly applicable to the vast majority of the future global building stock that will be affected by the same environmental changes.
"ResilientHub," a project by a team of Harvard Graduate School of Design students, received third place in the Office Building Division of the 2021 U.S. Department of Energy Solar Decathlon Design Challenge, Student Project of the Year at the Built Environment Plus Green Building Showcase 2021, and the first prize at the ISI/ZPH Conference Nov 17-18, 2021.
Presenters
Kritika Kharbanda
Kritika Kharbanda is a master's in design studies candidate ('23) at the Harvard Graduate School of Design, specializing in Energy and Environments. She is also the co-founder of Cardinal LCA, and her current research work focuses on Life Cycle Assessment. She worked previously at Henning Larsen Architects in Denmark as a sustainability engineer on commercial projects like Cockle Bay Park and The Raleigh East Civic Tower.
Lara Tomholt
Lara Tomholt is a sixth-year Doctor of Design candidate at Harvard Graduate School of Design (GSD), studying how the integration of science, technology, and design can help us develop new, innovative concepts for adaptable façades that significantly increase the energy efficiency of building thermoregulation. She holds a BSc and MSc degree in Architecture, Urbanism, and Building Sciences from the Delft University of Technology.