Description
***NEWS***
- Only few tickets left. Make sure you get your FREE TICKET on Eventrbite! Full Day Tickets (09:00-18:00) and Afternoon Tickets (13:00-18:00) are available! https://ibm.biz/unconf-tickets
- Check out the newest version of the agenda with super cool talks and labs about AI, Cloud, Quantum, DevOps, Blockchain. https://ibm.biz/unconf-agenda
- Make sure you have done the prerequisites before coming to the hands-on labs: https://ibm.biz/unconf-material

- Stay up to date and get latest and greatest news by joining the event in our MeetUp-group "Big Data Developers Switzerland": https://ibm.biz/unconf-meetup
***DESCRIPTION***
The IBM Developer UnConference is an exchange and hands-on learning platform for Developers, Non-Developers, IT Architects, Data Scientists, Managers... and all interested people in topics like AI & Machine Learning, Data Science, Big Data, Blockchain, Cloud Computing, DevOps, Open Source, Robotics, Quantum Computing, and other emerging technologies.
If you want to know more read the blog of the last Developer Unconference in June 2019: https://ibm.biz/unconf-blog
***AGENDA***
This is an Unconference, so changes might happen. But you can find the detailed agenda here: https://ibm.biz/unconf-agenda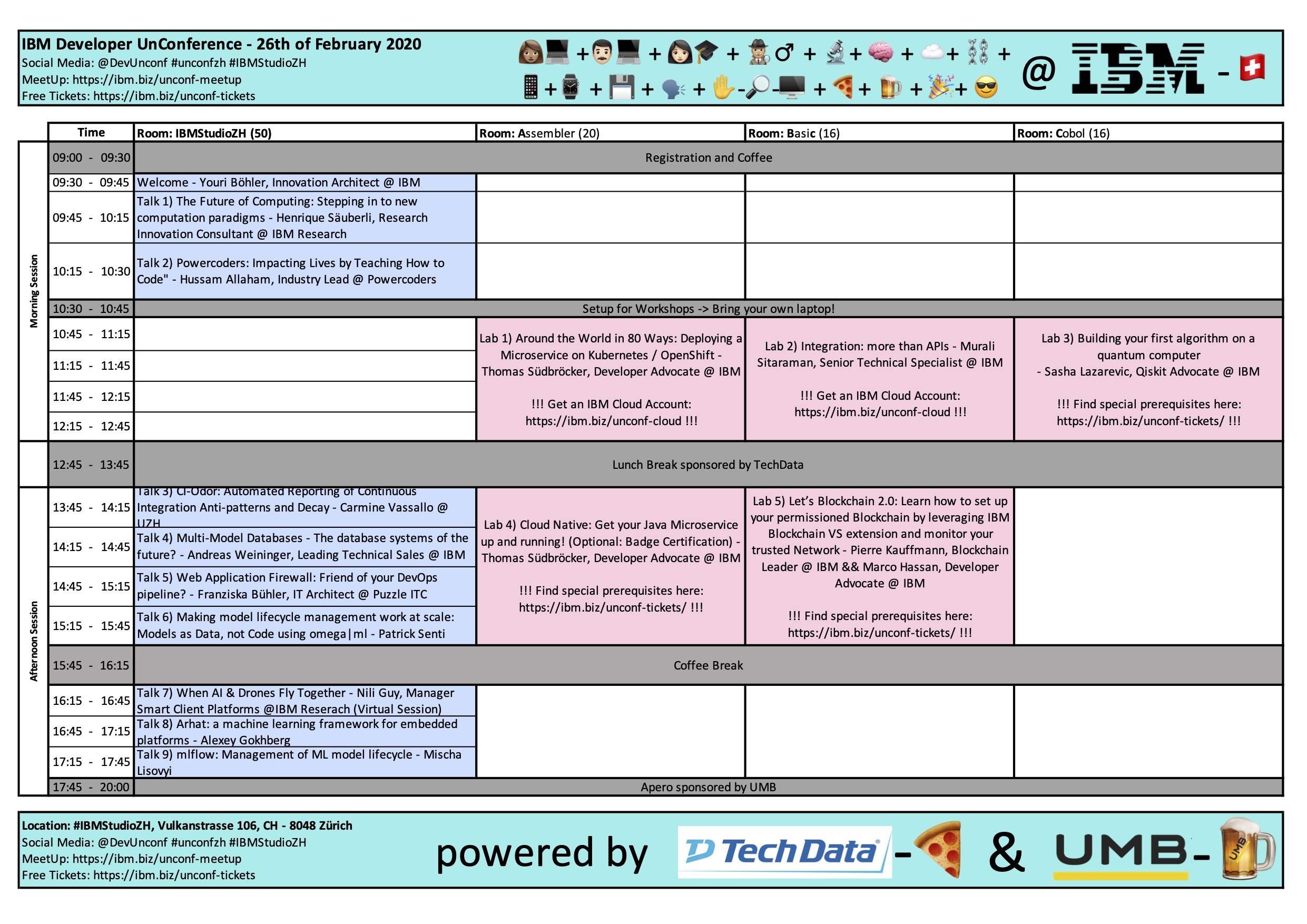 *Talks*
- Talk 1) The Future of Computing: Stepping in to new computation paradigms - Henrique Säuberli, Research Innovation Consultant @ IBM Research
- Talk 2) Powercoders - Impacting Lives by Teaching How to Code", Hussam Allaham, Industry Lead @ Powercoders
- Talk 3) CI-Odor: Automated Reporting of Continuous Integration Anti-patterns and Decay, Carmine Vassallo
- Talk 4) Multi-Model Databases - The database systems of the future? - Andreas Weininger, Leading Technical Sales
- Talk 5) Web Application Firewall: Friend of your DevOps pipeline? - Franziska Bühler, IT Architect @ Puzzle ITC
- Talk 6) Making model lifecycle management work at scale: Models as Data, not Code (using omega|ml) - Patrick Senti
- Talk 7) When AI & Drones Fly Together - Nili Guy, Manager Smart Client Platforms @IBM Reserach (Virtual Session)
- Talk 8) Arhat: a machine learning framework for embedded platforms - Alexey Gokhberg
- Talk 9) mlflow: Management of ML model lifecycle - Mischa Lisovyi
*HandsOn-Labs*
- Lab 1) Around the World in 80 Ways: Deploying a Microservice on Kubernetes / OpenShift Thomas Südbröcker, Developer Advocate @ IBM
- Lab 2) Integration: more than APIs - Murali Sitaraman, Senior Technical Specialist @ IBM
- Lab 3) Building your first algorithm on a quantum computer
- Sasha Lazarevic, Qiskit Advocate @ IBM
- Lab 4) Cloud Native: Get your Java Microservice up and running! - Thomas Südbröcker, Developer Advocate @ IBM
- Lab 5) Let's Blockchain 2.0: Learn how to set up your permissioned Blockchain by leveraging IBM Blockchain VS extension and monitor your trusted Network - Pierre Kauffmann, Blockchain Leader @ IBM && Marco Hassan, Developer Advocate @ IBM
***TICKETS***
To get access to the event and to the building you will have to register with your Name/E-Mail. You can get either get a free ticket on Eventbrite:
- Full Day Ticket (09:00-18:00) or a
- Afternoon Ticket (13:00-18:00)
Badges must be issued for all participants to enter the building!!
***PREREQUISITES*** --> https://ibm.biz/unconf-material <---
- Bring your own laptop (preferable min. 8GB RAM)
- Sign up for the IBM Cloud: https://ibm.biz/unconf-cloud
- If you have an old IBM Cloud account (=Trial Account), make sure it is still valid, otherwise you can create a new one with another e-mail address by clicking on the link above
- Prereqs for Lab 3) Quantum: see: https://github.com/youriboehler/DevUnconf-2020-02-26/blob/master/Prerequisites%20and%20preparations%20for%20the%20Qiskit%20notebooks.pdf
- Prereqs for Lab 4) Cloud Native: Docker (https://docs.docker.com/install/)
- Prereqs for Lab 5) Blockchain: https://marcohassan.github.io/UnBlockDemo/DemoBlockChainKaffee.html
***DISCLAIMER***
By registering, you confirm that you have read and understood the IBM Privacy Policy (https://www.ibm.com/privacy/). You agree that the presentations shown at this event and other customer information may be emailed to you. You can revoke your consent to this at any time after the event by sending an e-mail to NETSUPP@us.ibm.com or by clicking the unsubscribe link directly in the case of information e-mails. You also agree that IBM may use group photos or live streaming during the event for promotional purposes.