Description
With IBM Cognos Analytics, IBM has changed the game for Business Intelligence and Reporting. Any business user can now gain the full benefits of Analytics.
Join us on 31st August 2017 to find out about the latest release of Cognos Analytics.
The latest release of Cognos Analytics continues to add more features that allow users to quickly get the answers they need. Most notably, new mapping and visualization capabilities give a completely new perspective and clarity to analytic results. The new capabilities in Cognos Analytics include functionality that:
Brings your data to life

Makes your data work for you

Provides analytics that you can trust
Arrival and registration is from 08:30 with the event starting at 09:00 and finishing at 16:30
Agenda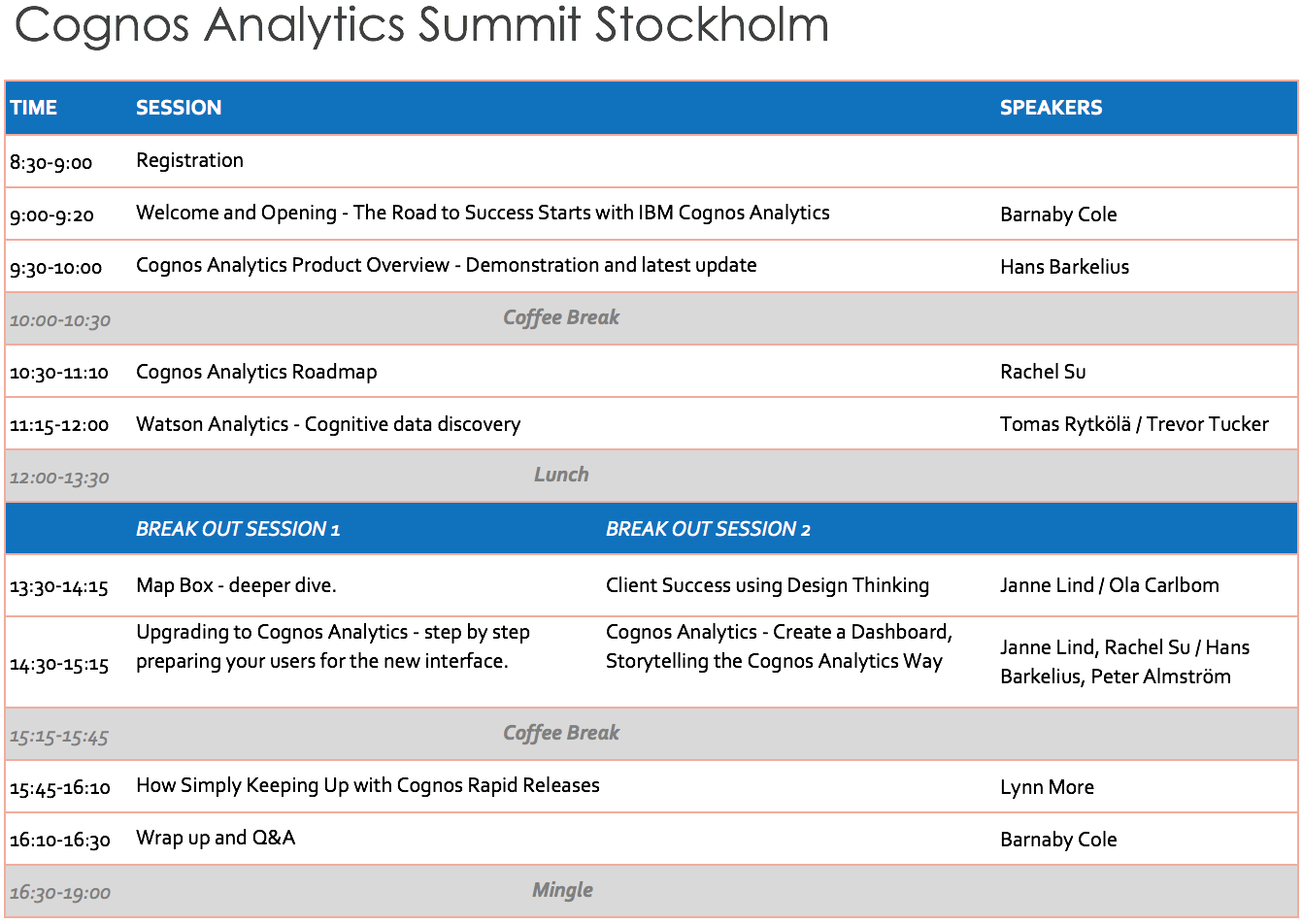 Getting here
Easiest way to get to the IBM office from city is by metro towards Akalla and jump off at Kista (Galleria.) Followed by a short 10 mins walk. If you come by car there's a big parking lot just outside the IBM office.
From Arlanda you can take the coaches towards Kista (leaves each 20 minutes and takes 30 min, approx 100 SEK) www.flygbussarna.se, jump off at Kistahöjden followed by 7min walk. You can also take a cab, but be sure only to choose one of the three larger cab companies e.g. Taxi Kurir, Taxi Stockholm or Taxi 020 (approx 400 SEK.)
Book your place now
Please use the "Register" button on this page to complete your registration.
We offer a light breakfast, lots of coffee, snacks and lunch during the day for you to enjoy.
We very much look forward to welcoming you.
Contact:
Madeleine Simonsson
madeleine.Simonsson@se.ibm.com
+46 707 93 35 40