Description
Win your share of $25,000!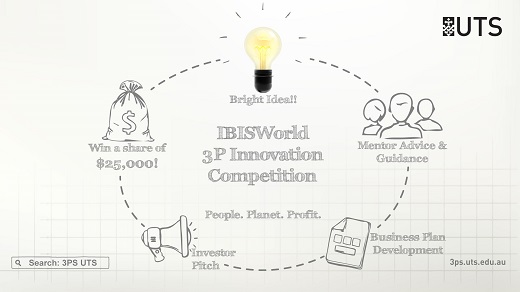 The 3P is an annual competition open to all UTS students. The 3P gives students the opportunity to explore the viability of a new, creative and innovative business idea, whilst being mentored by leading and highly experienced business professionals.
Students can enter as a team or as a sole founder. Teams and individuals will be required to develop their ideas into a viable business case, submitting a lean canvas and supplementary material for scoring. The top six lean canvas will be selected to pitch to a panel of experts for final judging, competing to win a share of $25,000.00:
1st Prize - $12,000.00
2nd Prize - $8,000.00
3rd Prize - $5,000.00
In order to enter the competition and be eligible to win prizes, all participating individuals must register on this page.
If you would like to join a team, let us know and we'll do our best to help you find a group or form your own team.
For further information go to www.3ps.uts.edu.au or send your enquiry to Katt.Robertson@uts.edu.au
GOOD LUCK!